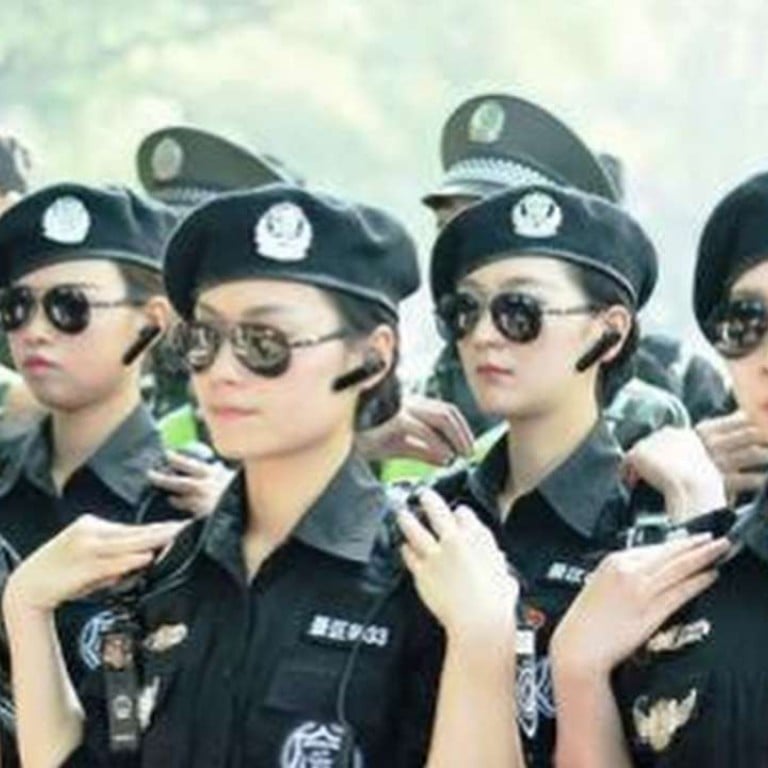 All-women patrols present a new image for China's notorious urban management officers
First teams go on duty to provide 'civilised enforcement' at tourist hotspot in Hangzhou
An all-women team of urban management officers in east China have garnered attention as they become the new force in revamping the notorious image of the so-called chengguan, whose male counterparts have become notorious for violently imposing city laws against hawkers and beggars.
In contrast to their sometimes scruffy male counterparts, the 21 women recruits turned out in crisp black uniforms and berets and aviator sunglasses on Saturday for their first patrol around the West Lake, the most popular tourist attraction in Hangzhou, China News Service reported.
Tourists took lots of photos of the women officers as they patrolled the area, with some expressing their appreciation for the new image of the district's urban management teams.
Most of the new officers are university graduates with an average age of 24, the patrol team leader Zhao Dan told CNS.
The female officers, five to a team, are tasked with maintaining public order around the West Lake, providing information and helping tourists in the area, discouraging "uncivilised behaviour" and attending to emergencies, Zhao said.
The officers received a month of intensive training that included not only physical workouts under the burning sun, but also knowledge of West Lake's environment and first aid.
"Compared with the men, the women officers can use a less confrontational approach to handling badly-behaving tourists," patrol leader Zheng Qunfang said.
Zhao said the all-women patrols would help change the public perception of chengguan, who have been constantly criticised for aggressive and often violent enforcement against illegal street vendors.
"We hope to promote an image of 'civilised enforcement' to tourists around the nation," Zhao said.