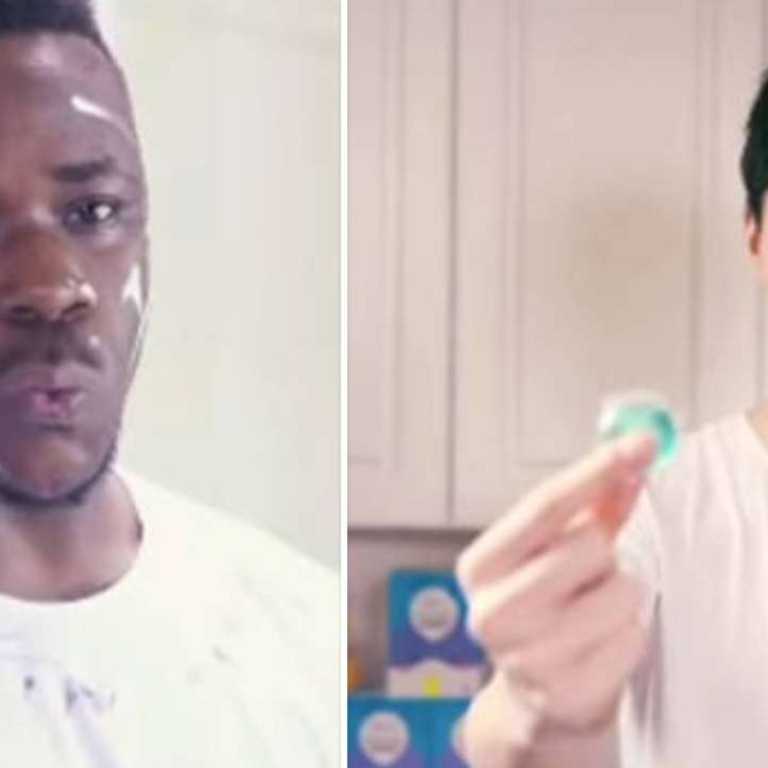 'Racist' laundry detergent ad slammed for turning black man into fair-skinned Chinese after spin in the washer
A laundry detergent firm in China has come under fire for its racist commercial.
The advertisement by Shanghai-based Qiaobi begins with an attractive Chinese woman preparing to load her washer with laundry as a black man, with his face and white T-shirt stained with paint, wolf-whistles at her.
She beckons him over seductively.
As the man approaches and tries to kiss her, she suddenly pops a Qiaobi laundry detergent pod into his mouth, pushes him forcefully into the washing machine, closes it and turns it on.
WATCH: Qiaobi ad turns black man into fair-skinned Chinese
When the washing cycle ends, the woman opens the lid as a fair-skinned Chinese man in a fresh white T-shirt slowly emerges from the machine.
She appears delighted upon sight of the second man.
"Change, it all starts from Qiaobi laundry detergent pod," the commercial says.
The advertisement, which quickly went viral after it was shared on social media, sparked heated debate as internet users slammed it for its racist overtone.
Some also pointed out that the Qiaobi ad appeared to be a rip-off from an Italian commercial years ago – except that the Italian ad turned a skinny Caucasian into a fit-looking black man with the slogan "coloured is better".
WATCH: Italian version of the Qiaobi ad
"Many Chinese companies fail to understand the sensitivity of racism, which is a shame, but common in China," one microblogger said.
"How can these Chinese marketing people have no knowledge of racism," another asked.
"Or the next second, the woman should throw the man into the machine again until he turns into a white guy," one wrote.
Qiaobi could not reached for comment on Friday morning.