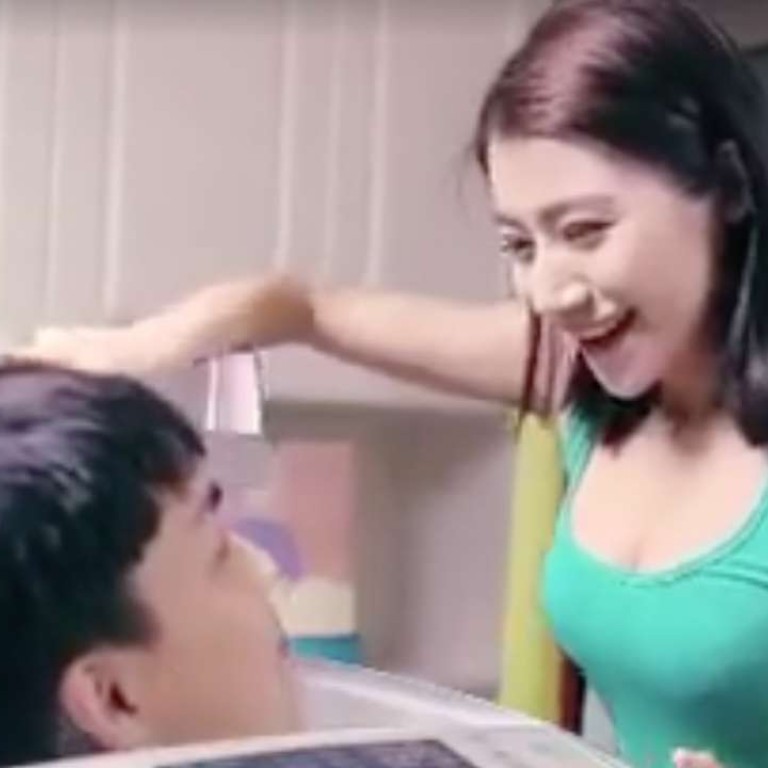 Chinese company offers apology over 'racist' advert, but it doesn't wash
Lei­shang Cosmetics expresses regret over commercial showing black man emerging as 'clean' Asian, but blames others for 'outsized' reaction
The Chinese firm behind a detergent commercial featuring a black man crammed into a washing machine who emerges as a light-skinned Asian has apologised after the commercial went viral overseas and was held up as an example of Chinese prejudices.
However, some internet users said the apology lacked sincerity because it placed some of the blame on internet users and the media which had "read too much into" into the ad.
The commercial for Qiaobi laundry detergent shows a black man whistling and winking at a young Chinese woman, who calls him over, puts a detergent packet into his mouth and forces him head first into a washing machine.
She sits on the lid while the man shrieks. Moments later a light-skinned Asian man emerges in clean clothes, and the woman grins, apparently pleased with the change. The commercial was posted on YouTube, where it drew the notice of Western media and commentators last week.
The company behind the detergent, Shanghai-based Lei­shang Cosmetics, issued a statement on its Weibo account late on Saturday night. The firm "had no intention to discriminate against people of colour", and skin colour was not a "criteria for value judgment", it said, adding the company strongly condemned and ­rejected racism.
"We express regret for the controversy caused by the advert's contents, [and we] absolutely will not pass the buck. We've terminated the placement of the controversial advert and deleted some online video links. [We] hope that internet users who are exaggerating the issue and the media will no longer disseminate them," it said.
"Due to the spread of the advert and overdrawn public opinion, harm has been done to people of African descent. We apologise and sincerely hope that the large number of internet users and the media do not read too much" into the content, it said.
But some members of the public said the company was wrong to claim the criticism was exaggerated.
"According to what standards have you come to the conclusion that public opinion had been 'overdrawn'? What do you even mean by 'overdrawn'?" one internet user commented.
A company spokesman told Global Times on the weekend that "the foreign media might be too sensitive about the ad".
Other internet users also pointed out the similarity of the advert to another commercial, also for laundry, that ran in Italy years ago. It showed a skinny white man turning into a fit black man, touting the slogan "coloured is better". "Why don't you admit that you've plagiarised?" one commenter said beneath the statement.
"It is not only racist, but also completely plagiarised. It has really made our countrymen lose face," another said.