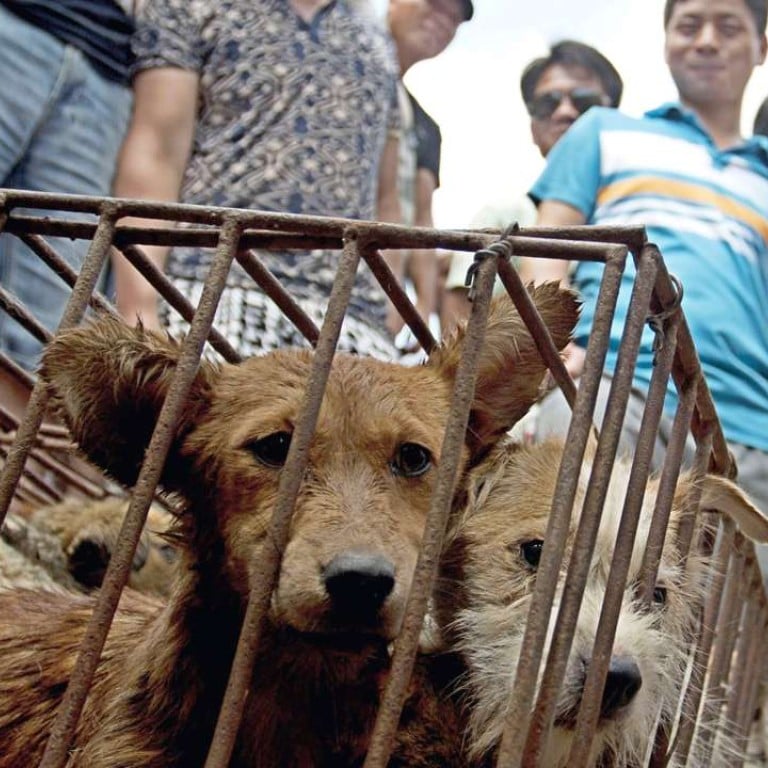 Yulin pledges to ban slaughter of dogs in public as controversial food festival draws near
Vow comes after Michael Tien, Hong Kong deputy to China's legislature, meets mainland officials
The Yulin government has vowed to ban the slaughter of dogs in public ahead of its ­controversial dog meat ­festival next week.
The move came after Michael Tien Puk-sun, a Hong Kong deputy to the National People's Congress, wrote a letter to the ­NPC Standing Committee in March urging the mainland ­government to take steps to put an end to the event which has ­attracted ­international ­condemnation.
Organisers of the festival in Guangxi say it is a cherished tradition among locals to celebrate the summer solstice, which takes place on June 21 this year. It features the consumption of dog meat hotpot and native fruit ­lychees with strong liquor.
In a response to Tien's letter, a representative of the Yulin government said authorities would work towards putting an end to the event as soon as possible.
But at a meeting with Tien in Hong Kong on Wednesday, mainland officials admitted they could not stop people from killing or eating dogs since the mainland has no laws prohibiting animal abuse or the eating of dogs.
According to Tien, the officials said the only action they could take was to ban people from killing dogs in public due to food safety ­issues.
"This will be a very long process [to outlaw the festival] ... but at least we won't see these heinous acts [in public]," Tien said.

The NPC deputy said his next step would be to urge Beijing to draft laws against animal abuse.
"[Mainland officials] indicated that there would be a lot of resistance if I proposed a ban on eating dogs ... But they said there was no reason not to [prohibit] animal abuse," Tien said.
According to animal rights activists, more than 10,000 dogs are killed during the festival each year.
This month, international and domestic groups collected 11 million signatures against the event.
Peter Li, Humane Society International's China policy specialist, called the Yulin government's response commendable. "But we would like to see concrete action," he added.
Additional reporting by Li Jing