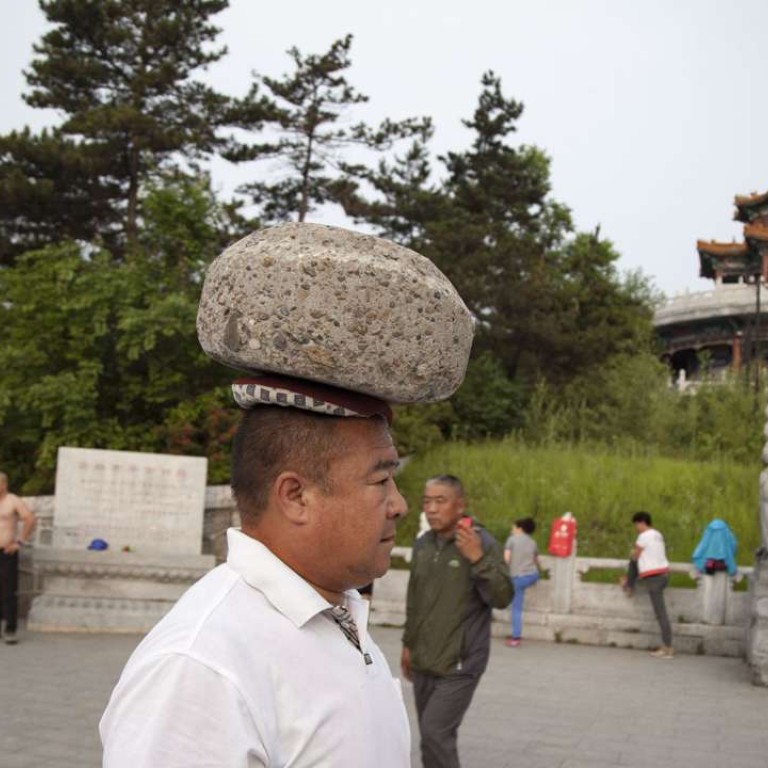 Rock on: Chinese man loses 30kg of weight in a year by exercising with 40kg boulder on his head
Have you dreamt of losing 30kg of weight within a year? Then you should try emulating a Chinese man, who has perfected a unique form of weight training – of carrying a heavy cement block on his head, mainland media report.
Cong Yan, 54, from the city of Jilin, in the province of the same name, is well known for carrying out his daily fitness regime with a 40kg cement block balanced on his head, the news website Youth.cn reported.
The 1.63 metre-tall man, who used to be very overweight, has used this unusual method to help him lose weight and also avoid putting the weight back on over the past four years, after rejecting the idea of taking slimming pills, the report said.
Cong started off by carrying a 15kg stone on his head and then, after perfecting his balance with the boulder, gradually added rocks of greater weight over time.
As long as the weather is pleasant, he can be seen carrying out his daily exercise regime of hiking and climbing steps in the city's Beishan Park scenic area with a block, picked up off the ground, balanced on his head.
The report said Cong could walk with ease for up to 3,000 metres while balancing a boulder.
Cong is even considering applying to have his efforts documented by the Guinness World Records as a "trendy" way to lose weight, the report said.