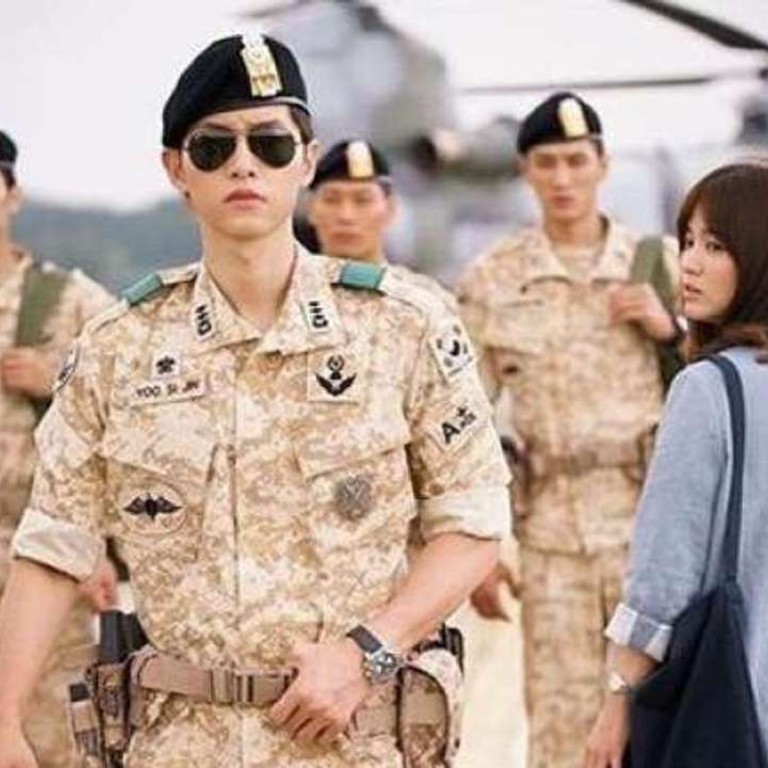 China 'tightening up on use of South Korean stars in TV dramas', sources say, in wake of missile shield row
TV stations told new shows with South Korean stars will not be approved, they say
South Korean pop stars could ­become among the first to feel the chill from political tension in the wake of Seoul's decision to deploy a US-developed missile shield, which Beijing strongly opposes.
Two sources at TV stations in Guangdong province told the South China Morning Post they had received orders from the ­national media watchdog that new approvals for programmes featuring South Korean pop stars would not be granted in the near future.
"They told us to postpone any plans for new programmes that involve South Korean stars or copyright for South Korean TV shows," one source said. "They said we would not get approval, even if we made such plans."
The source said the order was passed on verbally a few days ago by officials from the State Administration of Press, Publication, ­Radio, Film and Television, the mainland regulator responsible for TV censorship.
Another industry insider ­involved in distributing South Korean dramas said it was now "almost impossible" to obtain ­approval for content from regulators, although programmes that had already been endorsed would not be affected.
"We haven't seen any written bans from the administration, but people in the industry are quite worried and many have said they would avoid taking on any work that involves South Korean dramas recently," she said.
All three sources said many industry insiders suspected the new restrictions were linked to escalating tension between China and South Korea after Seoul's decision to deploy the anti-missile defence system.
South Korea and the United States say the defence shield is needed in the wake of Pyongyang's nuclear weapons programme, but China says it poses a threat to its own security.
State media in China have rolled out a series of articles criticising the defence shield. People's Daily warned in an editorial on Monday that Seoul's policy to deploy the missile system would "draw fire against itself".
China's foreign ministry did not immediately respond to ­requests for comment about the alleged restrictions on South ­Korean stars.
The mainland strictly censors television programmes, from TV dramas to commercials, which need the approval of the administration before they are broadcast.
The website ­Sina.com.cn cited several unnamed sources as saying the latest move was aimed at beefing up control over output rather than an all-out ban on South Korean pop stars.
The report said the areas where the stars would face tighter scrutiny included TV programmes and movies, as well as their reality TV shows, commercials and endorsements.
South Korean culture, especially "K-pop" and TV dramas, has been sweeping the region and its popularity on the mainland dates to the late 1990s.

The wave helped boost tourism and retail sales in South Korea, sectors that have become increasingly dependent on Chinese customers.
Stars like Kim Soo-hyun, who played an alien who falls in love with an actress in My Love From the Stars in 2014, as well as Song Joong-ki, who plays a peacekeeping soldier in the hit series Descendants of the Sun, have become popular on the mainland.
Many reality TV shows, including Running Man, are co-produced by South Korean and Chinese TV stations.
Yang Mian, an international affairs expert at the Communication University of China, declined to say whether Beijing was putting pressure on South Korea through limiting the exposure of its stars in the Chinese market but said the government could make its displeasure felt over the missile shield through diplomatic, economic or military avenues.
"To regulate South Korean pop stars in China could be one of these ways", Yang said. "Entertainment industries are easily ­influenced by public opinion, and we have already seen strong comments of opposition [to the missile shield] from internet users."
Cui Zhiying, an expert at the Tongji University Centre for Asia-Pacific Studies in Shanghai, said if political trust between China and South Korea failed to improve, Seoul might become the target of economic action.
"For example, the tourism industry would surely be affected," Cui said.
This article appeared in the South China Morning Post print edition as: censors 'targeting' korean stars