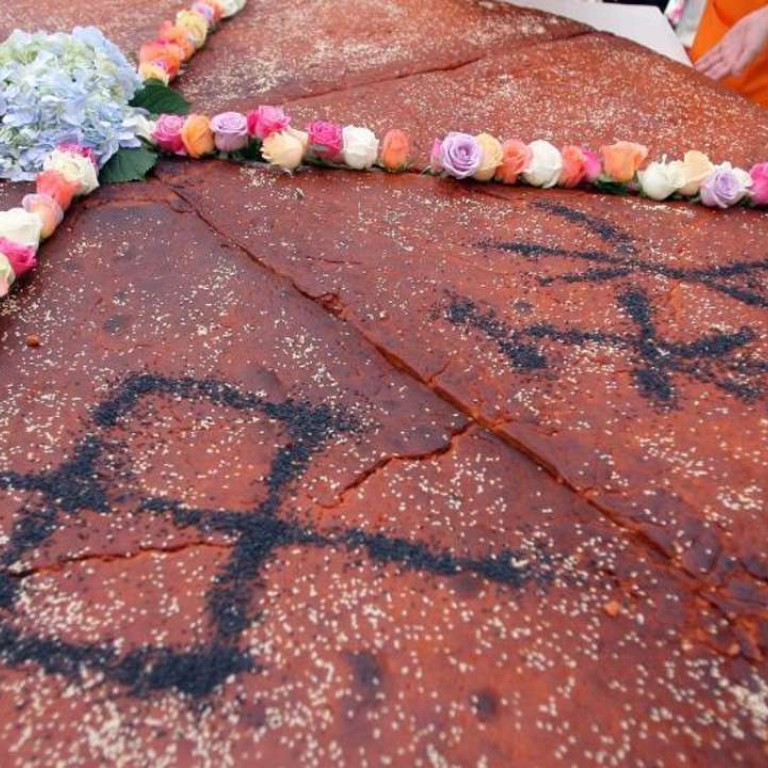 Chinese city's record 2.4-metre-wide Mid-Autumn Festival mooncake cut down to size for hungry fans
A record-breaking mooncake with a diameter of 2.4 metres has attracted large crowds in a city in southwestern China.
The huge mooncake – a pastry traditionally baked and eaten to celebrate the Mid-Autumn Festival – was made on Saturday and is the biggest to be produced in Kunming, Yunnan province, the China News Service reported.
Hundreds of people turned out to admire and sample a little piece of local history, as the mooncake – baked after being stuffed with ham and flower petals – was cut up and given out free for tasting.
The surface of the mooncake had been baked with four Chinese characters on the crust, written using sesame seeds.
The words said "zhong qiu kuai le", meaning "Happy Mid-Autumn Day".
In China, many kinds of world records have been set involving mooncakes.
The world's biggest such pastry, which was made almost a decade ago in the northeastern city of Shenyang, Liaoning province, had a diameter of 8.15 metres. It was 20 centimetres high and weighed 13 tonnes.
This mooncake also contained nine different fillings, which were selected from nine regions across the country.
This year's Mid-Autumn Day falls on September 15.