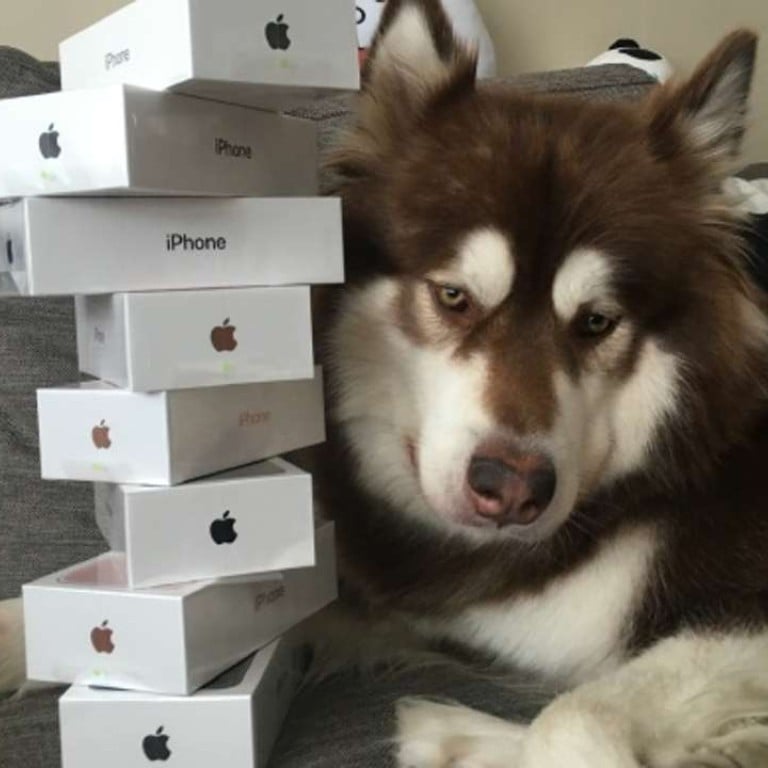 Son of China's richest man shows off eight iPhones he bought – for his dog
Wang Sicong, son of tycoon Wang Jianlin, causes a stir online with latest stunt, which some say is in bad taste
The son of China's richest man has made headlines again – this time for posting photos on social media showing his dog with a stack of iPhone 7s, all bought specifically for the pet.
Wang Sicong, 28, is the son of Wang Jianlin, the chairman of Dalian Wanda Group. Wang Sicong put up two images on Weibo last Friday showing his Alaskan malamute sitting on a couch surrounded by eight iPhones still in their boxes. One comment he included reads: "Not sure what all the showing off is about on WeChat. Are you pushing me to do it?"
Wang was making a reference to people buying the latest Apple phone and boasting about it on social media.
The jet black model of the iPhone 7 with 256GB of storage, the most popular version, is priced at more than 10,000 yuan (HK$11,500) on Taobao, Alibaba's e-commerce platform.
Wang Sicong has also previously shown off two Apple Watches he bought his dog, a stunt that also triggered interest online and made headlines.
He is known for being outspoken on social media. In February 2015, state-run Xinhua ran a commentary condemning him for saying his top criteria for choosing a girlfriend was that she be buxom. The commentary said Wang Sicong's comment objectified women and was borne out of arrogance because he was wealthy.
Some online users appeared to be dismayed over the posting. "You don't have to show off. Everyone knows your family is rich," read one online post.
Other online users asked whether he could give some of the iPhones to other people for free.
Forbes has put his father's net worth at US$33.3 billion