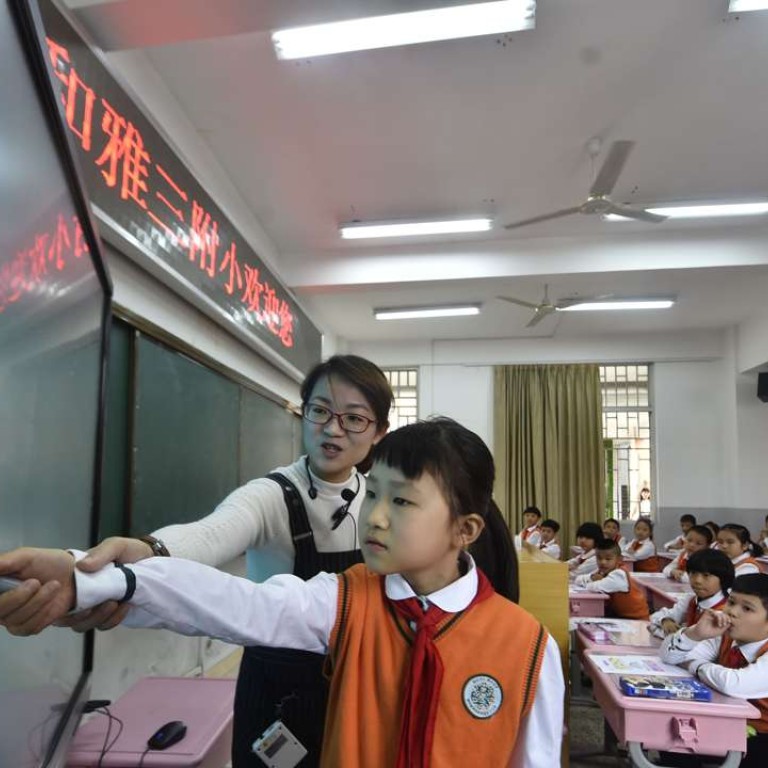 Piano lessons, maths classes and hours of homework … a weekend in the life of China's stressed-out kids
'Tiger' parents ignore warnings for fear their offspring will lose out in race to success
On a typical weekend in Shanghai, eight-year-old Amy is busy shuttling from class to class. On Saturday afternoons, she learns piano. Sunday mornings are spent attending English lessons and in the afternoons, she goes for Chinese class.
Besides these weekend classes, the grade three pupil at a public primary school in Shanghai's Xuhui district also attends three-hour mathematics Olympiad classes after school every Tuesday and Friday evening, one of which is designed for grade four pupils.
Joy Ji, Amy's mother, shuttles her between these privately run tutoring institutions.
"I don't want my daughter to have to study so hard, but I have no other choice," Ji said.
"Our target is that she can be admitted into a prestigious junior high school.
"Not studying in a key junior high school means being unable to be admitted by good high schools. Not studying in good high schools means not being able to go to top universities, and a degree from a top university, no doubt, translates into a decent job."
Ji's logic is shared by millions of other parents across mainland China, where nine years of education is compulsory and the authorities offer free schooling for primary and junior high school pupils.
This means pupils in cities such as Shanghai can easily find places in public primary and junior high schools in their communities. But Ji and other parents shun such schools due to perceptions of poor academic performance.
Instead, they seek places for their children in the many privately run schools that have sprung up, each touting their ability to produce high scores. Some receive dozens of applications for every vacancy.
Because of the intense competition for admission into such schools, many middle-class parents are ignoring government warnings and policy edicts and ramping up their young children's extracurricular workload in the belief it will lead to a better future.
As a result, privately run tutoring operations have mushroomed across the mainland, with the biggest, Xue Er Si Education Group, seeing its net income rocket 42.9 per cent year on year in its 2016 fiscal year to US$619.9 million. The Beijing-based, New York-listed company, which was established 13 years ago, now has 422 teaching centres in 25 mainland cities.
Xue Er Si's mathematics courses have become so popular that parents are forced to scramble for vacancies in its classes, which are made available on a smartphone app according to a set schedule. A mother in Hangzhou, Zhejiang province, said she had set an alarm to notify her when vacancies were announced, the City Express newspaper reported.
Parents' desire to see their children gain admission to top middle and high schools has resulted in exhausted primary school pupils devoting nearly all their spare time to their studies.
Ji said studying mathematics at grade four level could help her daughter outperform other grade three pupils in mathematics contests.
"Amy attends only two types of maths classes each week," she said. "To my knowledge, some of her peers attend five or six types of maths classes a week."
The situation has become so serious that the Communist Party mouthpiece People's Daily carried a series of reports last month warning about the heavy burden being placed on young pupils.
One article said that although the authorities had issued orders time and time again for schools to assign less homework and administer fewer tests, pupils were still being overburdened because their parents' "strong anxieties" had resulted in their children being given extra academic tasks.
Parents said they could not allow their children to opt out of extra classes, with the sentiment summed up in the motto "I must not let my child lose in the competition at the starting line".
"Compared with two or three decades ago, young pupils have more stress in their studies and are more tired," said Fan Xianzuo, a professor of education science at Central China Normal University in Wuhan, Hubei province. "With better-off family conditions, parents will pay more attention to their kids' education. Families have a stronger desire for quality education."
Despite government appeals for less pressure to be put on young pupils, and recent moves by the education authorities in Shanghai and Beijing to ban middle schools from basing enrolment decisions on awards won in competitions, Fan said a talent-screening mechanism based on school and university pre-enrolment tests still existed.
When selecting pupils, top middle schools place a premium on awards won in academic competitions in a range of subjects, ranging from mathematics and Chinese composition writing to public speaking and English.
And the academic excellence achieved by such the top private schools is often based on emphasising study above all else, with teachers assigning excessive amounts of homework and giving pupils frequent tests.
The education authorities say pupils in grades four to six of primary school should do only an hour of homework a day, but a survey by the China Youth and Children Research Centre found two-thirds did one hour and 40 minutes of homework each weekday and four-fifths did two hours and 50 minutes of homework each weekend day.
All that study sees children having little spare time and not enough sleep.
A circular issued by the State Council a decade ago recommended that primary school pupils sleep for at least 10 hours a day, and that junior high school students sleep for nine hours a day. But according to an investigation by Shanghai's education commission last year, half of primary grade four pupils slept for less than nine hours a day and 88 per cent of junior high grade three pupils had no more than eight hours of sleep a day, Xinhua reported.
Despite the ban on schools taking competition awards into consideration when allocating places, parents still value them.
"If they don't look at competition awards, what criteria will these elite schools adopt?" said Wang Jingxuan, a Shanghai woman whose son is in grade two at primary school. "I think all other benchmarks are quite subjective and random, and it would lead to corruption if the award standard is dropped."
Wang applied for a place in an extracurricular mathematics class for her son last month and said he needed to learn more outside school.
"All of my friends and relatives have sent their kids to extracurricular classes," she said. "I can't be the exception, otherwise my boy will be left behind in his studies."
Fan said class distinctions had become starker on the mainland and middle-class families' fears that their children could slip down the social ladder without a good education were adding to the pressure on young pupils.
Peking University sociologist Zheng Yefu said giving children vast amounts of homework was not wise and that sending children to extra academic classes was the result of a "conspiracy" between parents and teaching institutions to "bully kids".
"It's silly for parents to let their kids study so much and for so long at a young age," he said. "When the kids grow older, it's quite likely that they will lose interest in their studies and lose momentum in competition."
Zheng has been a frequent critic of the education system, but not every parent listens to him.
"I have always been high-handed when it comes to my daughter's study and I won't let her relax for a single moment," Ji said.
However, she did say she felt sorry that so much pressure was put on Amy and her classmates.
"When it's sunny, she can't go outside to run and play," Ji said. "When she's got a fever, she still has to attend maths classes."
Can you answer these maths questions designed for China's six-year-olds?
This article appeared in the South China Morning Post print edition as: All w ork and no child's play