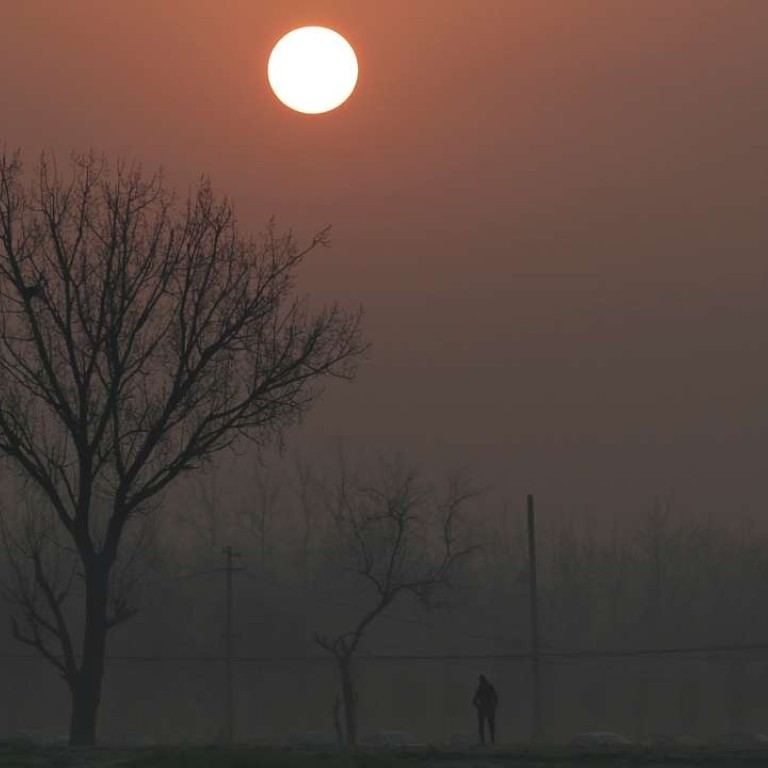 Beijing's 'smog refugees' flee the capital for cleaner air down south
Flights south to inland, coastal areas almost fully booked after year's first red alert for air pollution
Legions of Beijing residents are fleeing the capital and heading south in search of cleaner air as the year's worst smog lays siege to the city.
This year's first red alert for air pollution was issued in at least 23 northern cities, including Beijing, on Thursday, with choking smog forecast to blanket much of the north until Wednesday.
The red alert – the highest warning level in the four-tier system – triggers limits on the use of cars as well as school and factory closures.
Beijing's air quality index in the capital was at "very unhealthy" levels for much of the day but conditions were worse in neighbouring Hebei province.
In Shijiazhuang, levels of PM2.5 – fine particles that are hazardous to human health – soared to more than 1,000 micrograms per cubic metre, according to Xinhua. A World Health Organisation guideline recommends an annual average of no more than 10 micrograms.
The Ministry of Environmental Protection had expected the air pollution to hit peaks on Monday, Tuesday morning and again on Wednesday.
The Beijing Evening New s reported that tickets on flights to inland areas in the west and coastal areas in the east of the country were three times higher than before the red alert, based on searches on travel website Qunar.com.
Except for the most expensive first-class seats, seats on flights to popular resort areas in the south – such as Sanya, Dali, and Xiamen – were almost sold out.
Full-fare tickets to other popular holiday destinations in the south, such as Kunming in Yunnan, and Guilin, in Guangxi province, were still available.
Valen Lin, an office worker in Beijing, fled to a ski resort in Hebei on Friday to escape the smog.
"The smog will last for a very long time and affect a large area, so I thought I'd better take advantage of the weekend to clean my lungs," Lin said.
Lin said her awareness of the hazards of smog had grown in recent years and she would arrange to take longer leave in the winter when the air pollution was worse.
"It was very painful to get back to the air in Beijing. My throat hurt again," Lin said.
Lin said she realised it could take years for the government to remedy the problem but she was upset that conditions had not improved enough.
Residents were also fleeing Chengdu, in Sichuan, after enduring 12 days of smog in a row up to last Wednesday. The pall was expected to set in again for three days from Monday.
Emma Zhang took her three-year-old son to Tengchong, Yunnan, for a breather over the weekend.
"I finally saw the blue sky. It was wonderful!" Zhang said. "The persistent cough we had in Chengdu also stopped."
She said her son complained of throat pain on the way home from the airport.
Beijing Jiaotong University tourism management Professor Zhang Hui,said traditionally people in the north tended to go somewhere warm in winter, but now clean air also determined their destination.
Online travel agencies, such as Ctrip.com, have been quick to promote holiday packages to escape the smog.
In a report on the weekend, Ctrip.com estimated that 150,000 people would travel overseas to avoid pollution and that each year, more than one million tourists went abroad for that reason.
Those most keen to travel to avoid the pollution are residents in Beijing, Shanghai, Chengdu, Guangzhou and Tianjin.
This article appeared in the South China Morning Post print edition as: Mainland smog refugees flee south for the winterPollution refugees flee south for winter