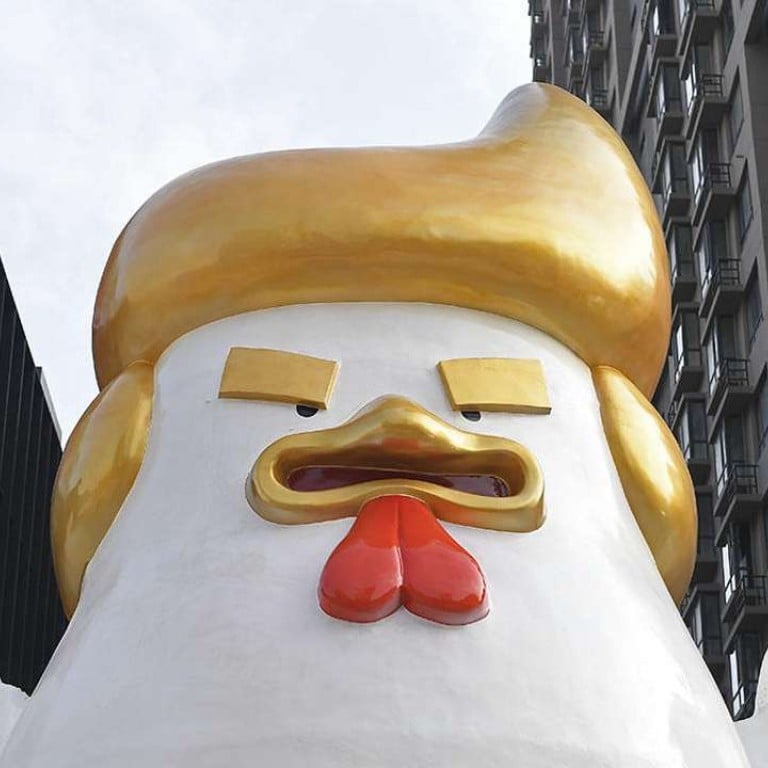 Golden Trump rooster statues become icons around China
US president-elect's avian coiffure inspires entrepreneurs and online gift market
With the year of rooster coming up, Chinese entrepreneurs are finding inspiration in Donald Trump as they make chicken-like toys and sculptures to lure customers.
A shopping mall in Taiyuan, Shanxi province, has erected a giant rooster sculpture that has Trump's signature hairstyle, facial expression and hand gestures.
The designer of the sculpture said its egg-shaped body and golden Trump-like hair deliver the message of "getting rich", according to Phototimes, a social media news outlet run by Tencent. The egg is a symbol of fertility and prosperity in Chinese culture.
News of the sculpture has prompted other enterprising souls to offer replicas on e-commerce site Taobao, for prices ranging from a few hundred yuan to 50,000 yuan (HK$56,000).
Wei Wei, who owns a company that produces inflatable decorations, said he started to offer the figure online after seeing photos of the sculpture on news media.
"The design is very special," he told the South China Morning Post. "It is the year of rooster, and Trump is about to take office. We have named it the Inflatable Trump Rooster."
A few people called on Wednesday to ask about the price, Wei said. One wanted a 10-metre-tall rooster, which Wei estimated would cost more than 10,000 yuan to make.
Another seller on Taobao is offering to make replicas of the rooster.
"A gift for your boss," says the product's description, with photos of Trump attached. It was priced at 299.9 yuan.
Meanwhile, photo-snapping visitors have been flocking to the site of the original golden bird at the Hangzhou Safari Park in Zhejiang province.
Trump will be sworn in on January 20, a week before Chinese celebrate the new year of the rooster on January 28.