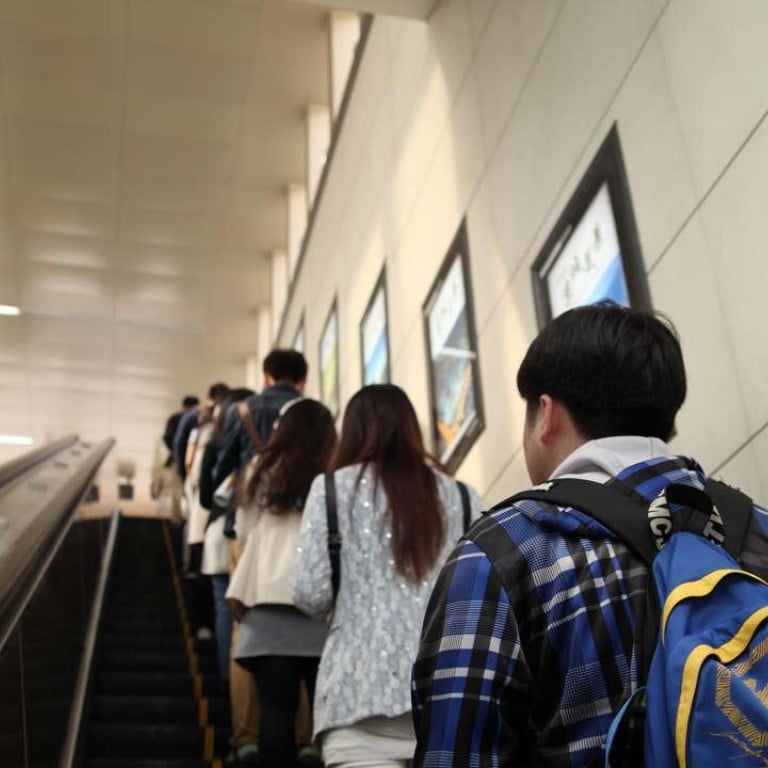 Chinese metro scraps 'walk left, stand right' rule after escalators suffer damage
Subway chiefs in Nanjing say passengers should stay stationary rather than standing on the right or walking on the left of the walkways
The authorities on a subway system in eastern China have stopped encouraging escalator users to "walk on the left and stand on the right", claiming its damaging the machinery and safer to stand stationary while using the walkways, Chinese media reported.
"About 95 per cent of escalators have severe damage on their right side. Standing on the right and walking on the left is no longer being recommended," the Nanjing Metro system in Jiangsu province said on its official social media account, the Beijing Morning News reported. "Standing still and holding on to the handrails are more important," it added.
The announcement has met with a mixed response, the newspaper said.
One resident in Beijing backed the metro system advice. "If somebody is in a hurry, they can run as fast as they want taking the stairs. No need for them to walk on escalators. And standing to the right will damage the escalator. We should abandon such a rule."
Others argued the existing rules did ensure safety while an unnamed resident was wary about not standing on the right. "I am already accustomed to this rule. If I don't stand to the right, others will see me as rude."
Zhang Dihua, an official at Beijing's Special Equipment Inspection and Testing Centre, said users should take care on escalators as their steps were higher and the moving parts posed a potential safety risk.
A spokesman for the Beijing metro system was quoted as saying that proper maintenance could solve the problem of wear and people walking on the left posed no safety risk.
"Routine maintenance can keep escalators in a good condition and no accident happened before because someone was walking to the left," the official said.