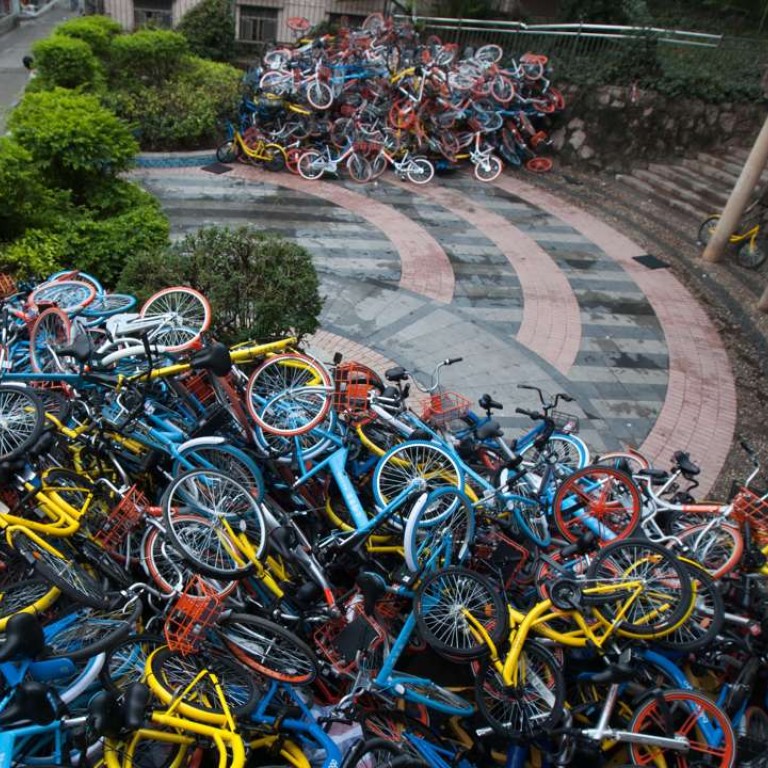 More than 500 rented bikes – many vandalised – left dumped in piles near Chinese city park
Shenzhen residents' complaints about discarded bikes, offered by bike-sharing firms such as Mobike and Ofo, have led to calls for better city regulation of service
More than 500 bikes rented out by bike-sharing firms, including Mobike and Ofo, have been left piled up – many of them vandalised – in Shenzhen, mainland media reported.
Residents and motorists have previously complained about shared bikes being left in roads creating a nuisance, including blocking traffic, leading to calls for the city's government, in Guangdong province, to better regulate the service.
Many of the bicycles dumped in piles near the city's Xiashan Park had been vandalised, the Southern Metropolis News reported.
Numerous bicycle parts, including handlebars and baskets, were left scattered on the ground nearby, according to photographs published on Sunday.
Residents said the bicycles had been left there over the past week.
Many residents and motorists have previously complained about abandoned shared bikes cluttering up roads and blocking traffic, the report said.
One resident was quoted as saying that he believed local security guards had piled up the bicycles.
A volunteer maintaining bicycles for one bike-sharing company, who tried to remove some of its damaged bicycles, was stopped by security guards, the report said.
The guards demanded that a senior company official contact them before any bikes were removed, the newspaper reported.
Zhuang Chuangyu, a deputy of Shenzhen People's Congress, the city's local legislature, has urged the city government to better regulate bicycles offered by bike-sharing companies, including where bicycles should be parked after use to avoid blocking traffic.
Safety concerns needed to be examined, too, as many of the shared bicycles were used by primary and middle school pupils, the deputy said.
Bicycles offered for sharing by the Shenzhen government's own bike-sharing scheme had been organised properly because bicycles could be left only in certain designated areas of the city, Zhuang said.