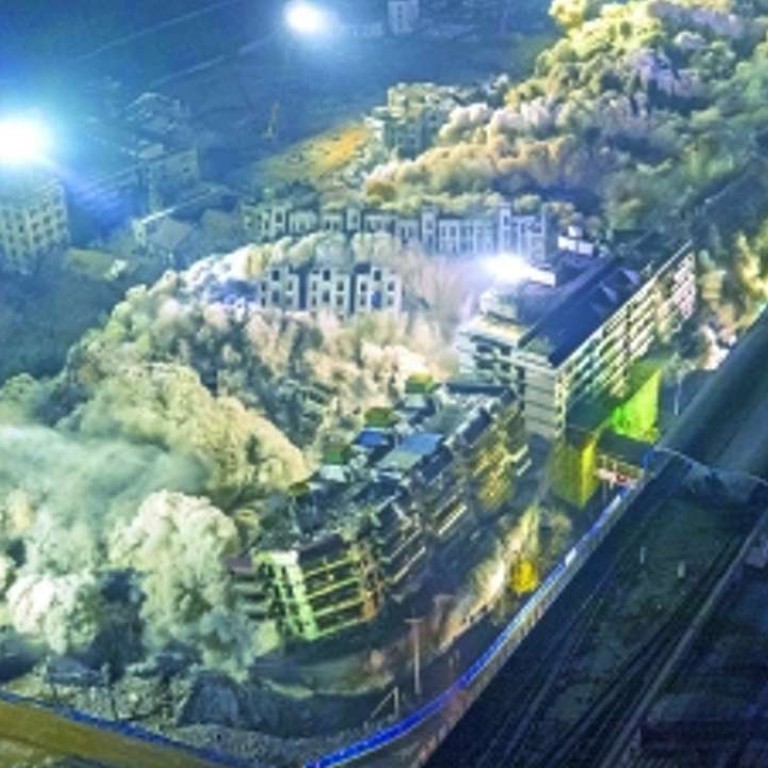 Chinese city implodes 19 inner city buildings in 10 seconds
The 15-hectare demolition, carried out at midnight, will make way for a new business centre featuring one of the world's tallest buildings
Nineteen buildings were demolished in central China on Saturday in less than 10 seconds, marking the country's largest building implosion project.
According to the Hubei Daily, the buildings ranging from seven to 12 storeys high were razed just before midnight on Saturday in Hankou, Hubei province. The operation covered an area of more than 15 hectares and involved more than 5 tonnes of explosives distributed in 120,000 locations.
The newspaper said it was the third implosion operation carried out in the area, demolishing a total of 32 buildings so far that will make way for a marquee business district of the city.
The project is said to have attracted more than 30 billion yuan (HK$33.8 billion) in construction investment, which will include one of the world's tallest building standing 707-metre tall, a cross-harbour tunnel and an underground complex.
The world's current tallest building the 830-metre Burj Khalifa in Dubai.
Wang Xuguang, an implosion expert at the Chinese Academy of Engineering, told the newspaper that the event was the first attempt in China to demolish a large complex of buildings in a bustling metropolitan area.
Wang said that by using the implosion technique rather the traditional demolition approach, the city saved more than four months to prepare the building site.