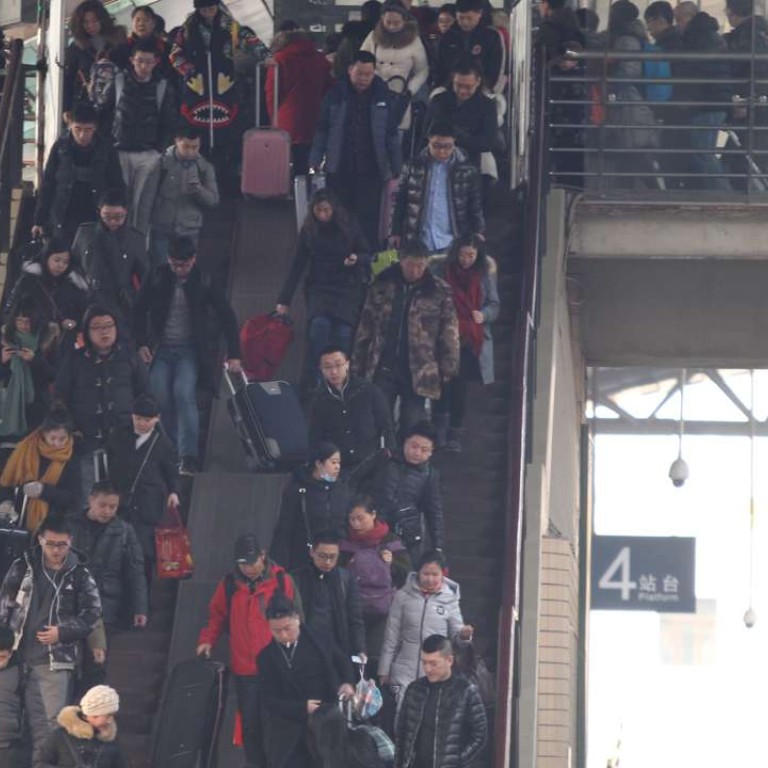 China's massive Lunar New Year travel rush: where are they going and how?
Beijing, Shanghai, Guangzhou, Shenzhen, Zhengzhou and Hangzhou top the travel destinations this year with almost 3 billion trips expected to be made across China
It's known as the world's greatest annual migration of people. Huge numbers in China travel home each year to celebrate the Lunar New Year holiday, a mass movement of people known in Chinese as chunyun. The authorities on the mainland expect the highest number of trips ever to be made during this year's festive season. The Ministry of Transport predicts that 2.98 billion trips will be made from January 13 to February 20.

Here are some key facts about the holiday travel rush:

What is chunyun?

Chunyun refers to the 40-day period of mass migration as Chinese people travel home for a family reunion during the Lunar New Year holiday, also known as the Spring Festival.
The term is thought to have first been used in state media by the People's Daily in the 1980s, but it is now a formal term adopted by the National Development and Reform Commission when it coordinates with the Ministry of Transport and the Civil Aviation Administration each year to announce the number of people expected to travel during the holiday rush.

When does it take place?

The 40-day period begins 15 days before the first day in the lunar new year and ends 25 days after. This year it extends from January 13 to February 21, with New Year's day falling on January 28.
The state-run news agency Xinhua said the peak travel period was reached on Monday with 83 million passengers travelling on all forms of transport.
Who travels during this period?

The main travellers during chunyun are migrant workers and students.

China has about 277.5 million migrant workers who account for 36 per cent of the nation's workforce, according to figures released last year by the National Bureau of Statistics.
About 78 million migrant workers travel long distances to find work and live, rather than stay in their home provinces, the NGO China Labour Bulletin says.
Why do they choose this time to travel?

The Lunar New Year is the most important holiday of the year in Chinese culture. It is also the only chance each year for many migrant workers to travel from cities back to their rural hometowns to see their families as the Lunar New Year is the sole, statutory long holiday period under the country's labour laws.
Sixty-one million children in China's countryside are left behind by their migrant worker parents who seek work in the coastal cities, according to figures released last year by the National Health and Family Planning Commission.
Where do they go?
Beijing, Shanghai, Guangzhou, Shenzhen, Zhengzhou, Hangzhou, Suzhou and Dongguan top the list of travel destinations this year, according China's online travel website Ctrip and the online search giant Baidu.

Popular destinations among inland areas and cities include Jinan, the capital of Shandong province, and Kunming in Yunnan province.

Using train and plane ticket sales data provided by Alitrip, ‒a division of the e-commerce giant Alibaba that owns the
South China Morning Post
, the tidal waves of travellers heading home can be visualised in the map above.
Alitrip says its transaction volume surpassed 100 billion yuan (HK$112 billion) last year and it has more than 200 million registered users , according to China Internet Watch.
It supplied the Post with data on the top 10 destinations by train and plane from Beijing, Shanghai, Guangzhou and Shenzhen from January 20 to January 28 and where people came from to travel to those cities from January 30 to February 3.
The top two destinations are Chongqing and Chengdu in Sichuan province, an average of 1,437km from the four big cities.
Xian and Wuhan round out the top four destinations for Lunar New Year travel from the big coastal metropolises.
These destinations have many tourist delights to offer, including Wuhan's spicy hotpot, cute pandas in Sichuan province and the terracotta warriors in Xian, but they also account for some of the most densely populated cities in China.
How will people travel?

The Ministry of Transport's estimate of about 2.98 billion trips during the holiday period is a 2.2 per cent increase on 2016. The figure excludes trips made from Taiwan, Hong Kong and Macau.
The most popular modes of transport will be by rail and roads.
Trips by road, usually reserved for short journeys under 70km on average according to National Statistics Bureau figures, will account for a whopping 85 per cent of traffic over the holiday, or 2.5 billion trips.
About 12 per cent of the total trips, 356 million, will be made by train, equivalent to the population of the United States and Canada moving vast distances.
Trips by ship and air will account for 1.4 per cent and two per cent of trips respectively.