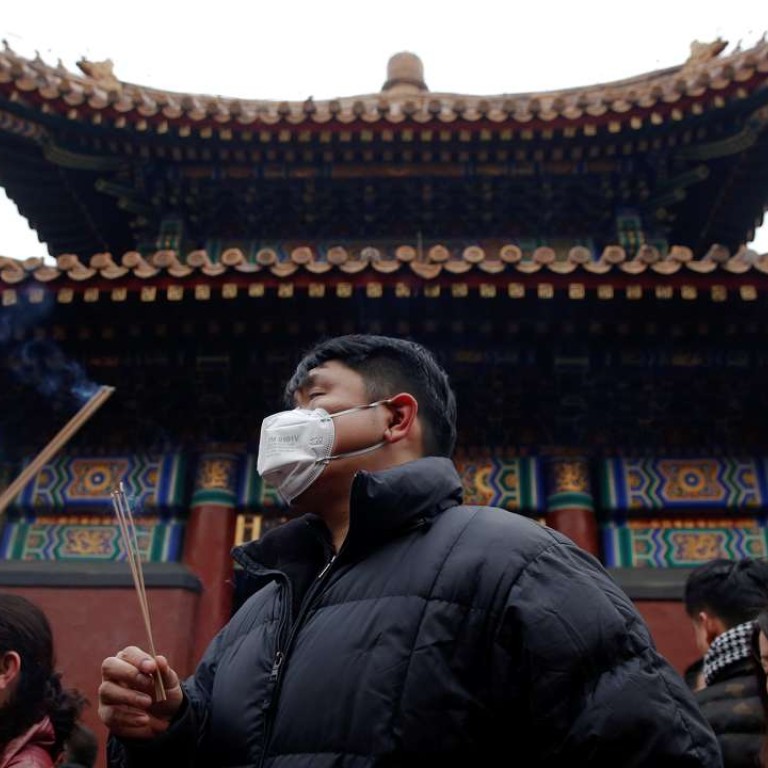 Smog grips Beijing as big factories keep belching over the Lunar New Year break
Some companies may have ramped up production over the holiday to meet demand, ministry researcher says
Various big metals factories in and around Beijing kept up production over the Lunar New Year, compounding pollution in the capital on the weekend, according to a researcher affiliated with the Ministry of Environmental Protection.
Chai Fahe, from the Chinese Research Academy of Environmental Science, said more passenger traffic over the holidays also added to the air quality woes.
The capital was blanketed in smog on Saturday, with levels of PM2.5, the fine pollutants most hazardous to human health, peaking at 547 micrograms per cubic metre, according to ministry data.
The reading was well beyond the air quality index's upper limit of 500, and double the threshold considered hazardous.
PM2.5 levels in Tianjin and Hebei also exceeded the limit on Saturday.
Conditions improved in Beijing on Sunday as PM2.5 levels fell to moderate levels.
Shanghai-based news site Thepaper.cn quoted Chai as saying that many small and mid-sized manufacturers shut down over the holiday but some big factories continued production.
"Some manufacturers may have even stepped up production because of demand for steel and electrolytic aluminium," he said.
Chai also said passenger traffic and the use of coal for heating in villages in the Beijing-Tianjin­-Hebei region was up as workers returned home from cities.
"Discharges from diesel have risen as passenger traffic has increased by 30 per cent," he said.
Beijing declared a "war on pollution" in 2014, vowing to shut down polluting factories and punish polluters.
The authorities have also restricted the sale of fireworks to improve air quality.
But the capital is still plagued by smog, and residents are increasingly frustrated at the government's inability to curb pollution.
Researchers have also said contingency measures to ensure blue skies are only put in place during political events, such as the annual gathering of the National People's Congress, after which manufacturers soon ramp up production.