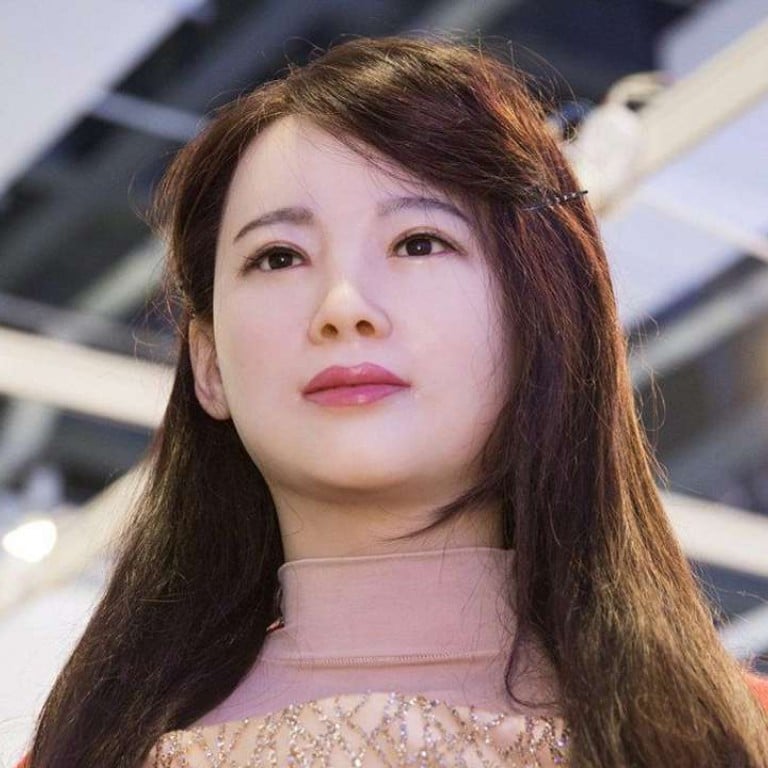 All beauty, no substance? China's 'robot goddess' Jiajia tongue-tied in live interview in English
Developer says live-streamed talk with US journalist went fairly well, but observers in China say robot needs to go back to drawing board
China's home-grown humanoid robot Jia Jia fared poorly in her first English-language live "interview" with an American journalist on Monday morning.
The robot stumbled over basic questions in her conversation with Kevin Kelly, co-founder of the tech magazine Wired. The interview was conducted through Skype from the University of Science and Technology of China in Hefei, Anhui province.
Adorned with long black hair and traditional Chinese garb, Jiajia was able to realistically blink and smile throughout the dialogue, but largely failed to answer the questions Kelly posed, speaking after seconds-long delays.
For instance, she was unable to respond to questions about the number of letters in the English alphabet, and answered a question about the Great Wall's location in China with the reply: "China".
And when Kelly, who has written extensively about robotics and artificial intelligence, asked Jiajia if she could talk about him, the robot gave an incoherent reply.
Researchers at the Hefei university spent about three years developing the humanoid robot, giving her the ability to interact with humans and to understand human languages.
The machine's appearance was modelled after the features of five women from the university, with the aim of ensuring the robot turned out "attractive" according to a report from The Beijing News last year.
Chinese internet users have since dubbed Jiajia a "robot goddess".
After the Skype interview on Monday, Chen Xiaoping, leader of the team developing Jiajia, said the robot was asked some "challenging" questions and failed to answer some, but was mostly able to give "good answers".
"There were some delays due to the [Skype] network. Apart from that, I think the conversation was successful," he said.
But users watching the conversation in a live stream from Xinhua expressed disappointment about Jiajia's inability to engage in basic conversation.
"It does not work!" one commented.
"It needs some major revamping," another said.
Some noted that Jiajia did not measure up to other artificial intelligence conversationalists, such as Apple's smart programme Siri or Amazon's intelligent assistant Alexa.
Earlier on in Monday's live stream, Jiajia was able to converse with Xinhua reporter Xiong Maoling.
Answering a question about whether or not she is the most beautiful person in the world, she responded with a cheeky: "Maybe, I'm not sure."
Asked about her age, Jiajia moved her head back and forth slowly, before intoning: "It's a secret."
In a separate interview via Xinhua, Jiajia reminded people: "I'm a robot. But I'm as smart as you humans."