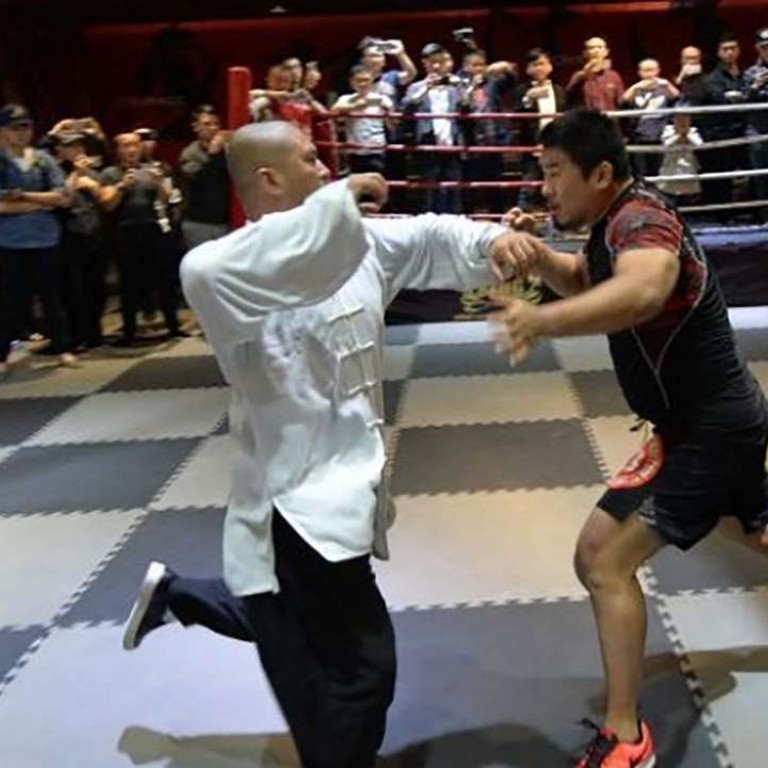 Gone in 10 seconds – Chinese MMA fighter wipes floor with 'thunder-style' tai chi master
A tai chi master's 10-second pounding at the hands of a mixed martial arts (MMA) fighter in western China last week has set off a debate over the virtues of traditional versus modern fighting techniques.
MMA fighter Xu Xiaodong wiped the floor with tai chi master Wei Lei when they faced off in front of a big crowd in Chengdu, Sichuan province, on Thursday, according to a video posted online.
Xu started the fight in a boxing stance while Wei held his arms outstretched in a crane-like pose.
The two circled each other briefly before Xu, nicknamed "Madman" by fans for his fighting style, then went in for the jugular and quickly pummelled his opponent to the ground, swiftly ending the match.
The fight was staged and live-streamed after the two debated the merits of traditional Chinese martial arts online.
Wei told the Legal Evening News that Xu had crossed the line by dismissing tai chi.
"Since [Xu] insulted tai chi so strongly, including cursing at our ancestors, I thought there was no room for cooperation between us," Wei was quoted as saying.
Following his quick victory over Wei – who claimed to be the founder of a "thunder style" of tai chi – Xu wrote on his microblog: "All of China's martial arts masters were watching … I will do what I should do. Everyone should calmly use their independent thinking abilities."
Wei responded to the match by saying: "I lost. Everyone who wanted to get in on the fun all saw it! I lost, but it is not a problem … I accept this result."
Some online commenters expressed doubts about the strength of traditional Chinese martial arts, calling Wei a "fraud".
But others pointed out that Wei and Xu were not necessarily representative of their respective martial arts practices.
"Just because this man lost, doesn't mean that tai chi lost," one user wrote.
Chinese martial arts are rooted in centuries of tradition and cover hundreds of different fighting techniques. Tai chi is a defensive style touted for its health benefits whereas MMA has evolved into a combat sport, blending boxing, karate and wrestling.
"Tai chi is for exercise purposes, so in practice it cannot match up to modern fighting styles," another online commenter wrote. "Otherwise, everyone in the military would have learned tai chi."
Yet another said: "This isn't about winning or losing, but [Wei] showing everyone in reality the problems with tai chi."