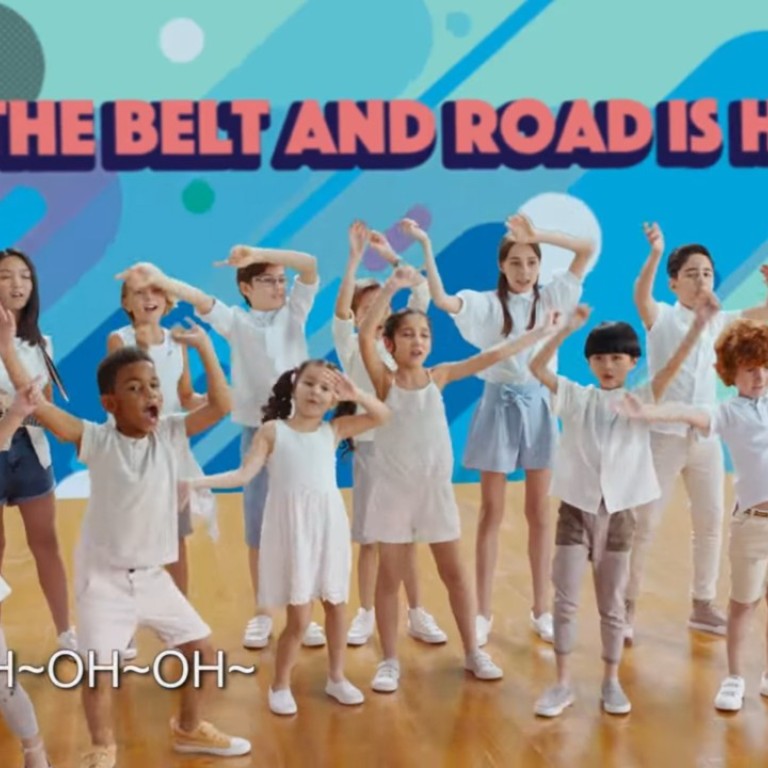 'Belt and Road' for kids: Are these videos China's latest bid to win over young Western generation?
China appears to have embarked on a mission to win over the young Western generation on its "
Belt and Road Initiative
", after selling the global trade and infrastructure development project to state leaders around the world.
In a series of English-language propaganda videos released on YouTube this week, state-run China Daily tries to explain President Xi Jinping's ambitious trade plan that seeks to connect more than 60 countries across three continents.
The release of the videos – which are targeted at young English-speaking children – comes ahead of the two-day belt and road summit that begins in Beijing this Sunday. YouTube is blocked on mainland China.
In one of the videos, published on Tuesday, children, apparently from the belt and road countries, sing in praise of the trade initiative.
"The promise that they hold is joint prosperity," sings a girl to a cutesy, Sesame Street-style guitar riff in the two-minute clip. "We're breaking barriers, we're making history. The world we're dreaming of starts with you and me."
A chorus of children dressed in white then chime in, in front of a colourful animated background: "The future is coming now, the belt and road is how."
The clip was produced by Fuxing Road Studios, the production company behind other slick English-language propaganda pieces, including an upbeat 2015 video explaining China's Five-Year Plan, which made international news.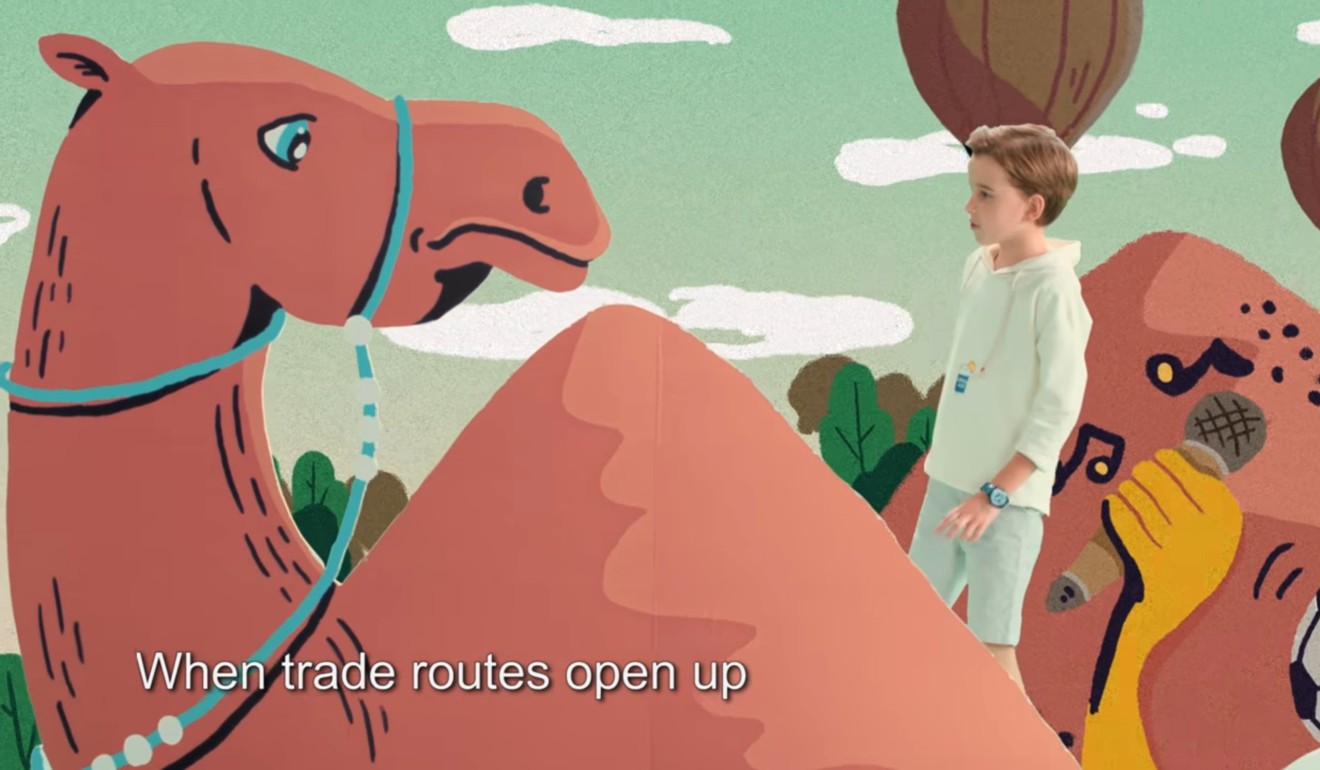 The children's choir clip came a day after another – the first episode of China Daily's Belt and Road Bedtime Stories series – was published.
In that clip, five-year-old Lily's father Erik Nilsson explains the trade initiative to her in the form of a bedtime story. Subtitles are shown in both English and Chinese.
"Once upon a time, several routes led from China, to central Asia, to Europe," begins Nilsson, a China Daily journalist. "It was called the Silk Road."
In later episodes, Nilsson tells his daughter how the belt and road will be financed, and compares it to her piggy bank.
The series of videos have been met with lukewarm response online, with one Facebook user calling the Fuxing Road Studio music clip "cheesy imperialist propaganda".
"So sweet and innocent until the PLA (People's Liberation Army) comes along the belt and road to impose Beijing's interests. No more dancing kids then!" wrote another.
Chinese Weibo users were more positive, calling the music video "cute" – although some questioned why the song was in English.
"We aren't foreign children," one user wrote.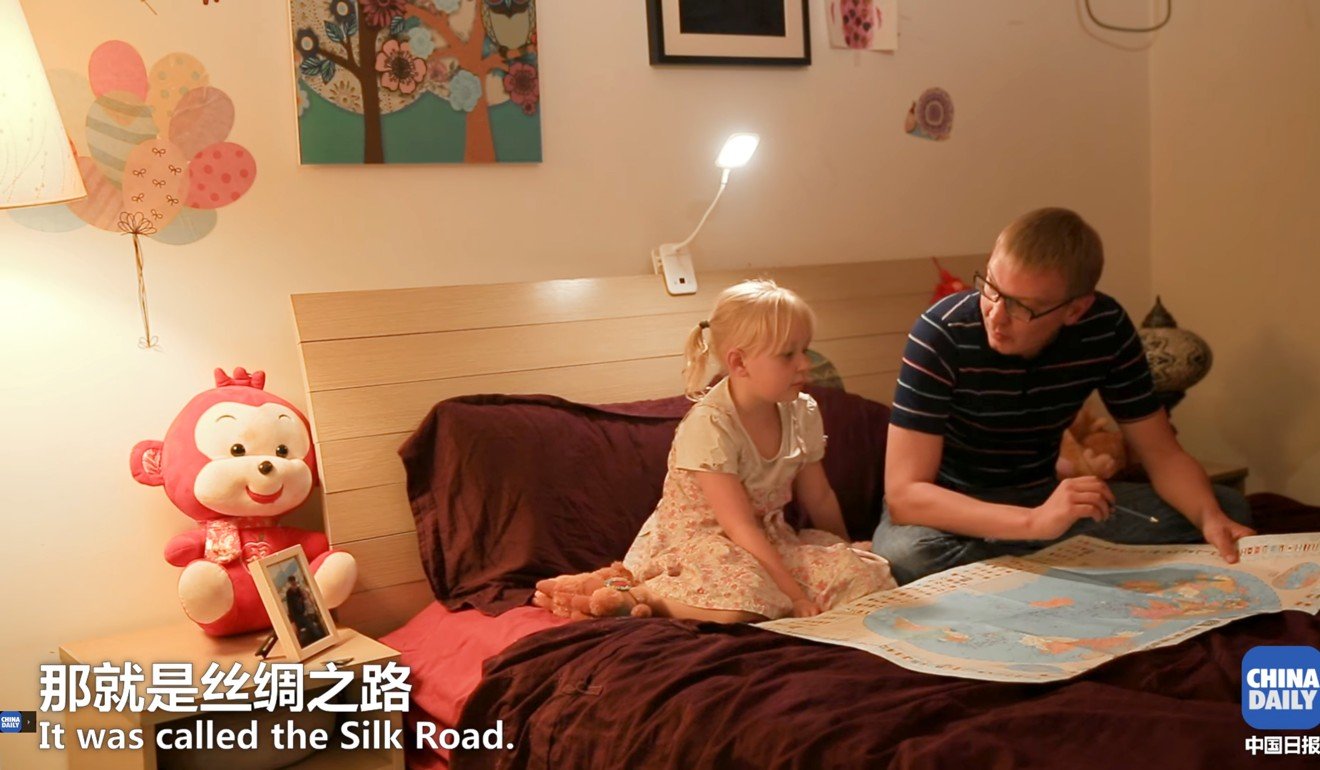 This is not the first time China has had a Silk Road-related branding issue – it recently changed the initiative's official English name from "One Belt, One Road" to "Belt and Road Initiative".
While many countries have embraced the plan, some Western nations have been hesitant about Beijing's motives and growing influence around the world.