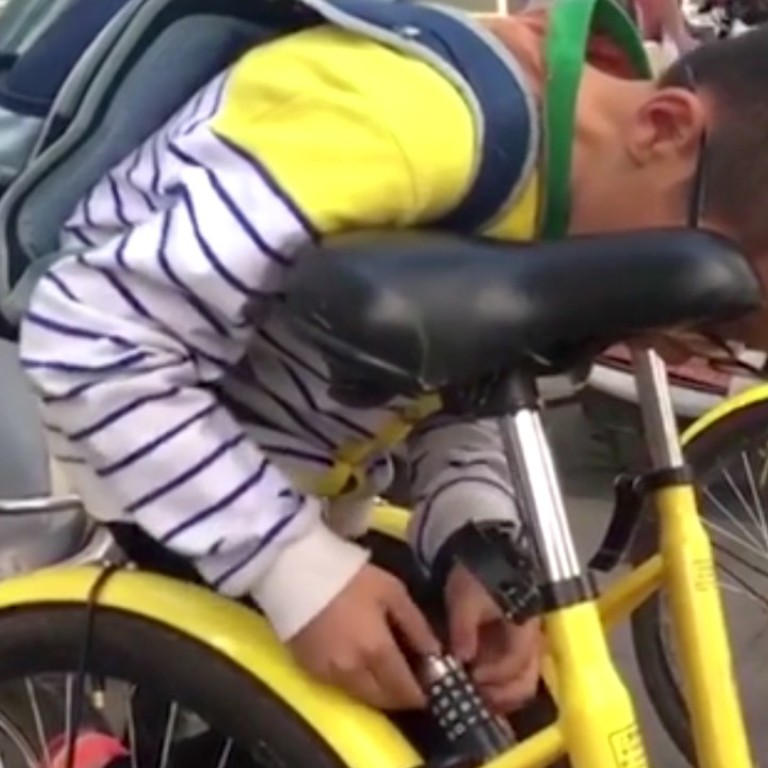 Lock whisperer: Chinese boy picks bike lock in less than a minute using nothing but bare hands and a keen ear
Feat sparks online comments ranging from concern to admiration
A primary student in southern China cracked a shared bicycle lock in less than a minute, sparking controversy over the use of his talents and the sustainability of China's red-hot bike-sharing boom.
The young boy in Kunming, Yunnan province was caught on camera last Friday evening breaking the lock on a bike belonging to the bike-sharing start-up Ofo, the largest operator in China, local news outlet Yunnan.cn reported.
Video of the boy's lock-picking, showing him hunched over the yellow Ofo bike listening to the sounds of the lock in order to crack it, was shared by a local resident surnamed He the next day.
In the video, He was heard telling the young boy he had to pay for the bike, which required a 99 yuan (US$14) deposit before it could be rented for 1 yuan per hour.
The man was later quoted by local media as saying the boy did not respond to his comments, and left the scene. After putting the lock back on the bike, He moved the bicycle to its original place.
The incident was another reflection of the surging bike-sharing phenomenon across mainland China, as start-ups such as Ofo and Mobike have popularise the use of shared bikes. But the now-common sight of piles of bicycles dumped on city streets and viral videos of bicycles being vandalised or broken into highlight the struggles of regulating these services.
Ofo currently boasts some 2.2 million bikes across 43 cities in the mainland, Reuters reported.
Online users largely lauded the boy for his cheeky lock-breaking skills, but urged him to use his talents "the right way".
"Used in the right way it can be a good thing, hope his parents can guide him well," said one comment.
"Can understand a young boy being mischievous, [he] is a genius," said another said.
Other users pointed out that the boy's actions showed the "design flaws" of the shared-bike schemes.
"We are always blindly trying to progress, causing a series of problems to arise," one top comment read. "These original problems with design are always half a beat behind."