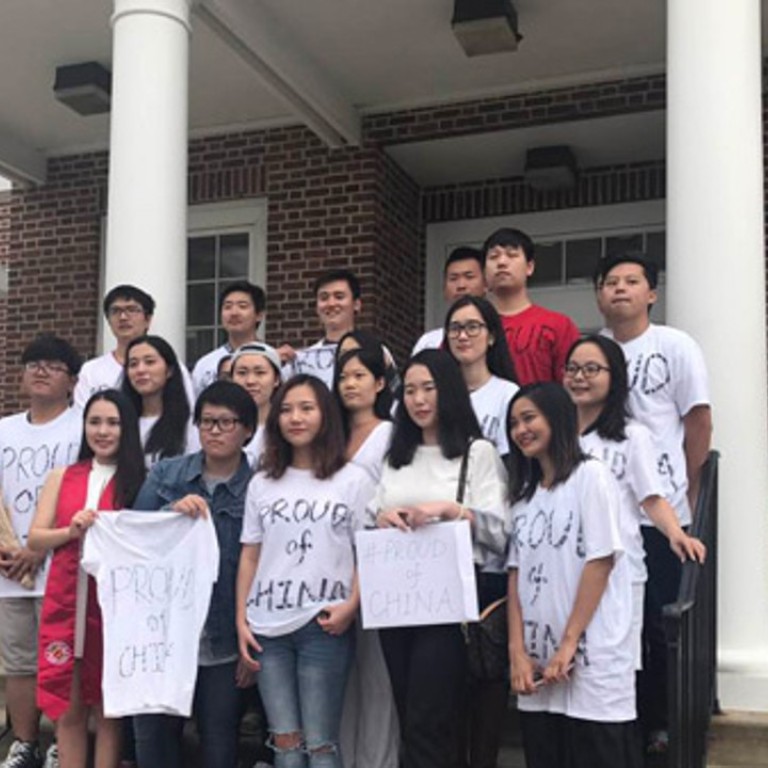 Students at US university launch 'Proud of China' campaign after graduation speech row
Move comes after a fellow student at the University of Maryland created a huge backlash in China for praising America's fresh air and political freedoms
Chinese students at a US university have launched a campaign to declare their pride in their country after a fellow student's graduation speech praising America's fresh air and freedoms prompted a huge backlash in China.
Chinese students at the University of Maryland held up "proud of China" placards on campus and a video was shared online of students expressing their views on Yang Shuping's graduation speech.
Chinese internet users accused her of lying about China's air quality – as she is from Yunnan province, which is known for its fresh air compared with other parts of the country – and of denigrating China in the United States.
Yang has since apologised for her words, stressing that she had not meant to belittle China.
The Chinese students behind the #ProudofChina campaign said they hoped to correct "wrong stereotypes" of the country and show their "courage to speak up".
One Chinese student held up a T-shirt bearing the "proud of China" slogan during the economics department's graduation ceremony on Monday, the state-run People's Daily reported.
Later that afternoon, others donned similar hand-drawn T-shirts and gathered in the campus shouting: "We are from the University of Maryland! We are proud of China!"
A video tagged #ProudofChina, featuring messages from eight Chinese students and graduates of the University of Maryland, was posted on YouTube on Monday and later shared widely on Chinese social media.
The seven-minute clip was a compilation of self-taken videos from the young people, criticising Yang and expressing their love and praise for their home towns in China.
The official China Students and Scholars Association had encouraged them to speak in the video, according to state-run Global Times.
"Although we know that United States is a very free-speaking country, 80 per cent of what Shuping Yang said today were deceptions and lies. So we decided to speak out because we do not think she can represent all international Chinese students," Chongqing native Jiang Xinliang said in the video.
A Suzhou-born student said: "I have a different view from Shuping Yang – I'm proud of China."
Another student, from Chengdu, said: "I admit there are some air quality problems in China right now, but you won't die without a mask. I came here to solve the problem because I am studying environmental science right now. But not to escape!"
A Nanjing University study released last year found nearly one third of deaths in China were related to smog.
Xiakedao, a social media account operated by the overseas edition of People's Daily, indirectly mentioned Yang's speech in an article on Tuesday about the threat of "spies" and how they could be identified.
"Someone might be hostile to the current social system because of their own political view. [They] even feel the air in other countries is sweet," it said. "Thus, [they] hope to subvert the state power through espionage activities."
People's Daily also published a story about the speech, criticising a Chinese student at the University of Maryland for a "biased" commencement speech.
Some Chinese internet users compared Yang unfavourably to Harvard biochemistry graduate He Jiang, who became the first Chinese person to speak at the prestigious university's graduation ceremony last year.
While Yang discussed how she needed to wear a face mask to deal with the smog in her home town, He referred to the poor medical care he had as a child in China and the unequal distribution of scientific knowledge throughout the world. Social media users in China called his speech "inspiring".
Yang's story has attracted attention from Western media outlets, but there has been a comparatively muted reception to the news from non-Chinese social media users, who have largely expressed confusion at the online vitriol.
"Nothing in her speech said anything about not being proud of her homeland. The city with the freshest air in China will not be fresher than America. That's the reality. Time to deal with it instead of being so damn sensitive," wrote one Facebook user.
Another said: "This just shows that the air in China really is 'toxic' – you say just one thing outside of what you are supposed to say and people will just burn you at the stake."
In a statement, the university called Yang a "top student" and said it supported her right to share her views and unique perspectives. "The university believes that to be an informed global citizen, it is critical to hear different viewpoints, to embrace diversity and demonstrate tolerance when faced with views with which we may disagree."
Global Times published a commentary written by Shan Renping on Tuesday, criticising the university's response.
"[The university's response was] irresponsible. It has stuck to American values, but has not taken into consideration the harm wrought upon its own student and has not made any effort to help her mitigate the negative effects [caused by her speech]," he wrote.
The university should apologise as well as it should never have arranged for Yang to give the speech, the commentary said. The university should share the pressure Yang was now under, it added.
"[The incident] has exposed the shortcomings of the teachings and public character of the University of Maryland," Shan wrote. "It showed its close-mindedness, arrogance and lack of compassion."
Additional reporting by Eva Li