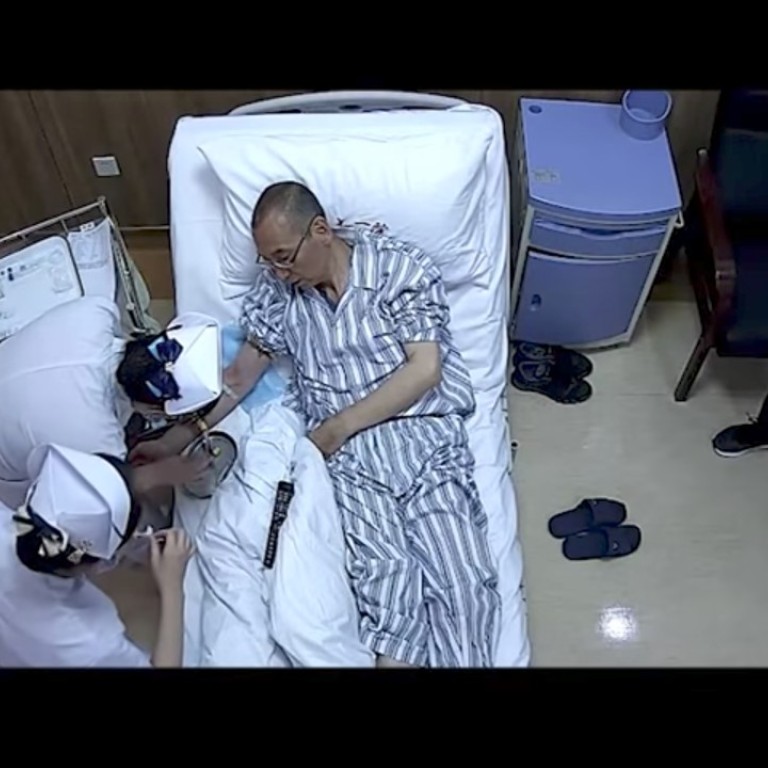 Video surfaces apparently showing terminally ill Nobel Prize laureate Liu Xiaobo's life in prison
The video seems to show the Chinese activist taking part in activities in jail and his medical treatment, but it is not clear whether the man shown is Liu, or where the video was filmed
A three-minute video apparently showing aspects of Chinese Nobel laureate Liu Xiaobo's time in prison appeared on YouTube late on Wednesday, as criticism mounts worldwide over whether the authorities' sudden decision to grant him parole on medical grounds because of his cancer came too late.
The source of the video and where it was filmed were not immediately clear, but it purported to show Liu in Jinzhou prison in the northeastern Liaoning province, where he had served eight years of an 11-year term for inciting subversion of state power.
He had faced the charge after helping to write a petition known as Charter 08, calling for sweeping political reforms on the mainland.
Liu was granted medical parole about a month ago, with his lawyer saying he had terminal liver cancer. The authorities said he was being treated in the First Hospital, part of the China Medical University in Shenyang, although his whereabouts have not been confirmed.
The video begins with a black and white text introduction giving details of Liu's sentence, after which a
man who roughly resembles Liu is seen performing various outdoor activities such as playing badminton with a uniformed jail guard, jogging and shovelling snow in winter.

Most of the video shows medical consultations and examinations, including CT, ultrasound and MRI scans as well as endoscopy and dentistry, but it is not clear in all the shots whether the man shown is Liu.
The man is also heard explaining to one of the doctors that he had developed liver problems in his 30s and is also heard expressing his gratitude to jail guards.
In another shot, Liu's wife Liu Xia is seen visiting him in prison and speaking to him.
Separately, the Shenyang judicial authority that oversees prison facilities released a statement online on Liu's case.

"On May 31, Liaoning Jinzhou prison found abnormalities in Liu Xiaobo's abdominal organs during routine examination. He was immediately sent for medical tests outside prison," the statement said.
It said Liu had been diagnosed with metastatic liver cancer by a panel of 22 experts on June 7, although this contradicted accounts by Liu's close friends that he had been diagnosed on May 23.
The statement said Liu was subsequently examined by experts from Beijing and Shanghai.
Previous medical examinations, including extra tests on his liver, had not shown irregularities, the statement said.
Veteran rights activist Hu Jia, who is a close friend of Liu, said the video and statement were designed to quell intense criticism and pressure from home and abroad.
"The video and statement show Liu was given top-notch medical care worthy of a state leader, but these don't conform with his condition now … are the results of the tests being deliberately withheld?" Hu said.
"It is a political assassination. This is the authorities' attempt to wash down the floor that is covered with Liu's blood," Hu added.