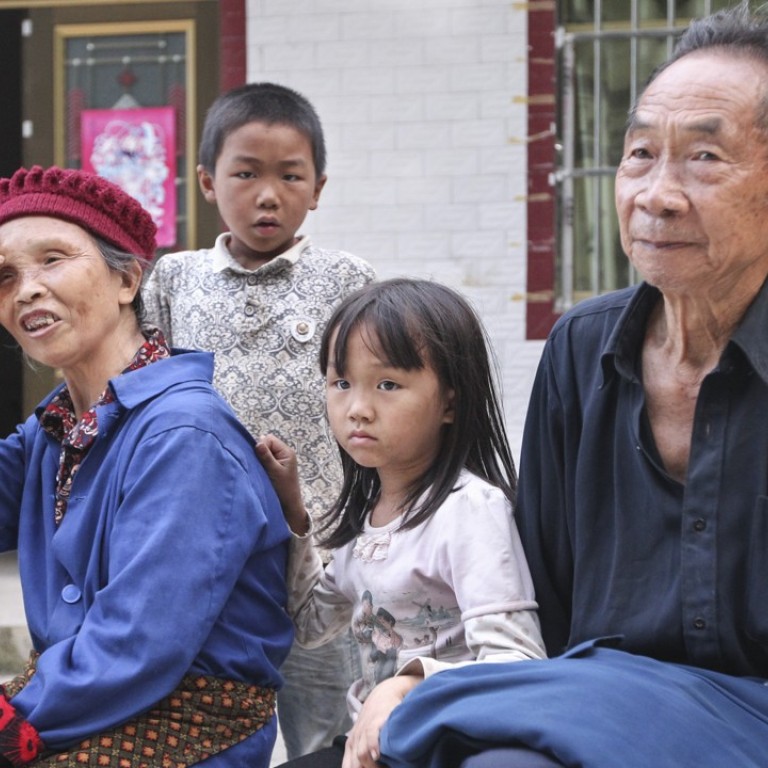 Revisiting China's village of left-behind children after suicides that shocked nation
A village in Bijie city, where four siblings took their own lives is one of many poverty-stricken areas where families are still being torn apart by the need to seek work elsewhere
School is out and eight-year-old Ma Juan's favourite pastime is to stretch a piece of elastic between two chairs on the side of the road so she and her 10-year-old sister can play a skipping game.
While children in other cities head off on long summer holidays with their parents, Ma has never set foot outside her home village of Cizhu, which is three hours' drive on winding mountain roads from the city of Bijie in the southwestern province of Guizhou.
Her mother abandoned the family when she was three months old and her father works on construction sites in Shandong province, around 1,800km to the northeast, coming back only during the Lunar New Year.
"I hate my dad. He won't play with me," Juan said.
Juan and her sister live with their grandmother and play just metres from the site of a tragedy that shocked the country.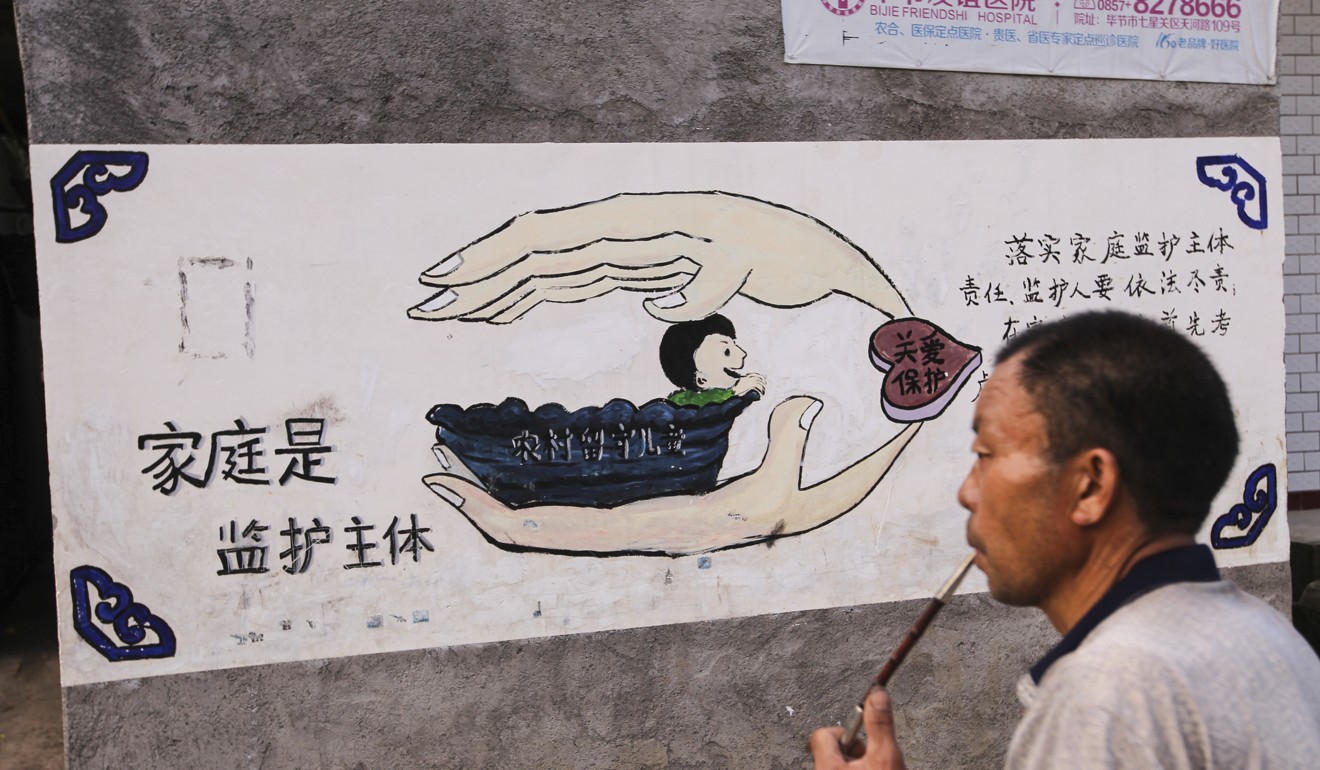 Two years ago four children aged between five and 13 years killed themselves by drinking pesticide after their mother abandoned the family and their father went away to work. Their surviving grandparents had been too infirm to care for them and they had dropped out of school because they could not afford it.
Two years on, the impoverished village is still full of left-behind children, whose parents work elsewhere and have left their children behind for elderly grandparents to look after because of the pressure of making a living.
Even though they are increasingly aware of the damage of separating from their young children, it seems the only choice for them if they are to have any income at all.
"The girls are too little to understand this but my brother has no choice. What can he do?" said Ma Fei, the girls' aunt who is staying with them temporarily to take care of the grandmother after a bad fall in May left her on crutches.
"At least he is making some money and saving several thousand yuan a year. He tries to come back during the Lunar New Year and bring gifts to the girls. He does what he can."
But for the young children it is far from enough. The aunt said she once found the younger sister crying and not even the promise of buying anything she wanted could stop her. Later she told the aunt she could not help missing her mother, even though she did not have any picture of her or remember what she looked like.
Last year, according to official Chinese figures, there were 9.02 million left-behind minors: rural children both of whose parents were working away from home or where one parent was working and the other did not have guardianship of them.
A much wider definition, which counts all children with at least one parent is working away from home, would put the figure at 61 million.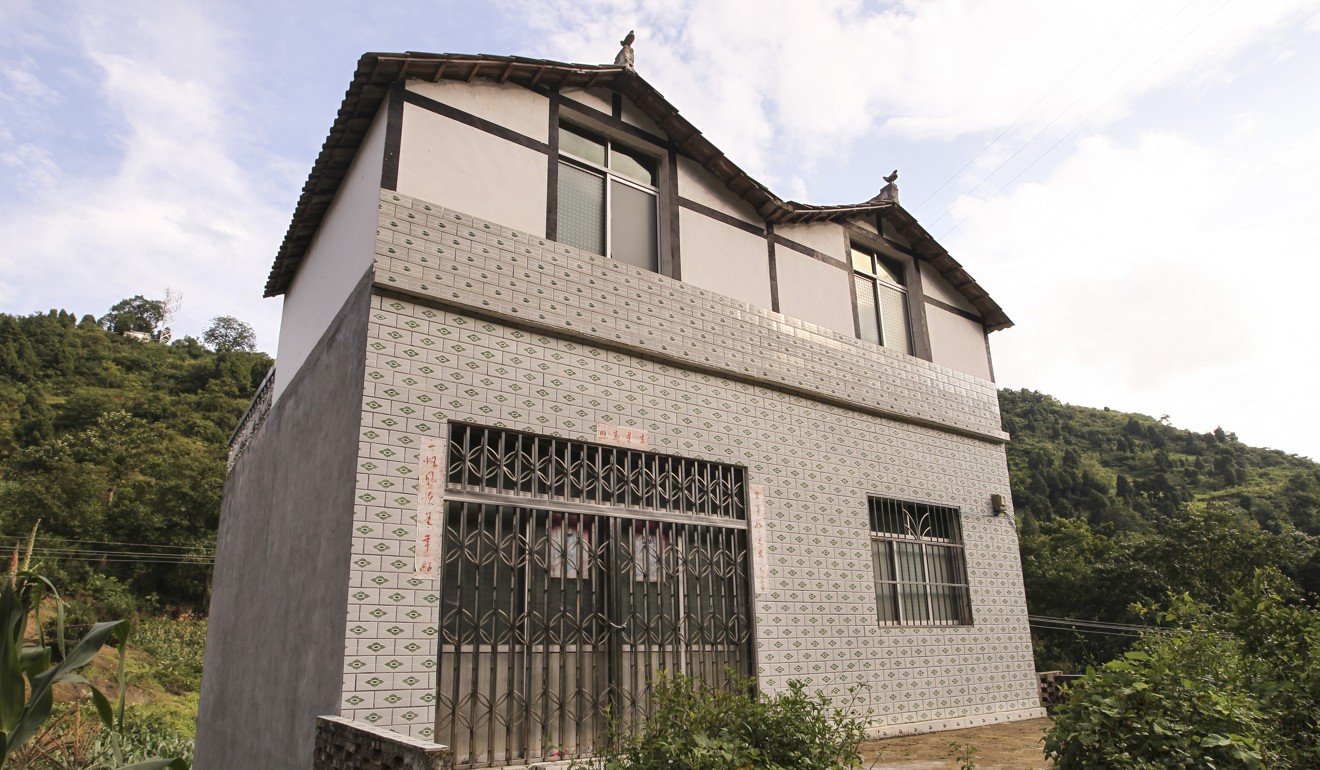 A State Council guideline issued last year called for a system to be set up that involves families, governments, schools and social groups to provide care to left-behind children.
It also promised to reduce the number of children affected by improving laws and regulations by 2020.
Chinese media reported last year that the government of Bijie, which administers Cizhu village and is home to 260,000 left-behind children, had asked parents to return home after the 2015 tragedy.
An unprecedented effort to document those whose parents are away has also been made. Still, parents have to leave their children behind, at least for some time.
Many parents who move away to work in factories can live for free in dormitories, but would need to pay for their own accommodation if they brought children along.
In some larger cities they may also have difficulties enrolling their children in a school – and possibly face additional costs for doing so.
Zhang Xinyi, nine, and her elder brother, Shizheng 11, stayed with their paternal grandparents while their parents were working in a factory in Shenzhen.
The parents borrowed 100,000 yuan to build their house two years ago and had to find work in Shenzhen to pay off debts. The father returned home after the tragedy happened but went back to work some time later.
The grandparents said they were too old to take care of the children, but had no choice. "I am too old and would rather have a rest, but what can I do?" said the girl's grandmother. Xinyi was having green beans and rice for supper while sitting outside the newly furnished brick house. Both her face and clothes looked in need of a good wash.
Last summer the two children were taken away to Shenzhen to stay with their parents during the summer holidays. Xinyi said she did not remember doing or eating anything special, but staying with their parents made the children happy.
The parents call them once a week and sometimes have a video chat with them on the phone.
"They always say be good and listen to your teacher. Study hard," said Xinyi, who goes to the village school nearby.
The grandmother said the parents had agreed come back to take care of the children after they paid off their debts.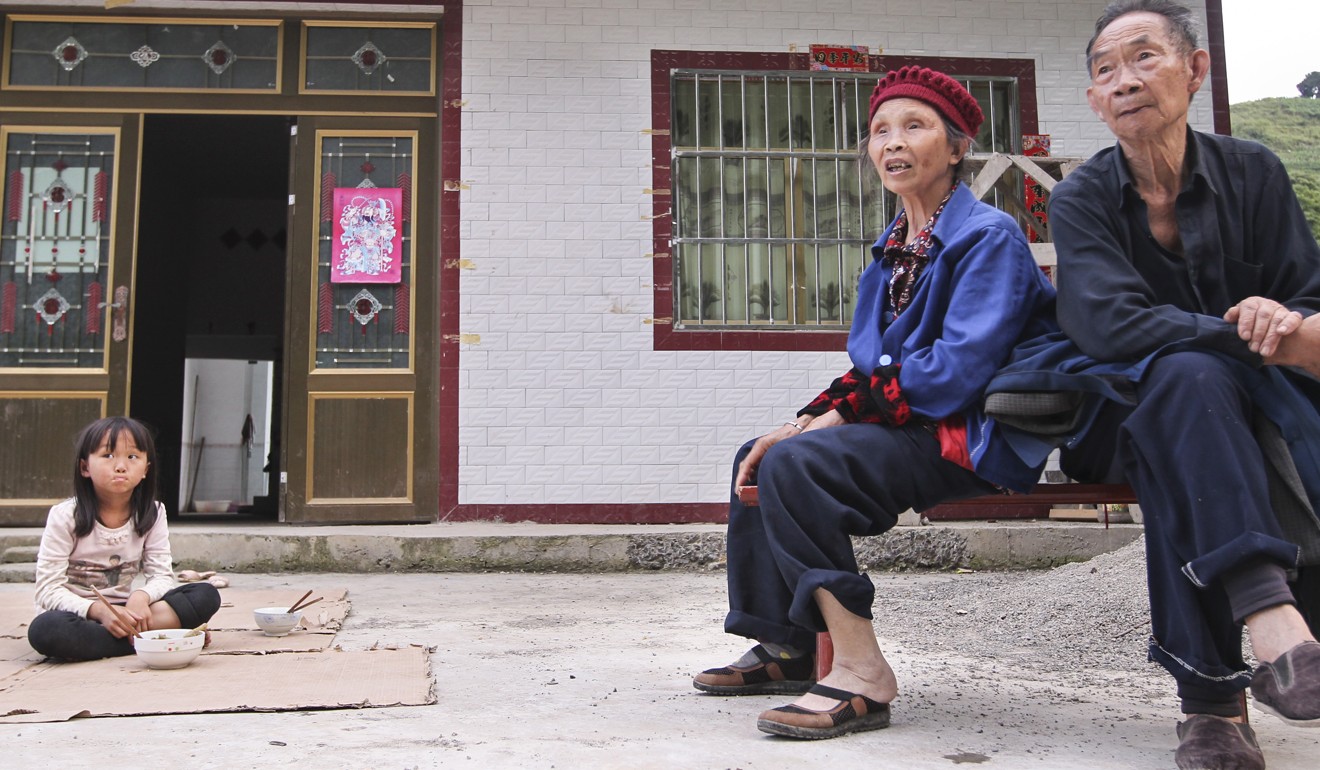 In families where at least one parent had come home, the children looked more at ease and happy, and elderly villagers said the children smiled more.
Fan Ruju, the mother of four children aged between five and 11, moved back from Jieyang in Guangdong last year while her husband stayed behind to work in a jade factory.
She now cooks for the older members of the family and the children, and rears animals including chickens, ducks, geese and pigs.
The eldest boy helped with the farming while the younger ones ran around in the yard, rope skipping and climbing trees to pick plums.
"Actually work is easier and simpler in a factory compared with this. I don't have any free time at home," Fan said with a satisfied smile.
"You can never make enough money, but right now it's more important to take care of the children."
The family elders told her the children were noisier and happier than before. Sometimes they grab her and beg her to stay when she tells them to behave or else she will leave home to work.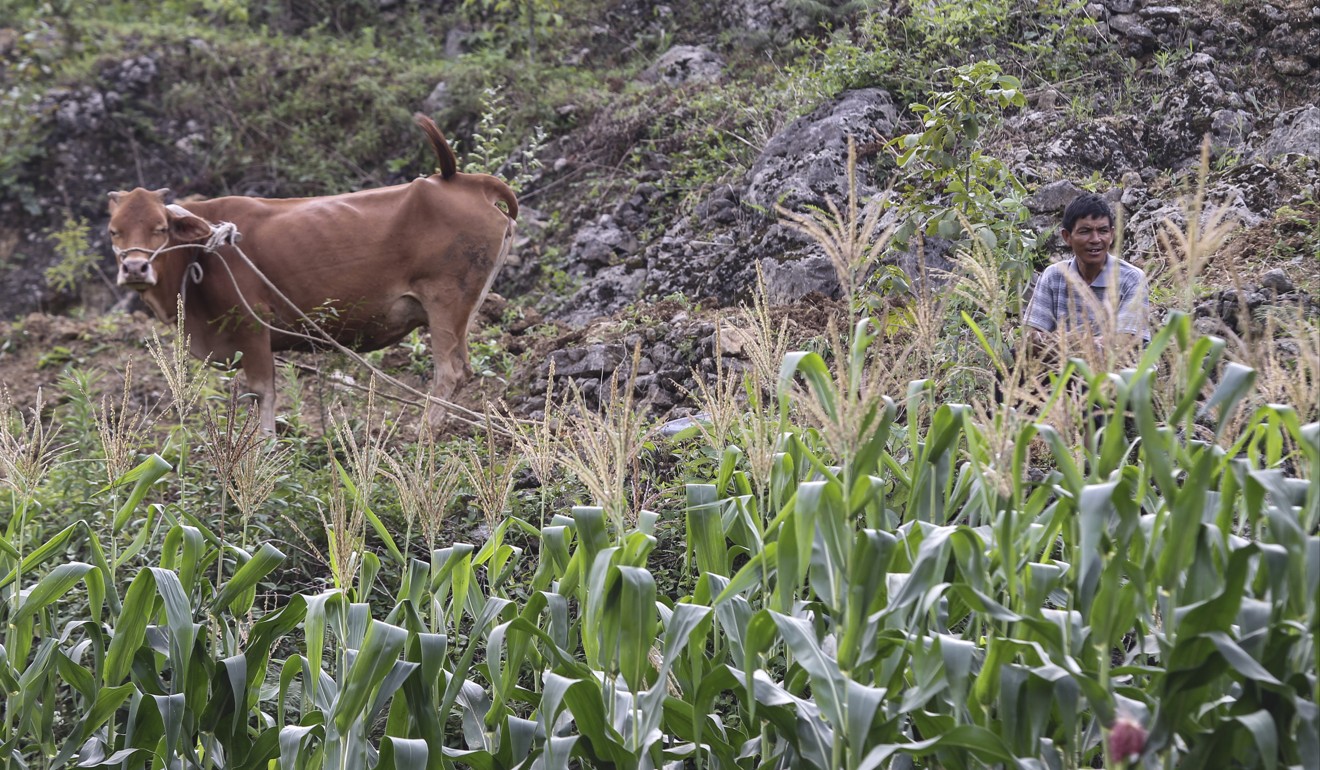 Tong Xiaojun, from the China Youth University of Political Studies, said improvements had been made since the release of the guidelines and work had been done to document rural children who had no capable guardians
The awareness campaign had made some parents realise they should be there for children and return home, but in areas where parents could not or would not return home, a shift of strategy should be tried.
"Sometimes four parents and grandparents cannot take good care of one child," Tong said. "How can we expect a social worker to take care of group of left-behind children. The current system can't cover all the children without a change of focus.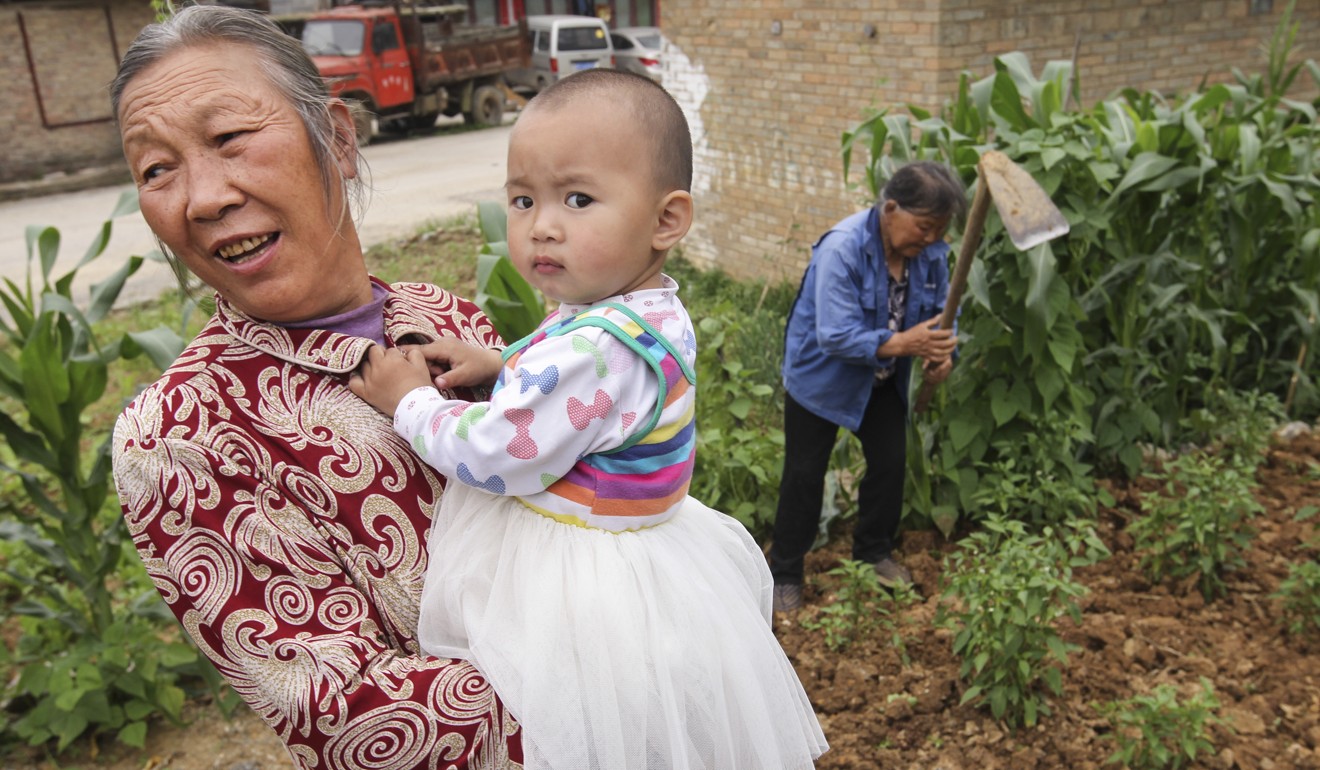 "I think the key for social services is not to have social groups taking the place of parents for tasks such as helping children with their homework or taking care of them.
"They should focus on helping the elderly who take care of the children."
Social workers could assist the elderly with basic rules for raising young children, such as helping to keep them clean, having more interactive activities and creating a suitable environment for children to study – some families did not even have a suitable desk for children to do their homework.
Social workers needed to teach parents how to communicate with children and pay attention to their emotions, rather than simply telling them to study well and listen to their grandparents.
"Parents should start by asking children how was their day and pay attention to their negative emotions so that children know, even though their parents are away, they still care," Tong said.