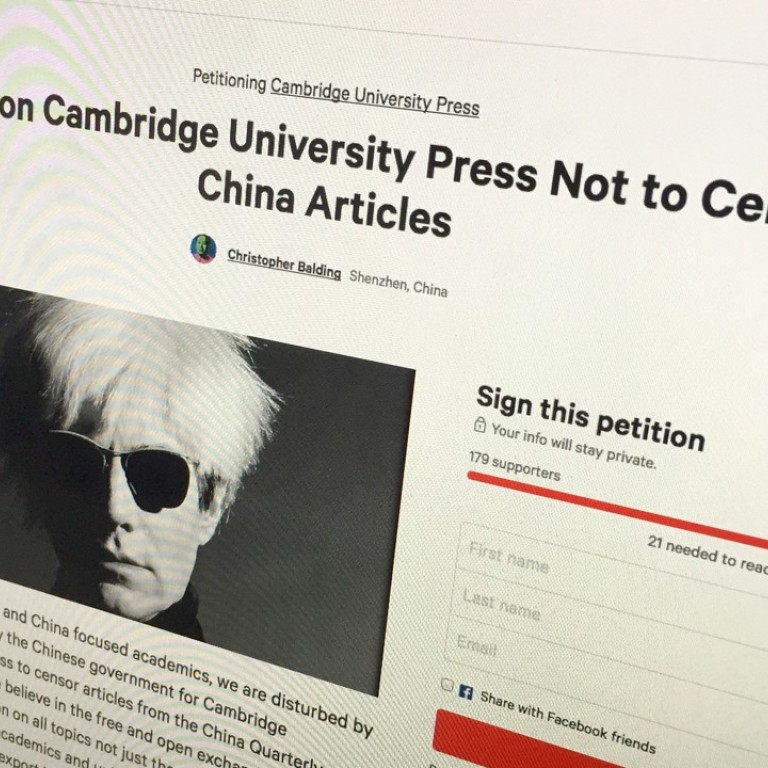 Scholars urge publisher not to bow to China on censorship of academic papers
Petition started after Cambridge University Press agrees to block access to 'sensitive' articles in China
Scholars are using an online petition to urge Cambridge University Press to restore more than 300 politically sensitive articles removed from its website in China after a request from authorities.
The publisher said on Friday that it had complied with a request to block certain articles from The China Quarterly within China. They touch on politically sensitive subjects including the 1989 Tiananmen Square crackdown, the Cultural Revolution and the status of Tibet.
The petition circulating among academics calls on the company to turn down censorship requests from the Chinese government. Academics and universities reserve the right to boycott Cambridge University Press and related journals if it gives in to the Chinese government's demands, it said.
The academics believe in the free and open exchange of ideas and information and that it is "disturbing ... that China is attempting to export its censorship on topics that do not fit its preferred narrative", it said.
As of Monday, more than 140 people had signed the two-day-old petition on Change.org.
The Global Times newspaper, published by the ruling Communist Party, said in an editorial on Monday that China blocked some information on foreign websites that it deemed "harmful" to Chinese society, and that Cambridge University Press had to abide by Chinese law if it operated a server in the country.
If Western institutions "think China's internet market is so important that they can't miss out, they need to respect Chinese law and adapt to the Chinese way," the editorial read.
Cambridge University Press, which is part of the famed British university, said in its Friday statement that it had complied with a request from a Chinese import agency to block individual articles within China to ensure that other materials it publishes would remain available in China.
It added that it was "troubled by the recent increase in requests of this nature" and intended to discuss the issue with Chinese authorities at the Beijing International Book Fair, which takes place this week.