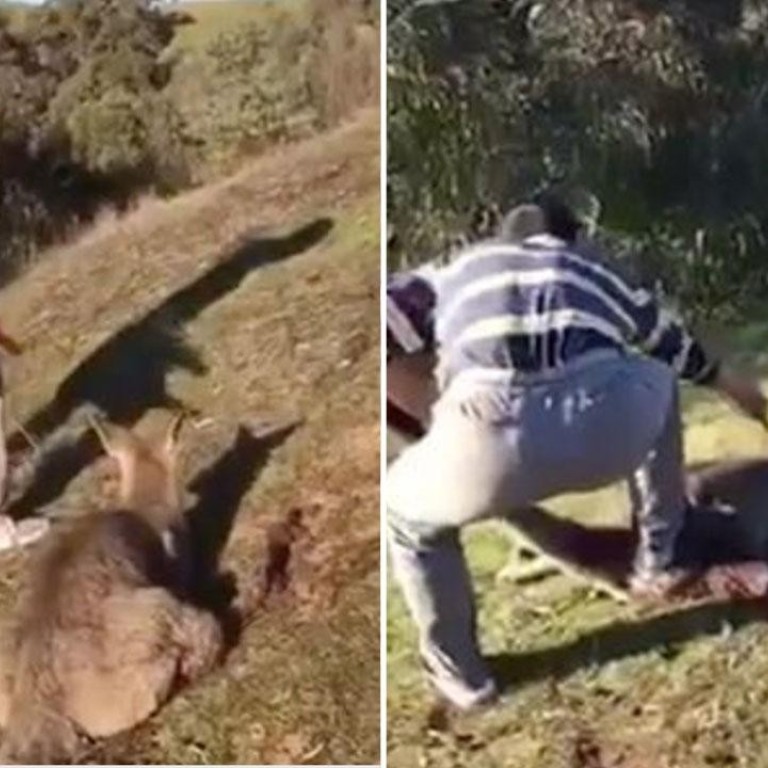 Chinese man charged with stabbing kangaroo to death in Australia
People in China incensed after footage of the injured animal's slaughter was circulated on social media
A Chinese man has been arrested in Australia, according to Chinese and Australian media, after a video appearing to show him repeatedly slashing at an injured kangaroo's throat and killing it went viral on social media.
The footage, taken on a mobile phone, shows the middle-aged man approach an injured kangaroo in an area of bush, thought to be in New South Wales.
The man, holding a hunting knife, starts slashing repeatedly at the kangaroo's throat before pinning it down. He strikes the animal with the knife a total of 19 times.
The kangaroo, evidently in pain, snarls at the man and tries get free, but eventually goes limp.
The person filming the incident can be heard laughing and egging the man on. The suspect is also heard saying in Mandarin to the kangaroo, "What's up? Recognise me?"
After the clip was posted on WeChat in China this week, several outraged Chinese internet users contacted the Australian police informing them of the suspect's identity and home address, the Chinese-language news website Sydney Today reported
The man was traced by officers from Australia's Department of Environment, Land, Water and Planning and arrested at his home in Melbourne on Wednesday, according to the local broadcaster 9News.
"We take all alleged cases of animal cruelty very seriously," a department spokesperson was quoted as saying.
"The wildlife offences captured in this video are particularly abhorrent. We'd like to thank members of the public who came forward with information about the alleged offences and enabled us to act quickly in response."
The man arrested was a 43-year-old antiques dealer from Shenyang in northeastern Liaoning province who has been living for many years in Melbourne, according to the Chinese media outlet Cankao News.
He posted the grisly footage on a US hunting website, which was then widely circulated on social media, according to the report.
If convicted of an animal cruelty offence he could be fined up to A$38,000 (US$30,000) or be jailed for up to two years, according to media reports.
Angry Chinese internet users said the man should receive the "most severe" punishment from the local authorities.
"Why on Earth did he let his friend film the killing? Such a horrible crime on display for everyone to see," wrote one outraged commenter on Sina Weibo. "One man's behaviour reflects badly on all Chinese people."
Another internet user wrote: "Whenever foreigners criticise Chinese people's behaviour I want to refute them, but this time I have no words."