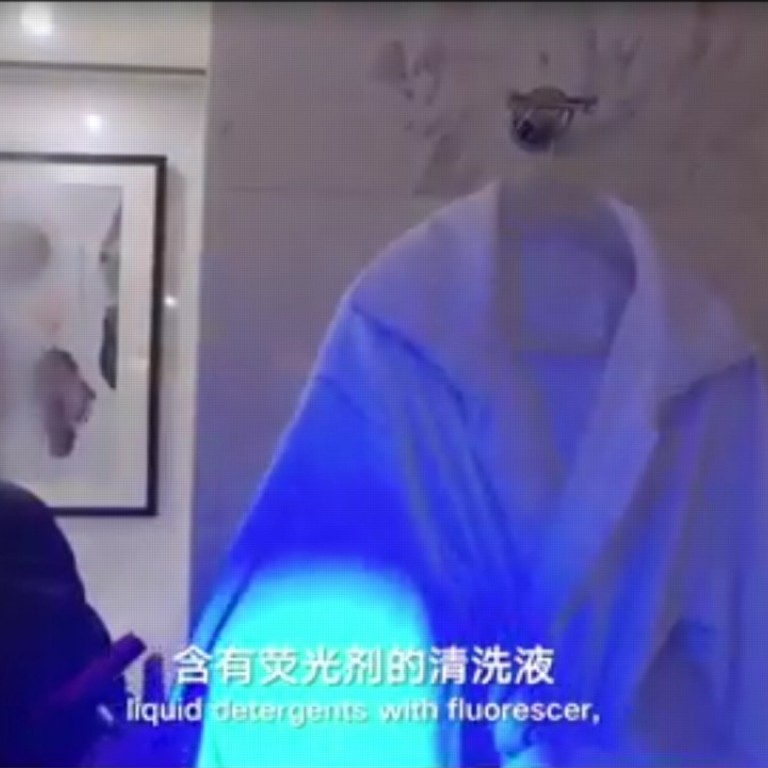 Beijing five-star hotels launch investigations into 'dirty bedlinen' allegations
Statements come after consumer group used hidden cameras, UV stamps to test hygiene standards at US$300-a-night rooms
Three of the five Beijing hotels accused of substandard hygiene standards by a local consumer rights group have said they are investigating the allegations.
W Beijing, JW Marriott Beijing and Hilton Beijing said they were conducting detailed internal investigations and had arranged refresher courses for their housekeeping staff.
Shangri-La Beijing and Intercontinental Beijing Sanlitun have yet to respond to requests for comment.
On Wednesday, the Beijing Tourism Association said it would investigate claims made by a consumer rights group of poor hygiene standards at the five-star hotels.
The association issued a statement on Weibo, the Chinese equivalent to Twitter, after being made aware of research carried out by the group, whose English name is "Better Choice, Better Life".
The latter claimed in a video published via its Weibo account that W Hotel in Beijing, Intercontinental Hotel Beijing in Sanlitun, JW Marriott Beijing and Hilton Beijing had failed to change bedlinen between guest visits.
Using hidden cameras, the video shows the researchers checking in to rooms at the four hotels – and also at the Shangri-La – in the city. Once inside, they recorded themselves marking the bedlinen, wash basins, baths and other items with fluorescent stamps that are visible only under UV light.
After a short stay, during which they "messed up" the rooms a little, the researchers checked out. The following day, their colleagues checked in to the same rooms to record the findings.
By looking for the UV marks – which the group claimed would quickly disappear if wiped or washed – the researchers were able to determine how thoroughly the rooms had been cleaned.
In most cases, the rooms had been tidied, but much of the bedding had not been replaced or cleaned, the group said. The Shangri-La got the highest marks for cleanliness, with a researcher finding just one "dirty" pillowcase on the return visit.
The video also showed that bathtubs and toilet seats had not been properly cleaned, as was the case for several glass tumblers.
The group said it was charged a minimum of 2,000 yuan (US$306) per night's stay at the five hotels.
The group's video attracted more than 60,000 comments and was shared 85,000 times.
"Do not always trust five-star hotel ratings – the more exclusive a place is, the fewer ordinary people can afford to stay there," wrote one commenter.
"Oh no, I've recently stayed in three of those places!" wrote another.