Science
Get more with myNEWS
A personalised news feed of stories that matter to you
Learn more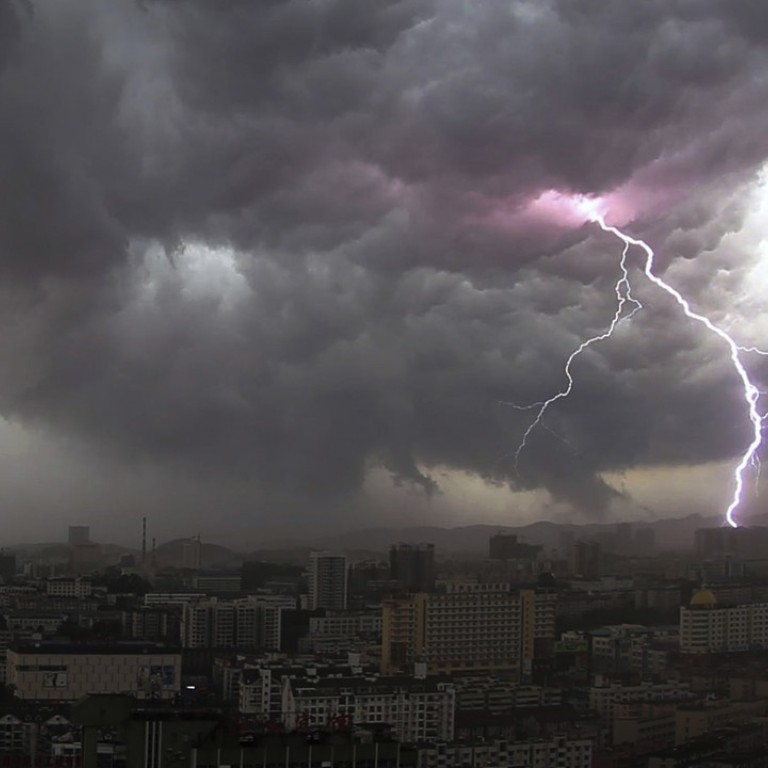 Is smog breeding storms? China explores rise in lightning deaths
Researchers will try to 'catch smog in the act' to see if rising sulphate levels are responsible for build-up of electric energy in the atmosphere
China is investigating whether air pollution has played a part in the rapid increase in the number of people struck by lightning in some of its largest cities in recent decades, according to a scientist involved in the project.
Lightning now kills or injures nearly 4,000 people in China annually, according to government statistics, but less than 20 years ago the reported casualties were only a tenth of the present level.
The cost of the damage it causes to businesses in sectors such as telecommunications, power and transport is estimated to be somewhere between 5 billion and 10 billion yuan (US$1.5 billion).
Li Jingxiao, a researcher at Beijing Lightning Protection Centre, said large quantities of polluting particles in the atmosphere could generate powerful electric fields due to friction.
When the energy reaches "breakdown" level it can be released suddenly in the form of a lightning bolt.
Li said his team had recently been commissioned by the government to investigate a possible link between smog and lightning-related accidents.
A total 47 people were killed and 96 injured by lightning in Beijing between 1957 to 2015, according to Li, who had access to the relevant databases.
"The majority of these cases occurred after the 1990s," he said. Between 2000 and 2009, for instance, the number of people killed or injured was nearly seven times that in the 1960s or 1970s.
The uptick coincided with the increase of emissions.
The number of cars in Beijing increased from 130,000 in 1982 to nearly six million this year. Car exhaust fumes and industrial pollution have made Beijing one of the world's most polluted cities in recent years.
"Statistics and physics are both pointing a finger at smog. It is a suspect we can no longer ignore," Li said.
A tourism boom, the rising population, taller buildings, the warming climate, the use of electronic devices and the increasing popularity of hiking are the other factors that may have contributed to the rising death toll from lightning.
The largest number of victims have been recorded in Dongcheng, the district in the heart of Beijing that hosts some of its most celebrated landmarks including Tiananmen Square and the Forbidden City.
In recent years more accidents have been reported in suburban areas. Last week seven tourists were injured when lightning hit a watch tower on the Great Wall where they were sheltering from the rain.
Li said smog "must be caught in the act" if scientists want to find out whether lightning strikes are related to smog levels.
Li and colleagues plan to set up radar and other monitoring devices that will measure the levels of air pollutants as well as their physical and chemical details before lightning strikes
With an observation period of a year or longer they hoped to gather enough data "for clues that will possibly save lives".
Other Chinese cities including Guangzhou and Taiyuan, the capital city of Shanxi province, have also noticed an unusual increase in lightning strikes and have launched similar research programmes, according to Li.
But some scientists expect a negative finding. They said that the haze caused by pollution would reduce the amount of sunlight reaching the ground by deflecting much of the solar energy back into space.
Consequently, this will reduce convection in the atmosphere and lead to fewer thunder storms, according to these critics of the theory.
Li Rui, an atmospheric physicist at the school of earth and space sciences at the University of Science and Technology of China in Hefei, Anhui said the question of whether air pollution could lead to more lightning strikes had generated a long and heated debate in the research community.
"It is quite possible considering the laws of physics, but it is also quite difficult to get hard evidence," he said.
This article appeared in the South China Morning Post print edition as: Is smog breeding ELECTRICAL storms?