Wellness
Get more with myNEWS
A personalised news feed of stories that matter to you
Learn more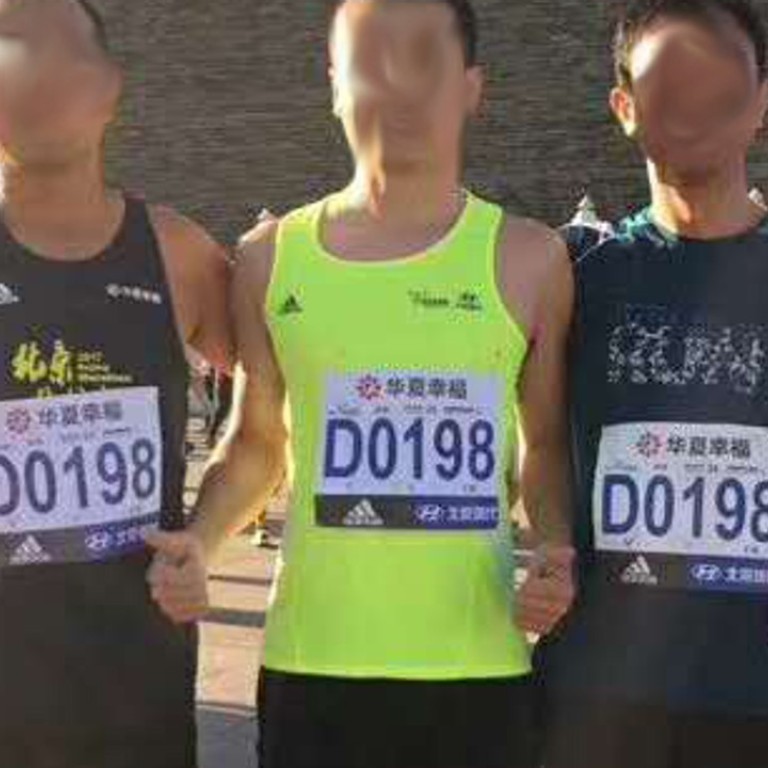 Beijing Marathon a victim of its own success as unregistered runners join race with fake tags
As China's middle class embraces long-distance running, demand to take part in events is far outweighing the number of places available
The organiser of one of China's most popular annual marathons is investigating reports that some runners who took part in last Sunday's race were not registered, after the number of places available fell far short of demand.
It's a problem faced not just by the Beijing Marathon but other long-distance races in China, where the middle class is enthusiastically embracing the sport.
This year the Beijing race had some 30,000 slots available – but nearly 100,000 runners applied to take part.
Some of those whose applications were unsuccessful reportedly created fake number tags and took part in the event anyway.
The ruse was exposed when a photo of three runners wearing the same registration number was posted on social media. It was not clear how many unregistered runners took part.
But it was not an isolated incident according to avid runner Hu Shun, who said this type of behaviour was becoming a problem as more people wanted to take part in the most popular races.
Less than a week after he crossed the finish line in Beijing, the 27-year-old is already preparing for his next race in Nanjing next month – to be followed by marathons in Hangzhou and Shanghai in November.
Hu lives in the city of Jiaxing in eastern Zhejiang province and has taken part in 21 marathons and 15 half-marathons in China since 2011.
He has also encouraged more than a dozen friends and relatives to join him.
"In the beginning I signed up for these races for fun, but over the years I've become more dedicated and closer to being an athlete," he said.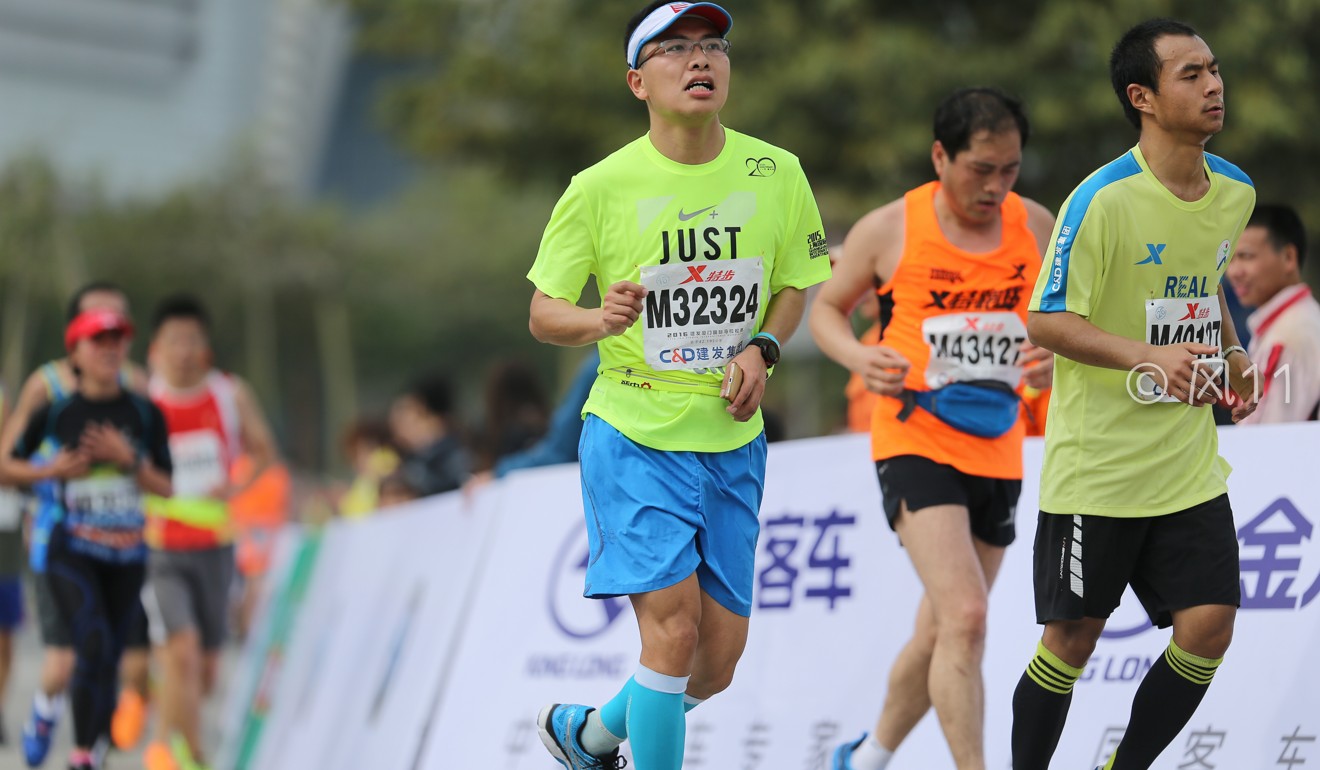 When Hu started in 2011, about 400,000 people across mainland China took part in full, half- and mini marathons, official statistics showed.
That number went up seven-fold to nearly 2.8 million people last year.
And with greater interest in marathons, the number of races has also grown – from 22 in 2011 to some 328 last year, according to a report by the Chinese Athletic Association (CAA) released earlier this year.
Hu said increased awareness of health and fitness had motivated him and his friends to take up long-distance running as their regular exercise.
"It was also to do with growing pressure from city living," he said. "Everyone needs a way to relieve the pressure and this is a good choice for that."
Wang Zongping, a professor at Nanjing University of Science and Technology who specialises in physical education and sports, said the government had played a part in the marathon craze.
The State Council, China's cabinet, in 2014 issued a directive to boost the sports industry and encourage sports-related spending.
"Marathons are the most effective way to do this," Wang said. "To run a marathon, one needs to buy equipment, which may cost a few thousand yuan, and then there is travel to the events, meaning a considerable sum of money spent on hotels and transport."
And city governments were keen to hold these races because it was good publicity for them, Wang added.
But not everyone makes it to the finish line. The CAA report noted that although more than 1.2 million people took part in full and half-marathons last year, 500,000 of them didn't make it to the end of the race.
"Many people are just following the trend and they don't actually have this exercise habit of long-distance running," Wang said.
Marathon runner Wang Yong, who works in the media in Beijing, said more people were signing up for races because they recognised the importance of exercise, but this meant runners varied considerably – from complete novices to veterans.
"Most people taking part in races only started running marathons recently, so their fitness levels can differ greatly," he said.
That lack of training increases the risk of injury and has also proven fatal – in the latest case, two runners died after collapsing during the Xiamen half-marathon in eastern Fujian province in December.
That took the total to four deaths during marathons in China last year, according to mainland media reports. Five runners were reported to have died at events in both of the previous two years.
Meanwhile at a marathon in the southern city of Qingyuan in Guangdong last year, more than 12,000 of the 20,000 runners received medical treatment for injuries during the race, local health authorities said.
But the craze continues, and organisers must contend with the numbers.
In Beijing, the marathon organiser said on Wednesday it was checking surveillance footage and images to track down those who ran in last weekend's race with fake registration numbers.
It said the runners would be banned for life from taking part in the marathon and it would ask the CAA to apply a broader punishment.
Apart from flouting the rules and disrupting the order of the race, the runners had taken up the limited resources of those who were registered, the organiser said, adding that they might also have broken the law and could be subject to legal action.
Yet for all the problems that have come with this enormous level of interest, there have also been improvements, according to Hu.
"Over the years, I've noticed that the number of portable toilets available at these events has increased considerably," he said. "And after the two runners died in Xiamen last year, all of the marathon organisers have provided more first-aid facilities. At some of the big races I've seen an automated external defibrillator [a device that can treat life-threatening heart problems] every kilometre. I didn't even know what an AED was until I saw them at these events."
This article appeared in the South China Morning Post print edition as: FAKES TO BE Blacklisted FOREVER IN MARATHONS