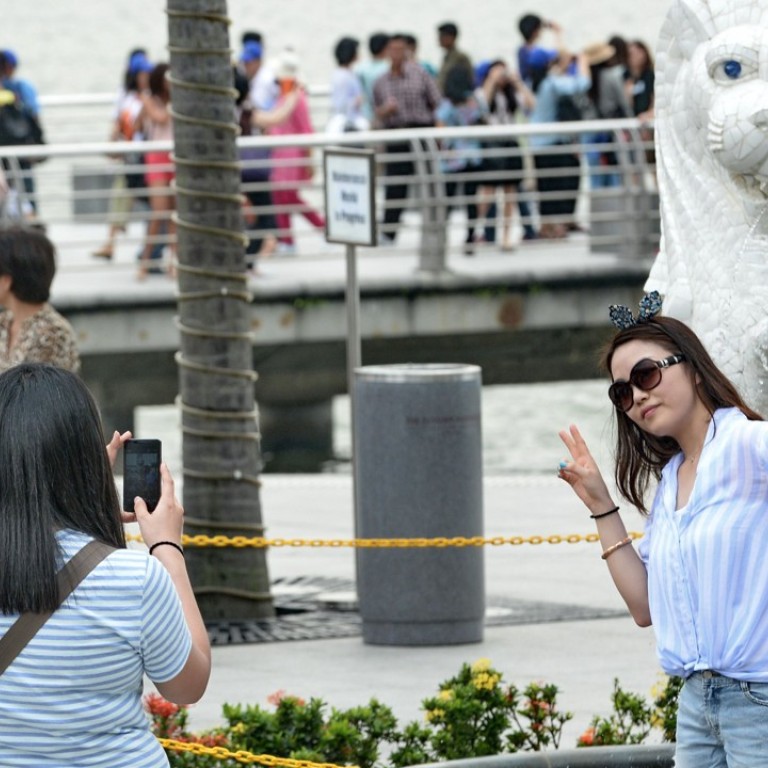 Dos and don'ts for Chinese tourists visiting Singapore: no whistling at the theatre and don't steal stuff from the plane
Embassy staff hand out pamphlet offering tips for visitors to the city state
Chinese tourists arriving at Singapore's Changi Airport on Friday afternoon were greeted by embassy officials – and they had a few words of advice.
Embassy staff were waiting at Terminal 3 to hand out pamphlets they had prepared specifically for Chinese tourists visiting the city state – a list of dos and don'ts that runs to nearly 30 pages.
"Please give a proper tip to the hotel porter who helps carry luggage to your room," was among the advice for visitors, who were also told to pay the tip in cash – a helpful reminder for the many Chinese who have become used to paying for things using their phones.
More than 1.5 million visitors arrived in Singapore from mainland China in the first half of the year, Fang Xinwen, the Chinese embassy's charge d'affaires, said during a speech at the airport to launch the pamphlet.
But with more Chinese tourists visiting the Lion City, behavioural and personal safety problems had emerged "from time to time", Fang was quoted as saying in a report on the embassy's website on Saturday. He did not elaborate on the problems.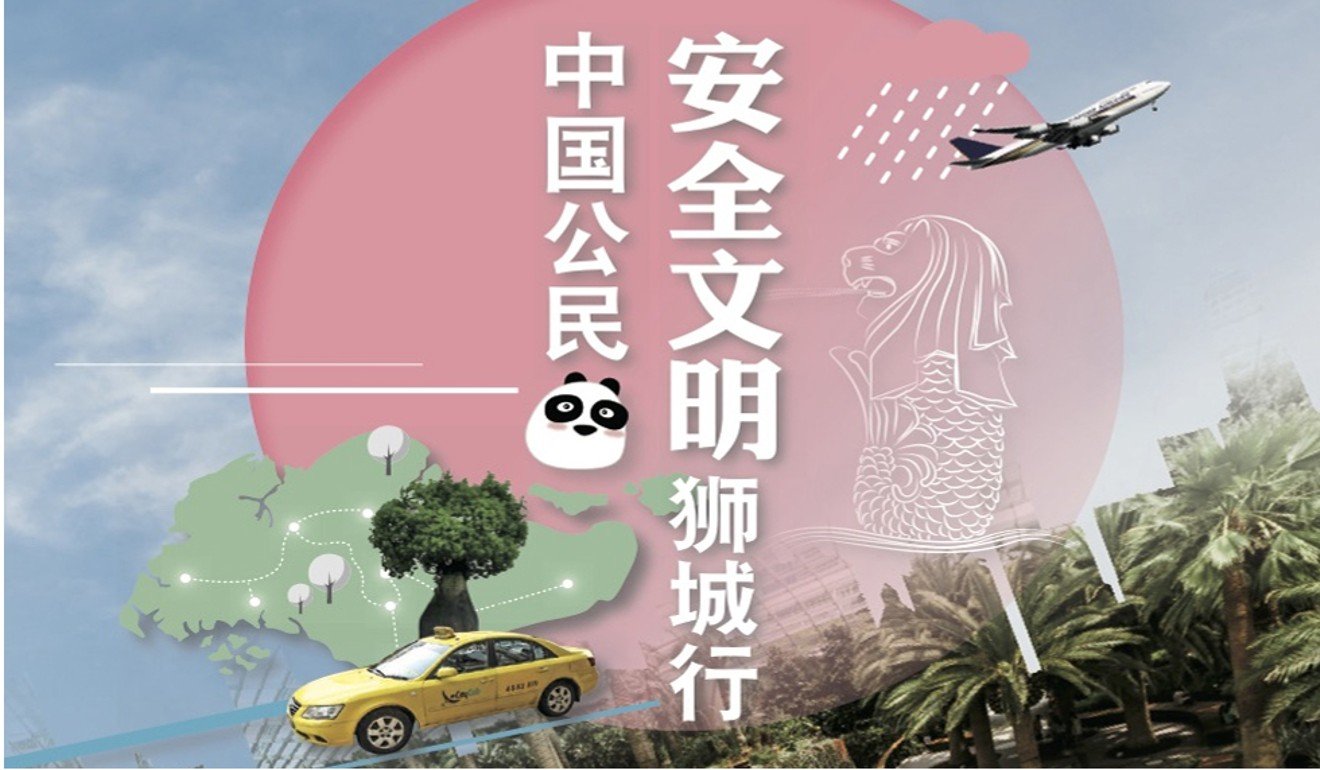 Singaporean tourism board officials were also at the launch, which was held shortly before China's National Day "golden week" holiday that begins on October 1, when large numbers of Chinese tourists are expected to visit the city state.
The free pamphlet, which is available for Chinese arriving at the airport, also advises travellers that airline property such as life jackets and blankets "are not allowed to be taken off the plane".
In 2013, a tour group from the eastern Zhejiang province made international headlines when they tried to pocket 30 sets of stainless steel cutlery from a Singapore Airlines flight. Eventually they were persuaded by their tour guide to hand over the cutlery.
Passengers are also reminded that any behaviour threatening flight safety could result in legal action.
The pamphlet also covers behaviour in public areas. Taking durian on a bus or train is "unofficially prohibited", it cautions. The tropical fruit is known for its pungent smell that can be offensive to those who do not like it.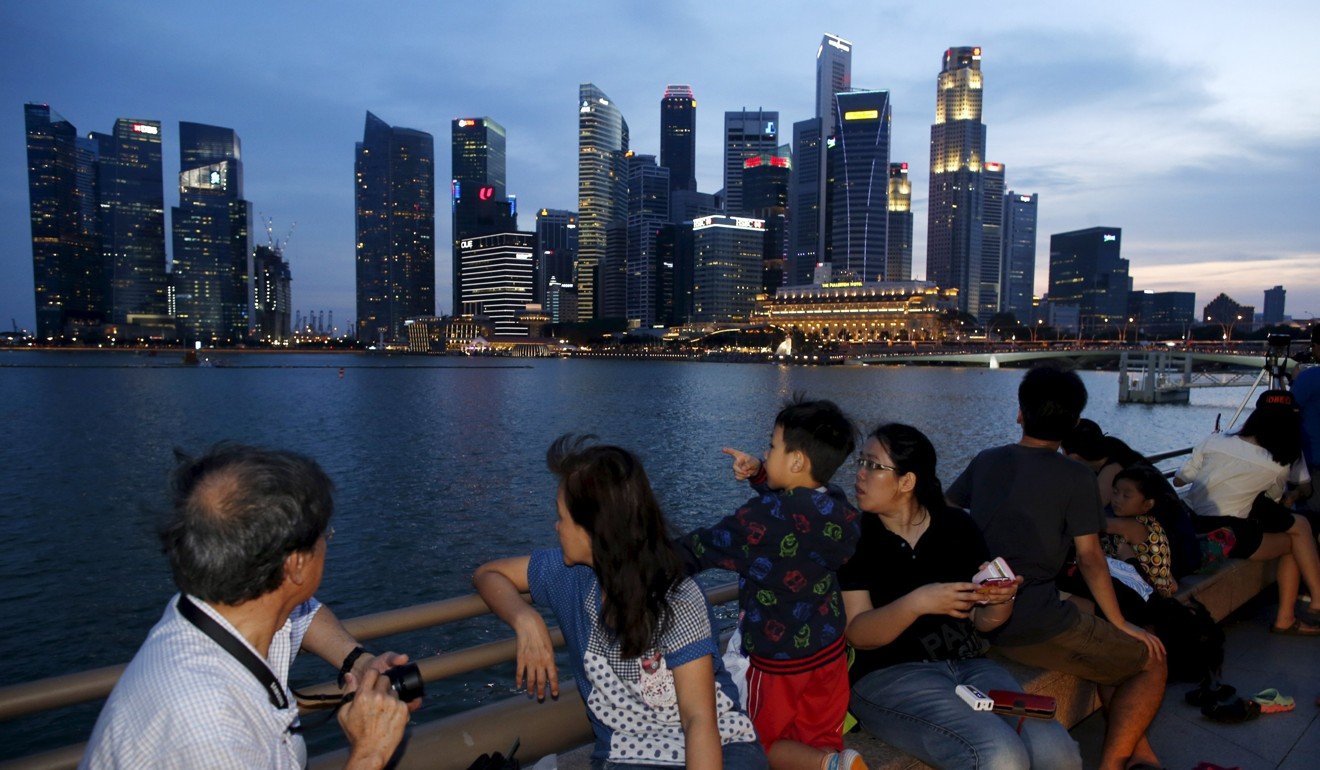 The embassy also points out that jaywalkers can be heavily fined or even jailed for up to three months.
And there is advice for those taking in a show at the theatre. "Do not whistle or hoot if there is a mistake made on stage," the pamphlet says.
Queuing is also an issue, with tourists told not to cut in line at places such as shop counters or toilets.
The Chinese authorities put out "civilised behaviour guidelines" for mainland travellers as far back as 2006, but at the time they only took up one page.
Fang said the pamphlet was produced to help Chinese tourists improve their image, and the embassy would do more to promote "civilised" tourism in the future.
Chinese tourists were the top spenders in Singapore last year, dropping a total of US$3.5 billion while visiting the city state, mostly on shopping, The Straits Times reported.
This article appeared in the South China Morning Post print edition as: Mainland tourists told not to steal the cutlery