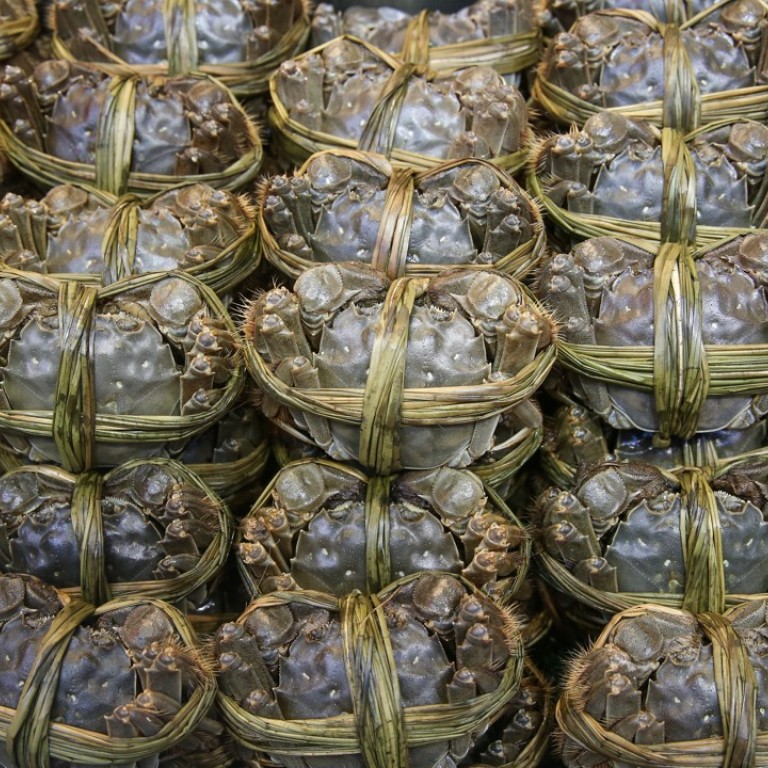 Lower harvest set to push up price of prized hairy Chinese holiday delicacy
Typical cost of Yangcheng Lake's hairy crabs set to pass US$10 mark
The price of a popular Mid-Autumn Festival delicacy is expected to rise due to a smaller harvest this year.
Yangcheng Lake in Suzhou, Jiangsu province, is famous for its hairy crabs, which are a traditional Mid-Autumn Festival gift and typically attract high prices.
Market prices for the shellfish this year have risen to 210-220 yuan (US$31.80-33.30) per 500 grammes – compared with a price of 170-180 yuan per 500 grammes last year, according to a trader quoted in Hangzhou's City Express newspaper on Monday.
That means that a typical crab weighing 150 grammes would cost at least 70 yuan (USD $10.60).
According to annual figures published by the Suzhou City Agricultural Commission, this year's average hairy crab weight was 167 grammes, up 6.2 per cent from last year.
The city expects to produce around 1,200 tonnes of the seasonal delicacy this year, down 4 per cent from last year's yield.
In previous years, "counterfeit" hairy crabs have been widely sold in China ahead of the species' official hunting season, which lasts for a few months each year.
Crabs from other regions are often mislabelled as Yangcheng Lake hairy crabs to cash in on their popularity.
A Xinhua investigation published on Monday found that aquaculture companies had been transferring young crabs bred elsewhere to Yangcheng Lake to grow them to maturity.
The lack of regulation means that it is difficult for consumers to spot the difference between these "imported" crabs and hairy crabs that were originally bred by farmers in Yangcheng Lake.