Wellness
Get more with myNEWS
A personalised news feed of stories that matter to you
Learn more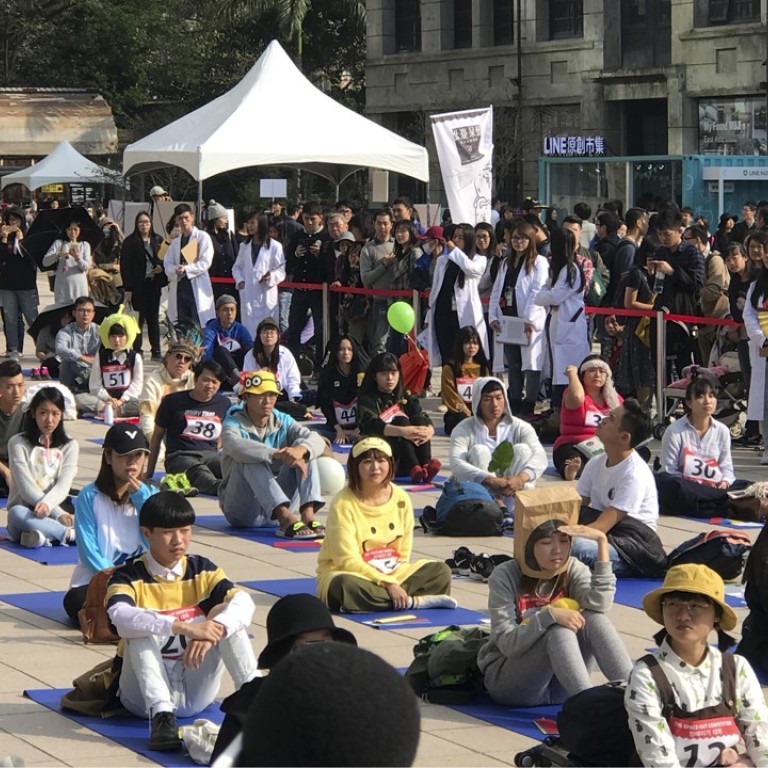 In the zone: 90 minutes of doing nothing at all in Taipei 'Space-out'
No talking, no sleeping and no looking at your phone – Hong Kong student wins contest that's all about sitting still
Dozens of people sat in silence in the middle of bustling Taipei on Sunday afternoon, competing to do nothing without falling asleep or – worse – checking their phones.
Part performance art, the Fifth International Space-out Competition aimed to get people to think about the importance of slowing down and taking some time out in today's ultra-connected world.
About 70 contestants were banned from doing anything but breathing and "spacing out".
Among them was Love in a Puff director Pang Ho-cheung. The Hong Kong filmmaker wore a hat with feathers and a straitjacket costume to express how those who constantly use their phones could be said to have a mental illness.
"Actually I think spacing out is quite fun because these days our minds are always so busy," he said. "We are always looking at our phones, always communicating by phone. I think I rarely go without looking at my phone for an hour and a half so I'm very happy to do this kind of activity."
South Korean artist Woopsyang, who started the event in South Korea in 2014, said it was about encouraging busy people to use their downtime in a way that does not involve consuming things, like buying coffee or shopping.
People should also try to reduce the amount of time spent using devices such as smartphones, she added.
"Sometimes you should take time to do nothing," she said. "Your brain should be turned off sometimes. When you don't use your laptop it goes to sleep. People's brains should also sleep sometimes."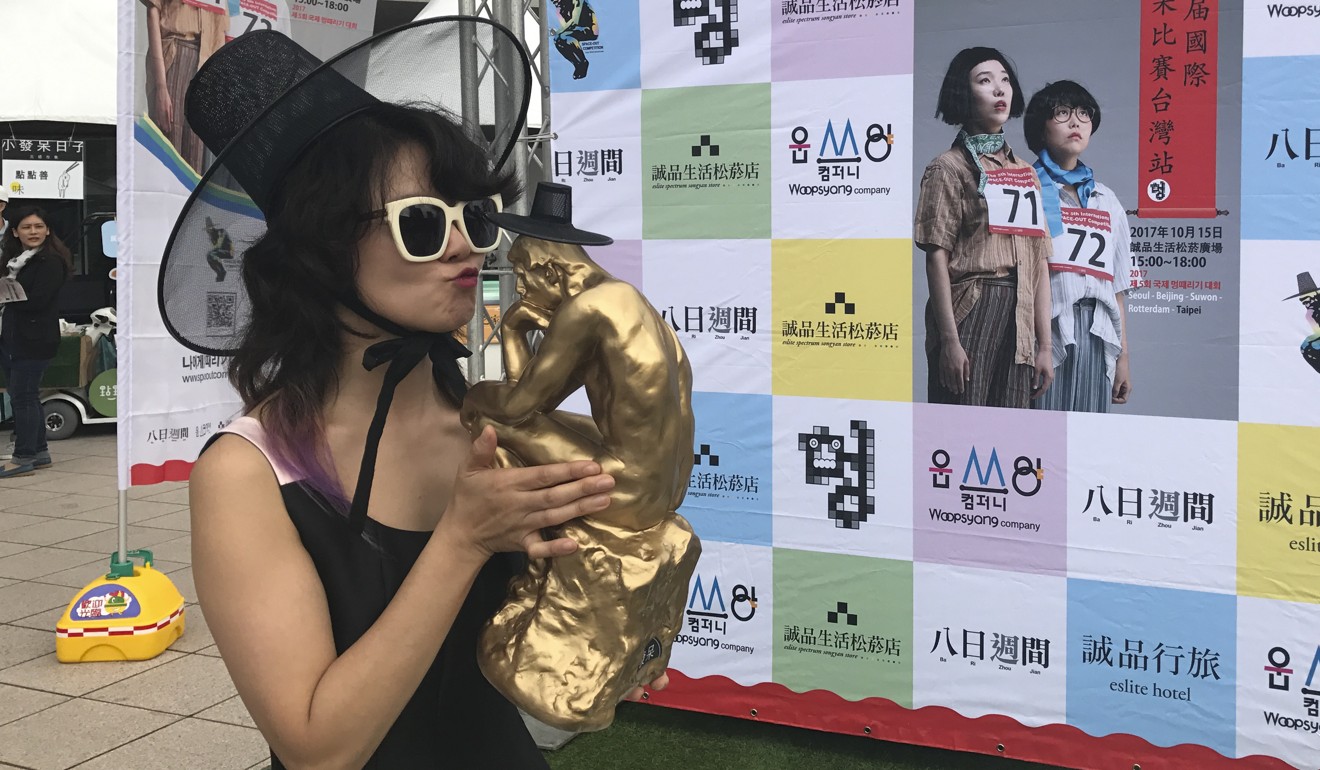 The contest took place in Songshan Cultural and Creative Park in central Taipei. Contestants sat on yoga mats for 90 minutes as volunteers in white coats wandered around to monitor their pulses and make sure they had not fallen asleep.
Spectators voted for the top three they thought were best at spacing out. A special award went to the contestant whose heart rate was most stable throughout the competition.
The No 1 winner was Hong Kong student Chan Kai-ho, whose prize was a plane ticket to the next Space-out Competition, planned for February in either Hong Kong or Japan.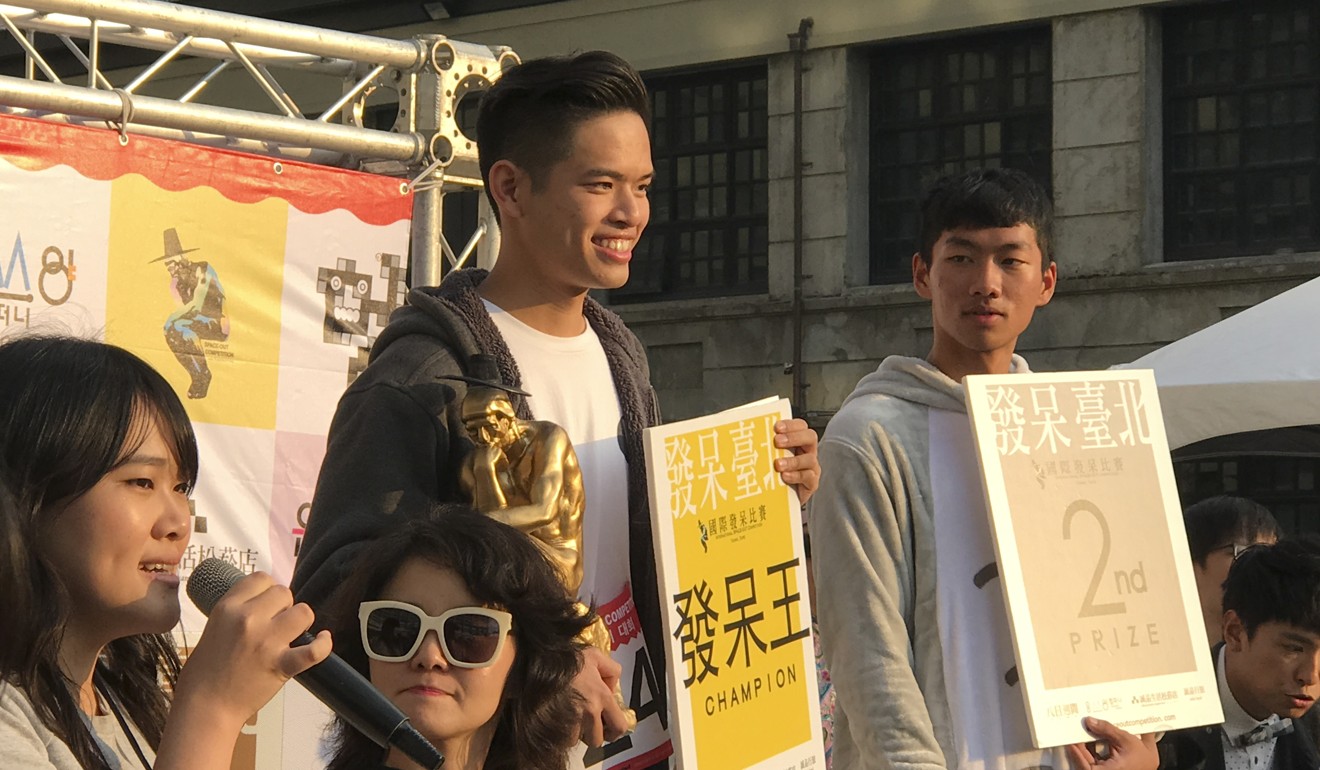 The Hong Kong University of Science and Technology student said he flew to Taipei especially to take part in the contest after seeing it advertised on Facebook.
"To be honest, it's quite tiring, but I think it's a good habit" to have, said Chan, 24, who is researching how to make people relax. "I want more people to be aware of mental health issues so I think this competition is a good idea."
Another contestant, 20-year-old communications student Chang Wun-ching, from the city of Chiayi in southwest Taiwan, said she joined the contest because her classmates told her "I look very spaced out".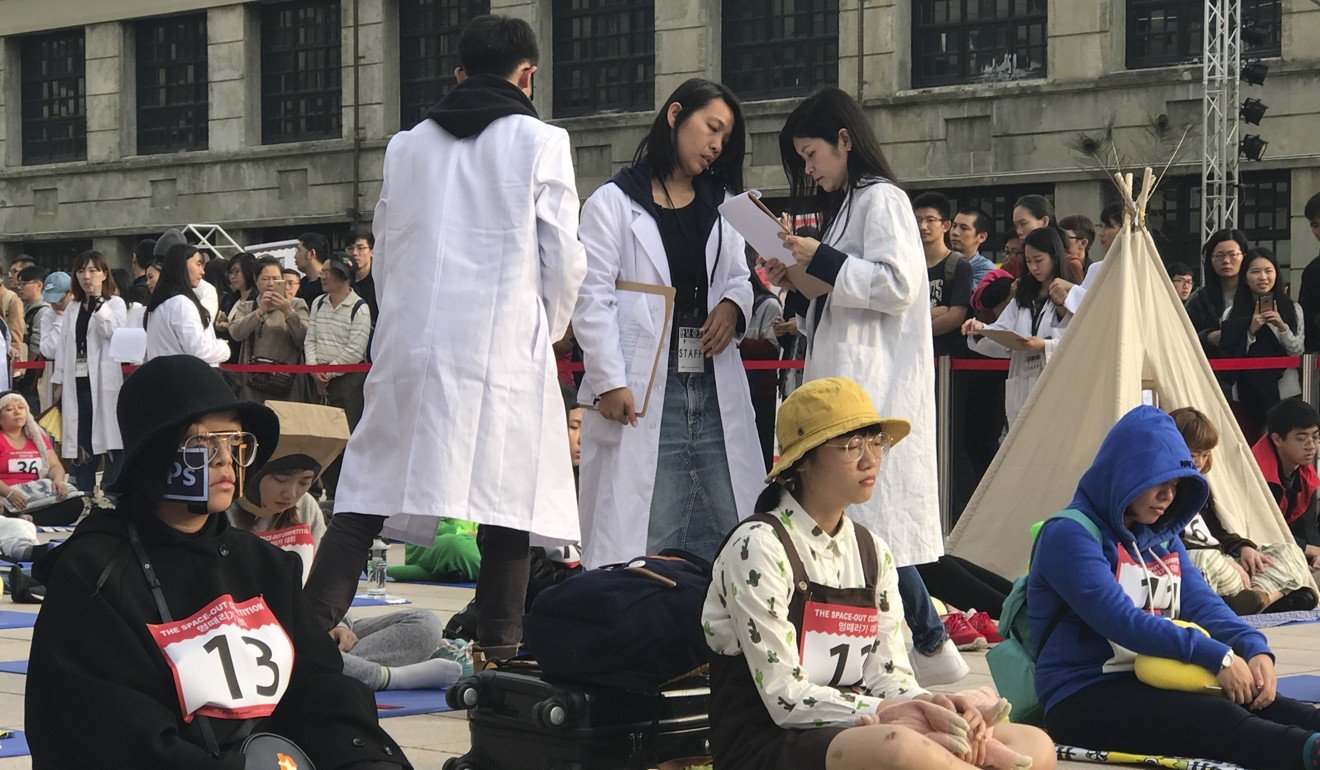 Woopsyang said the event in the middle of Taipei was a "visual juxtaposition", as the stillness of the contestants contrasted with the people rushing around them. "The audience is part of the big picture," she said.
It was the fifth Space-out contest, with previous events held in South Korea, Beijing and the Netherlands.