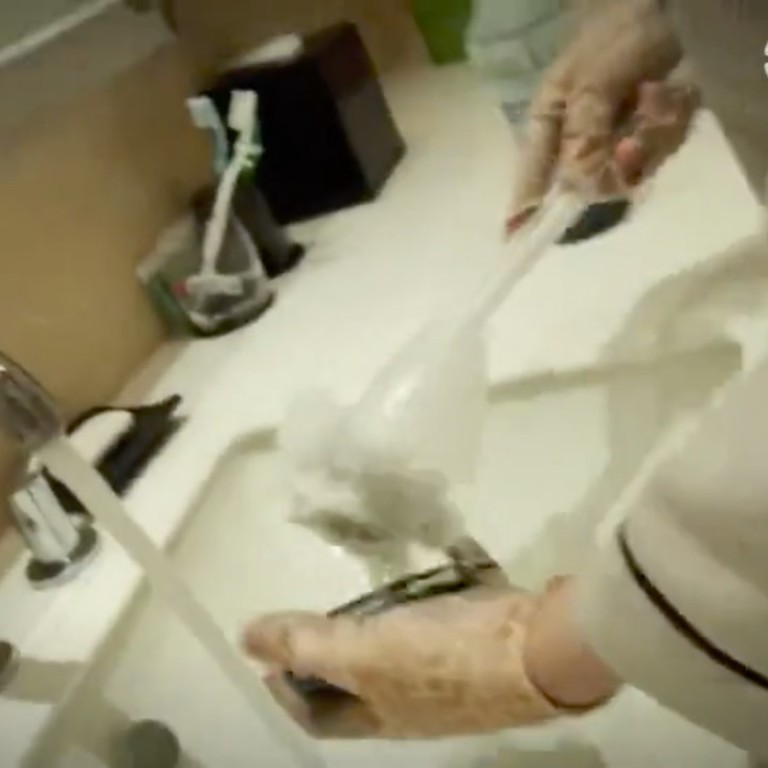 Chinese hotel cleaners caught using toilet brush to wash cups and basins
Officials warn Sheraton, Shangri-La and Kempinski branches to address problem after video footage exposes string of hygiene breaches
Three well-known hotels in northeastern China have failed basic hygiene checks after cleaning staff were filmed using the same brush to clean lavatories, wash basins and even crockery, state media has reported.
The municipal watchdog for hygiene, tourism, food and drug safety in Harbin in Heilongjiang province confirmed that investigators had concluded footage released by Pear Video on Tuesday was genuine and the hotels had been warned to ensure it did not happen again.
Beijing Youth Daily said cleaners at three of the city's hotels – one Sheraton, one Shangri-La and one Kempinski – had been filmed violating the standard hotel cleaning process for guest rooms.
Cleaners at the Shangri-La and Kempinski were videotaped cleaning the rooms' cups with a toilet brush. They also washed the towels in the toilets before using them to clean the floor.
A cleaner at the Sheraton was taped using the same brush to clean the water basin and the toilet.
Cleaners in all three hotels had been complaining about their heavy workload, the report said.
The video was taken with a hidden camera by a Pear Video reporter who was working at the hotels as an intern.
The nightly price of a room at the three hotels ranges from 700 yuan to 2,700 yuan (US$105 to US$410).
After a joint inspection, the city's authorities have confirmed the validity of the report, and have told the three hotels to address the problem.
The report said they had also been fined but did not provide further details.
Harbin Kempinski's official social media account expressed regret over the incident, and said it would take the necessary steps to prevent it from happening again.
Harbin Shangri-La said in a statement that it had started an internal investigation.
"If what was shown in the video was proved to be true, it would be a serious violation of our hygiene standards and it would not be acceptable," it said, adding that the hotel would also step up monitoring staff's work and training.
"At the same time, we will also cooperate with local government to properly implement all hygiene measures."
Sheraton had not yet responded.
Additional reporting by Laura Zhou