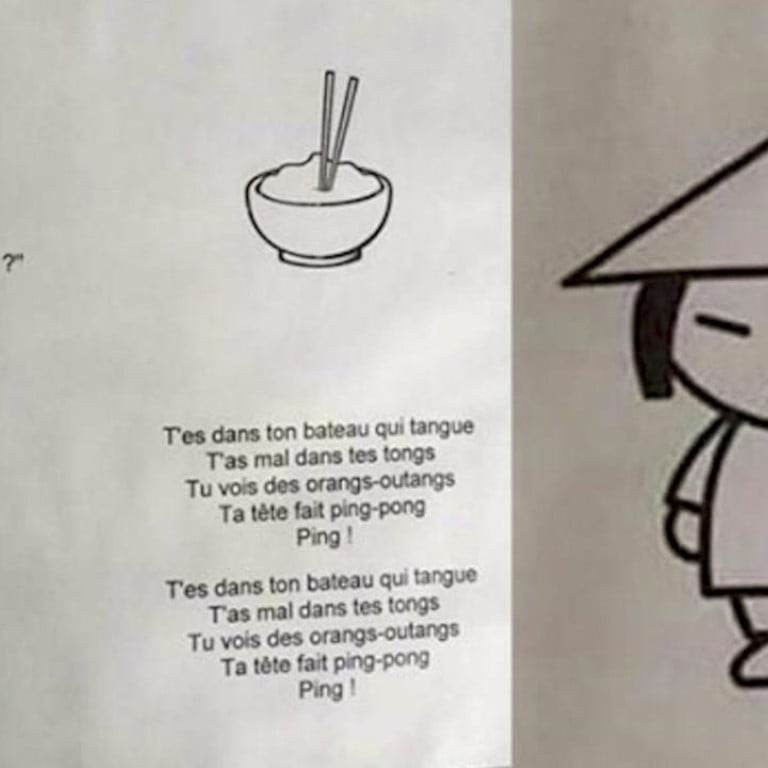 Chinese netizens furious at racist French nursery rhyme
Education authorities in Paris ban use of song after parent publishes video online
A nursery rhyme sung in a French kindergarten has been criticised online for being racist towards Chinese people.
The song, titled Zhang, my little Chinese, was taught at an unnamed school in Aubervilliers, a northeastern suburb of Paris, for more than a decade, China News Service reported on Monday.
Despite its longevity, a row started online after "an Asian parent" posted a video of it on Facebook on December 26, French newspaper Le Figaro reported.
It was not clear who had produced the video. Nonetheless, the furore that followed prompted France's education authorities to ban the song, the Chinese report said, without elaborating.
The original Facebook post was widely circulated online and picked up by several anti-racism campaign groups.
In China, internet users reacted angrily to the song, which includes lines such as "Zhang squats down to eat rice", "his eyes are so small, awfully small", and "his head is swaying like a ping pong ball bouncing around".
"We have zero tolerance for things related to national dignity," a person wrote on Weibo, the Chinese equivalent of Twitter.
"If they continue to teach and spread such hatred and discrimination, the children will not grow up with healthy minds," another person said.
Others said that anyone who had been angered by the racist lyrics should consider their own prejudices.
"We refer to Japanese, Korean and Western people using racist terms. Shouldn't we think about our own problem of discrimination as well?" one person said.
Dominique Sopo, president of SOS Racisme, a French group that seeks to fight racism and discrimination, was among the people who shared the social media post.
He described the offending rhyme (according to the Facebook translation) as: "Full of clichés, with all that it implies. It reduces the Chinese (and therefore, in the minds of many, people of Asian origin) with a few summary features."
According to the Figaro report, Les Ateliers du Préau, the French company that produced the song, said it would apologise to the children and their parents when they returned to school after the New Year holiday, and withdraw it from future use.