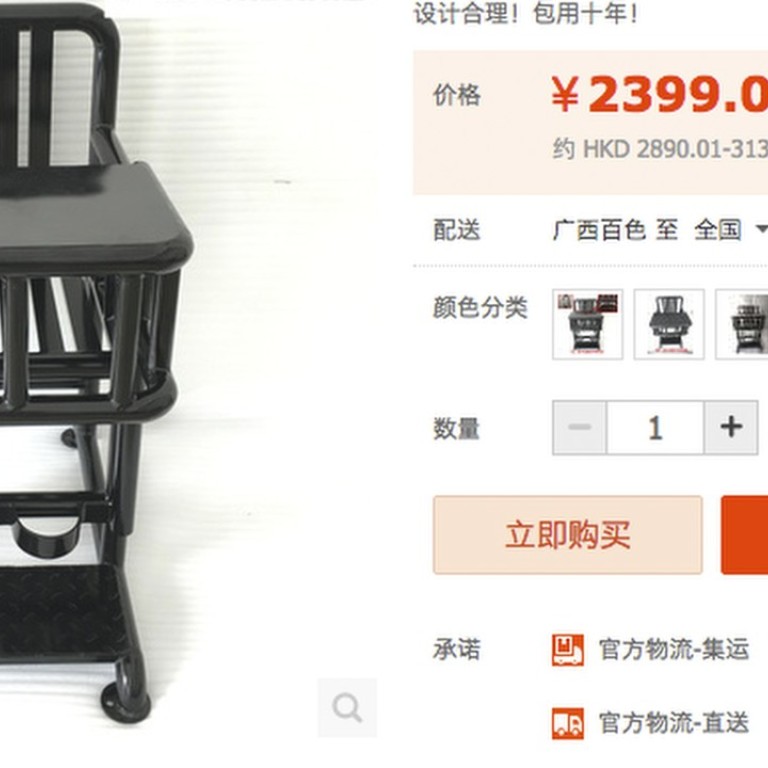 Interrogation chairs being sold online for US$75 in China – no questions asked
One vendor says they can be bought by anyone, without using a real name
As people increasingly do more of their shopping online rather than in bricks-and-mortar stores, it seems almost anything can be bought on the internet – groceries, office supplies, cars ... even interrogation chairs.
Dozens of vendors on online shopping platform Taobao have this week been found to be selling the same rigid chairs that are used by police in China to restrain suspects.
Taobao is owned by Alibaba Group, which owns the South China Morning Post.
The chairs, which are available in a variety of designs, are priced between 500 yuan (US$75) and 3,000 yuan (US$460) each.
Their sale was pointed out on Twitter on Monday by China Law Translate, which remarked on the "unintended transparency" of the country's online marketplaces.
"Judicial reforms don't always move as fast as we want, but who can deny the progress of being able to buy these interrogation chairs in three different colours on Taobao at such reasonable prices," the tweet read. It included a link to one of the Taobao sellers.
China Law Translate describes itself as a collaborative project translating Chinese legal materials into English.
One vendor said the chairs were supposed to be sold to police departments and courts but could be bought by anyone online – no questions asked.
A staff member at the security products shop, based in the Guangxi region, said they did not carry out identification checks when selling the chairs, or investigate whether they were for police or court use. The chairs are delivered within five days of payment.
"You can buy this product without using your real name," the employee said. "If you're worried about it, we won't include the detailed description – that it's an interrogation chair – on the packaging."
The shop has been trading on Taobao since 2012.
According to the employee, one model that allows someone to be handcuffed to the chair had been bought by more than 200 public security organisations in China.
Taobao forbids the listing or sale of any product forbidden by law, an Alibaba spokesperson told the Post on Thursday.
"We have been screening the product listings from third-party sellers to remove such listings so as to ensure compliance with our marketplace rules," the person said.