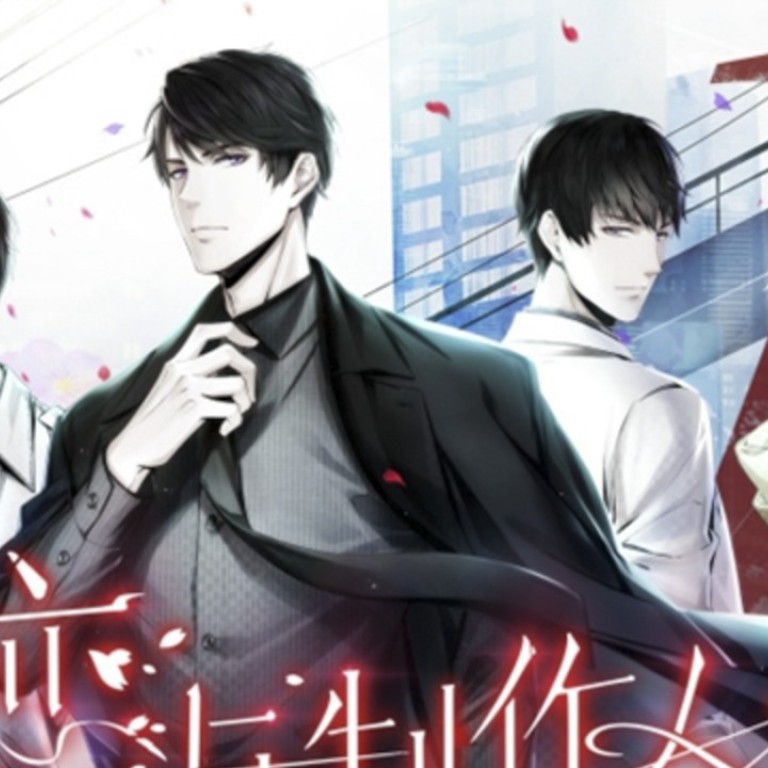 China's women gamers take centre-stage with 'virtual boyfriend' game Love and Producer
With its immersive gameplay, great graphics and heart-throb central characters, the latest sim from PapeGames is wowing women across the country
When it comes to creating a hit online role-playing game for women, it seems you cannot go far wrong with a good old-fashioned simulation … just as long as it oozes romance and movie star sex appeal.
That is certainly the case with Love and Producer, the latest offering for mobile platforms from PapeGames, in which the female protagonist is a television producer who must save her father's film studio from bankruptcy by reviving a hit show.
As she goes about her work, the central character comes into contact with various men, and for China's growing legion of women gamers, that is where the fun starts.
"It's [like] a romantic novel with fascinating voices. It's more real than reading a novel," Shen Junzhi, a first-year student at a university in Wuhan, capital of central China's Hubei province, said.
The game's "delicate drawings" and the "great voices of the four male characters" were also a big draw, she said.
Shen is not alone in her praise for the game, which made its debut last month. According to the latest figures, Love and Producer – or Lian Yu Zhi Zuo Ren as it is known in Mandarin – not only overtook the smash hit Honour of Kings on the Apple store's free download charts, but also replaced it as the most talked about game on Weibo, the Chinese equivalent of Twitter.
While China's gaming market had long been dominated by men – drawn by the abundance of "virtual girlfriend" apps – the popularity of Love and Producer, which is effectively a "virtual boyfriend" game, was indicative of a changing tide, said Xue Yongfeng, an industry analyst with Beijing-based consulting firm Analysys.
"There has always been demand for games among women, but they tend to be more selective and less likely to become addicted to them," he said.
Turian Tan, a market analyst at IDC China who specialises in online gaming, said the reason for the success of Love and Producer was that it tapped into women's interests.
"Simulation and character development are popular themes [among women gamers], especially when a potential love story is added as the plot develops," he said.
Although there were still about three times as many men playing online games as women in China, there had been a steadily rising trend towards games produced for a female audience, he said.
"Women are especially active within mobile games that are easy to operate, relaxing to play and have a more feminine feel," Tan said.
Though even with more "masculine" games, like Honour of Kings, the number of women players was also rising.
"With the rapid growth of mobile games, the importance of female players is expected to increase significantly in the future," he said.
According to a study by Beijing-based consulting firm iResearch, women accounted for 24 per cent of all gamers on China's mainland in 2016, with that figure rising to about half for games specifically targeted at women, such as Miracle Nikki and Xian Xia Love 3.
Tan said that another reason for the success of Love and Producer was that PapeGames, based in Suzhou, eastern China's Jiangsu province, had a solid track record in producing games for women, most notably the Nikki series.
It was no accident that the company chose heart-throb Chinese actors like Bian Jiang, A Jiang, and Xia Lei to voice the game's leading men.
"The four male characters are different types targeting different women, so they are all loved, just by different people," said Wen Zhou, another first-year university student and fan of the new game.
"I don't have a boyfriend, so I'm happy to have a relationship with a 'paper person'.
"Also, I'm a fan of voices so I love this game, which is different from others because you receive phone calls and get WeChat messages."
Wen was referring to one of the main features of Love and Producer – described by its developer as a "superrealism relationship maintenance" game – which allows players to "interact" with the characters over the phone and via social media apps.
While the game is free to download, the various add-ons available to buy have seen it rake in solid revenue for its producers. In the first week after its launch on December 13, the game was estimated to have made an average of 300,000 yuan (US$46,300) a day, mobile game platform 9game.cn quoted an unnamed industry insider as saying.
Wen said she had spent a little over 100 yuan on the game so far – on gold coins and jewels to advance through the levels – but calculated that she would have to fork out about 16,000 yuan if she wanted to get to the end.
Xue said that although women were traditionally less likely to spend money on gaming, the tide was changing there, too. The emergence of well-designed, idol-based games meant that more of them were happy to splash out.
"With the right games, we can see that women are becoming increasingly willing to spend their money," he said.
This article appeared in the South China Morning Post print edition as: Women flock to 'virtual boyfriend' game'Virtual boyfriend' game a hit with women