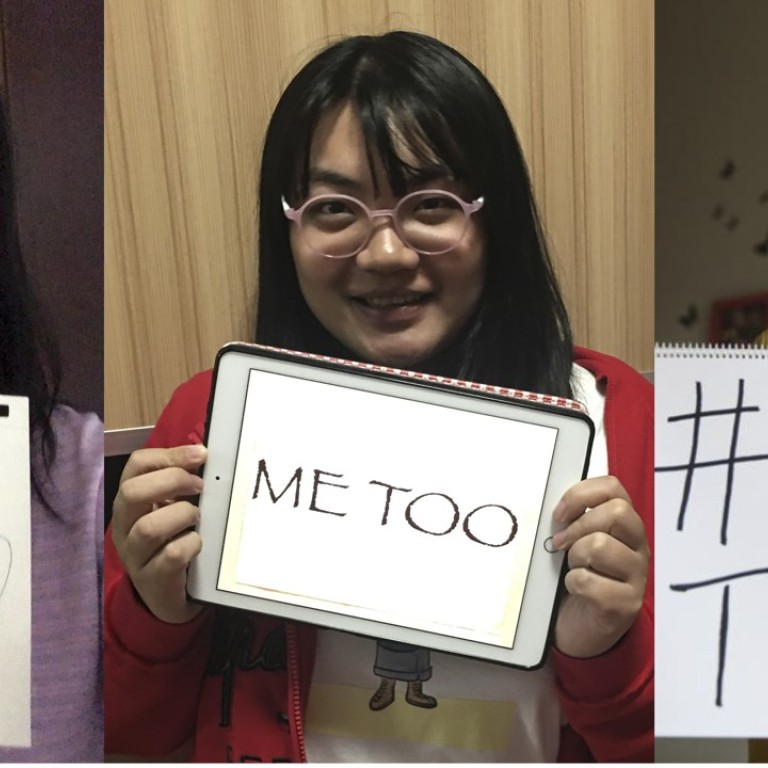 Chinese students use #MeToo to take fight against sexual harassment to elite universities
Activists say petitions calling for more action on abuse and discrimination have been filed at up to 50 top colleges in past week alone
After a slow take-up of the global #MeToo movement in China, activists are now battling strict censorship to take the campaign to university campuses and push for action to combat sexual harassment following a series of high-profile allegations.
Over the past two weeks, students and alumni from dozens of Chinese universities have launched online petitions calling on their schools to draw up policies to prevent sexual harassment on campus.
While the #MeToo campaign – also known as #Woyeshi in China – has shed light on sexual abuse cases around the world, it had been slow to gain traction in China.
The movement calls on people to speak out against sexual and domestic violence, and gender discrimination in the workplace and higher education.
In China's conservative culture, sexual harassment and assault have long been taboo subjects. Victims also have to battle a state-driven crackdown on activism and an ineffectual legal system.
According to a survey conducted last year by the Guangzhou Gender and Sexuality Education Centre and law firm Beijing Impact, more than 69 per cent of Chinese university students had experienced some form of sexual harassment, although less than 4 per cent had reported it.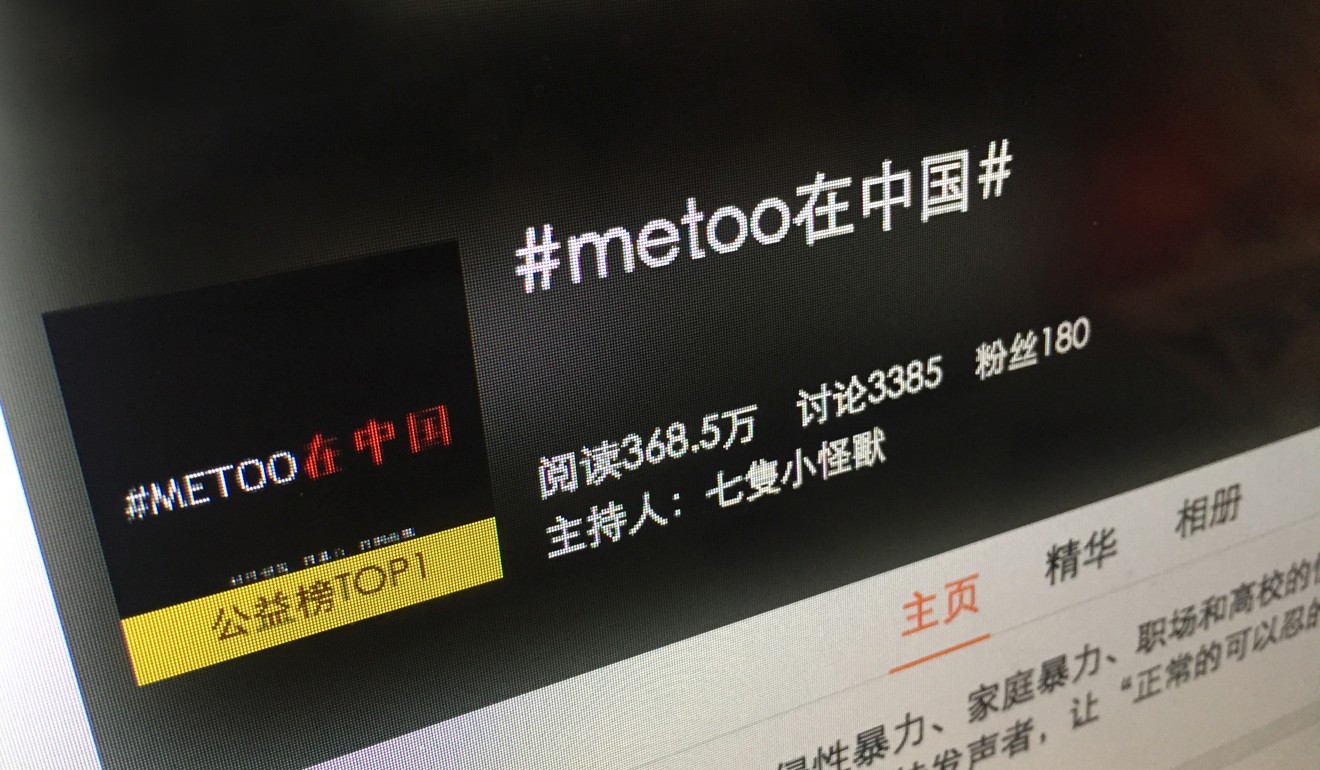 But through the online movement people are now starting to find their voice.
Luo Qianqian, a former student at Beihang University in Beijing, came forward on January 1 with allegations that she and at least five other women had been sexually harassed several years ago by one of their professors.
The university announced last week that the man in question, Chen Xiaowu, had been fired as a result of the accusations.
His dismissal came after an investigation found he had engaged in "sexual harassment behaviour" that seriously violated professional ethics and the school's code of conduct, the university said.
On Sunday, China's Education Ministry stripped Chen of a prestigious academic title.
"The ministry decided to revoke Chen Xiaowu's status as a Yangtze River Scholar," Chinese state radio said, referring to the highest academic award that can be given to an individual working in higher education.
"We maintain a zero-tolerance approach to behaviour that crosses the ethical line for teachers, and violates students," the ministry said.
The ministry would also look into setting up a long-term and effective system of sexual harassment prevention at universities and colleges, it said, without elaborating.
Attempts to reach Chen for comment were unsuccessful.
Despite seeing their petition letters repeatedly censored on social media, students and alumni across China have been inspired by Luo's account to press their own universities for change.
A letter addressed to the prestigious Tsinghua University in Beijing last week outlined six steps to combat sexual harassment, including launching an anti-sexual harassment committee, setting up reporting channels and improving sex education.
Huang Yizhi, a Tsinghua alumna and one of the co-authors of the letter, told the South China Morning Post that the sexual harassment stories that had emerged so far were only "the tip of the iceberg".
"#MeToo is different in China than in the US," she said. "Many victims still don't feel very safe about coming out and sharing their stories."
Now a lawyer – who worked on one of China's first gender discrimination cases – Huang said universities could serve as a launch pad for women across the country to speak out against sexual abuse.
"If college students with a certain level of awareness [of the issue] talk about it, it will give other, younger, people the confidence to tell the university how they feel about sexual harassment," she said. "By starting at the university level, people across society will see this as well."
Another former student to have been inspired by Luo's account is Taoligeriler, who started a petition on January 7 asking her alma mater – the elite Fudan University in Shanghai – to do more to tackle the problem of sexual harassment on campus. As of Monday it had gained more than 300 signatures.
"I didn't see very bad things myself, but that doesn't mean there is no sexual assault on campus," said Taoligeriler, who like many ethnic Mongolians uses only one name. "Many people choose to remain silent, and we need to let the girls know where they can get help."
A Fudan alumnus who co-authored the petition letter, but asked not to be named, said he hoped it would educate Chinese men about the prevalence of sexual harassment.
"Many men turn a blind eye to sexual violence and gender inequality," said the 27-year-old, who is studying for a PhD in anthropology in Canada. "There is much work to be done to make them aware."
Online censorship makes it difficult to say exactly how many universities have been petitioned, but activists said that between 30 and 50 campaigns had emerged on social media over the past week.
Peking University, another of China's premier seats of learning, replied to the letter it had received, stating that it would continue to strengthen its work on "teacher's ethics and morality". But activists from Tsinghua and Fudan said they had yet to receive an official response.
Despite the growing support for the #MeToo movement in China, campaigners said that heavy internet censorship had made it difficult for them to spread the message.
Beijing has traditionally cracked down on all civil movements out of fear that any kind of activism will undermine the communist regime.
In 2015, the government detained a group of women's rights activists known as the Feminist Five for planning to demonstrate against sexual harassment on public transport. They were released a month later after an international outcry.
Taoligeriler said she had posted the Fudan petition letter on Weibo three times and that the posts had been widely read but quickly removed.
She said that instant messaging app WeChat also blocked her post, saying it "violated regulations".
Despite the many obstacles. the message is getting through. On Weibo, the Chinese equivalent of Twitter, the topic "#MeToo in China" has been clicked on more than 3.5 million times.
Huang said she was inspired by the fact that so many young Chinese, even under such tight controls and censorship, were determined to have their say.
"Why would China still have people speaking out, even in these difficult conditions?" she said. "Even after the posts are deleted, they are still doing it. This is promising."
This article appeared in the South China Morning Post print edition as: #MeToo campaign takes off in China despite censorship