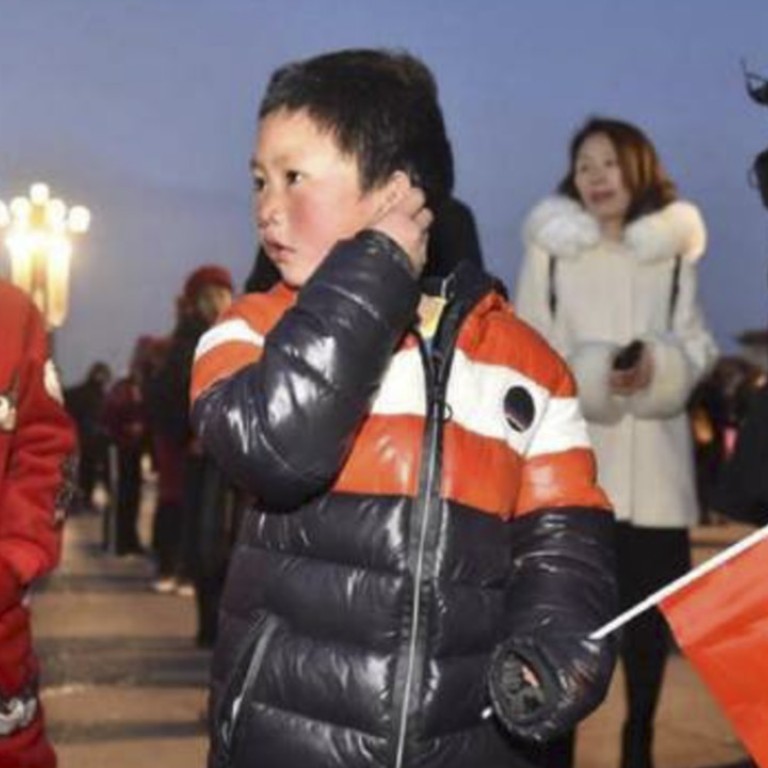 China's 'Ice Boy' visits Beijing and enjoys 'miracle' of heating
Eight-year-old who melted hearts is visiting with his father and sister on state-sponsored trip – and he's keen to see how kids in the capital get to school
Wang Fuman, the "Ice Boy" whose photo after a freezing trek to school went viral on Chinese social media, is enjoying the milder temperature and "miracle" of heating on a three-day visit to Beijing.
Eight-year-old Fuman, his father Wang Gangkui and older sister Wang Fumei, 10, began their tour of the capital on Saturday, partly sponsored by a Communist Party propaganda website.
An image of the boy with his hair and eyebrows covered in ice, his cheeks ruddy from the cold, was widely shared online about two weeks ago. He had walked for over an hour from his home in thin clothing along treacherous mountain paths and a teacher took the picture when he got to school.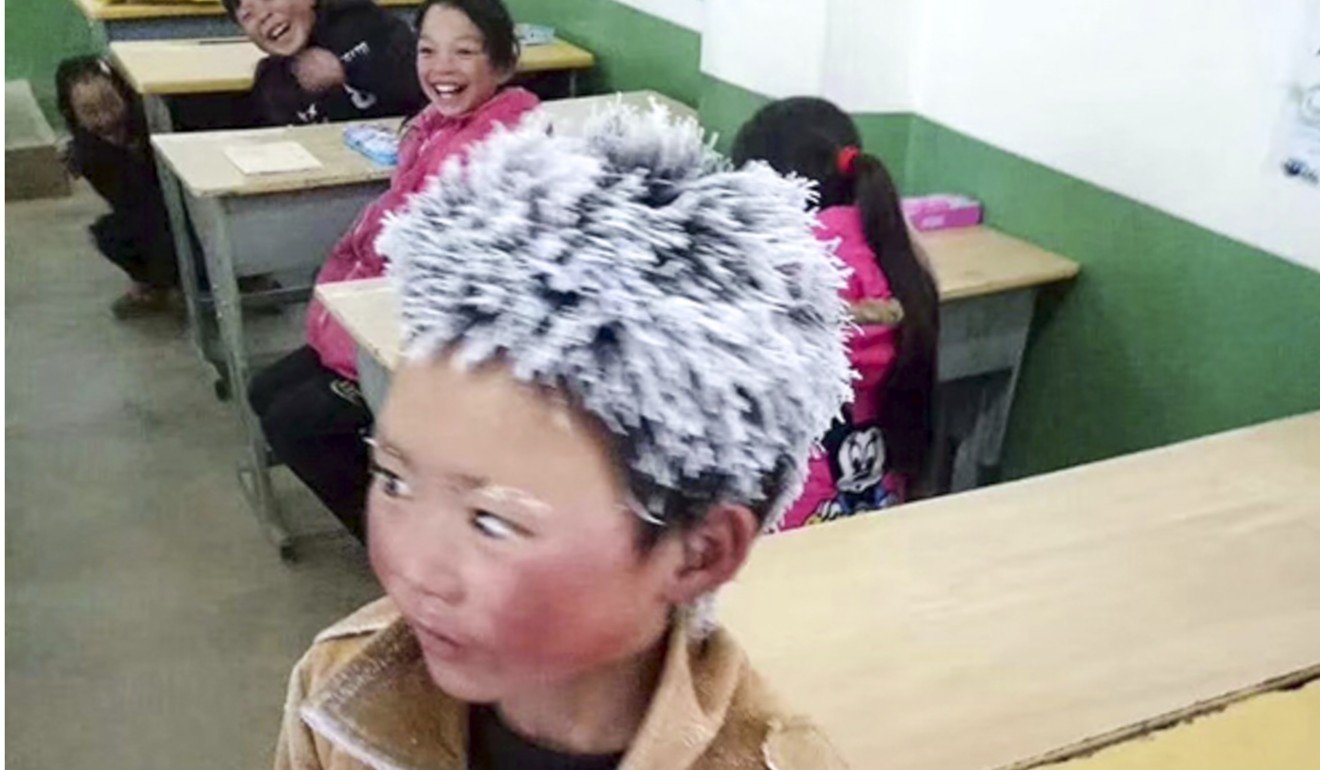 The plight of the primary school pupil from Ludian county, a poor area in the southwestern Yunnan province, touched hearts across China, with many internet users expressing sympathy for the hardships the boy, and children like him, endure to get to school. Donations of money, warm clothes and heating have flooded in.
The children at the school study in a classroom without heating, in a mountainous area that often experiences sub-zero temperatures.
"I have never left home before, this is my first long journey," Fuman, who apparently spent most of the three-hour flight from Zhaotong on Friday looking out the window, told The Beijing News.
He also marvelled at the availability of heating in the capital, and the milder temperature compared to home. "It's very cold at home, but very warm in Beijing. At home, we have to burn charcoal at night for warmth. In Beijing, the rooms are so warm – I only need to wear one layer of clothing. This is the first time I've come across heating, it really is a miracle," he said. "I want to see how children in Beijing go to school, and whether they need to walk a long way every day."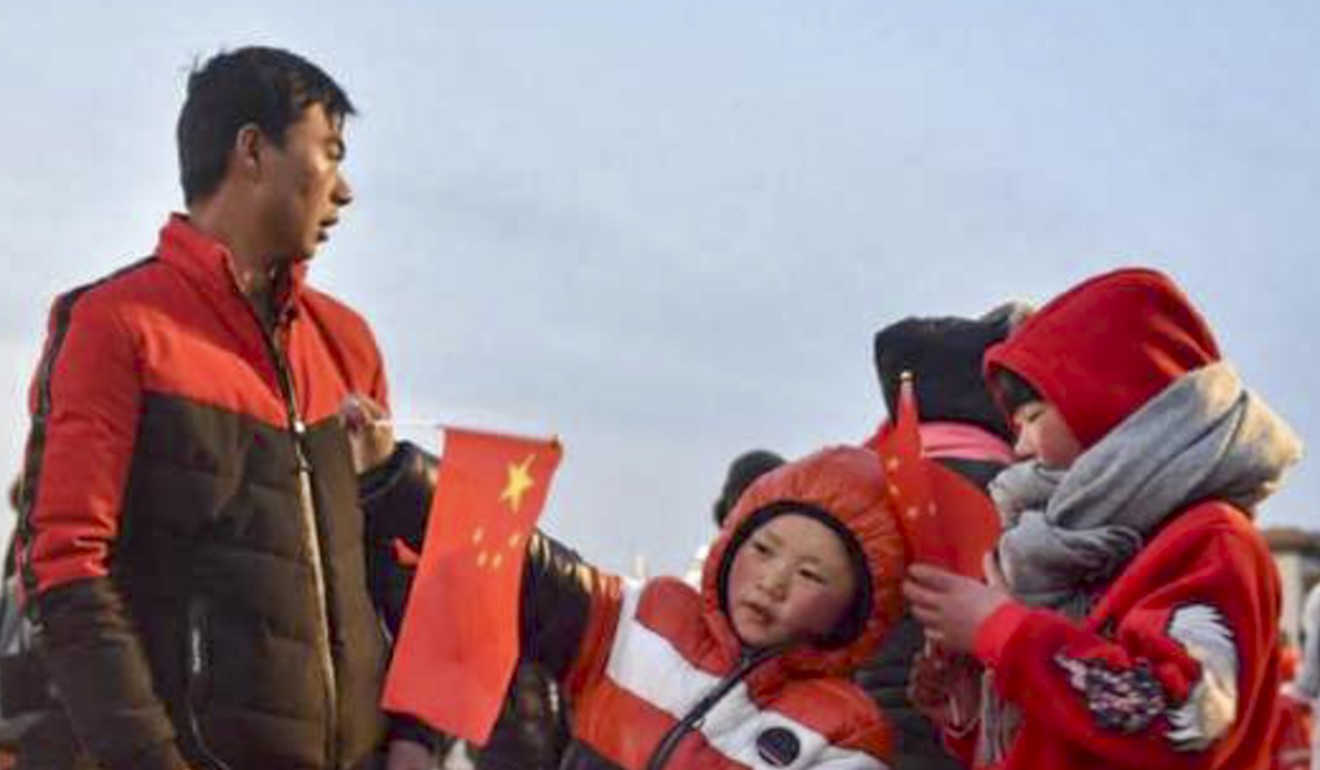 Fuman is a "left-behind child", a term used to describe youngsters from poor families whose parents work in cities away from home. The amount of care and support given to left-behind children by the authorities has regularly sparked debate on social media in China in recent years.
After Fuman became an internet sensation and was dubbed "Ice Boy" by media, donations were sent from around China – exceeding 300,000 yuan (US$46,900), according to some media reports.
But the handling of the donations has only added to the debate after the local government gave Fuman and his family just 8,000 yuan of the money, saying it was not good for the child to become "rich" overnight – leading to questions over what would happen to the rest of the cash.
State broadcaster CCTV reported that 100,000 yuan of the money went to the boy's primary school, Zhuangshanbao.
His father was also offered a job in his hometown so he will no longer have to work away from home.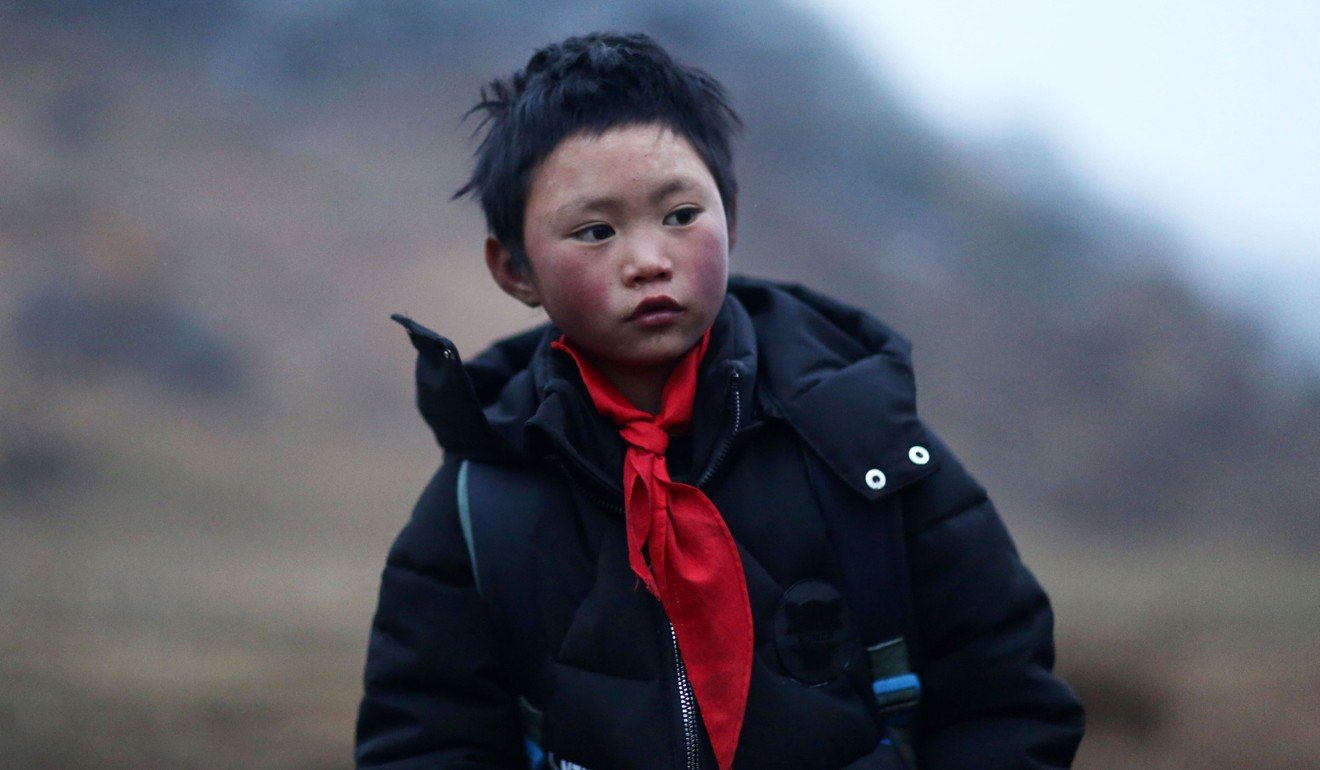 Fuman's trip to Beijing was arranged and paid for by propaganda website China Peace, run by the party's Central Political and Legal Affairs Commission, which oversees policing and other work to do with maintaining social stability. Government-backed news website Btime.com also contributed.
After telling media that he wanted to become a policeman, Fuman will be taken on a tour of the headquarters of the police special unit in Beijing and the largest police school, the People's Public Security University of China, according to The Beijing News.
He is also keen to see the sights, and ticked off at least one of them on Saturday, attending the early morning flag-raising ceremony in Tiananmen Square. The Forbidden City and the Great Wall are also on his list.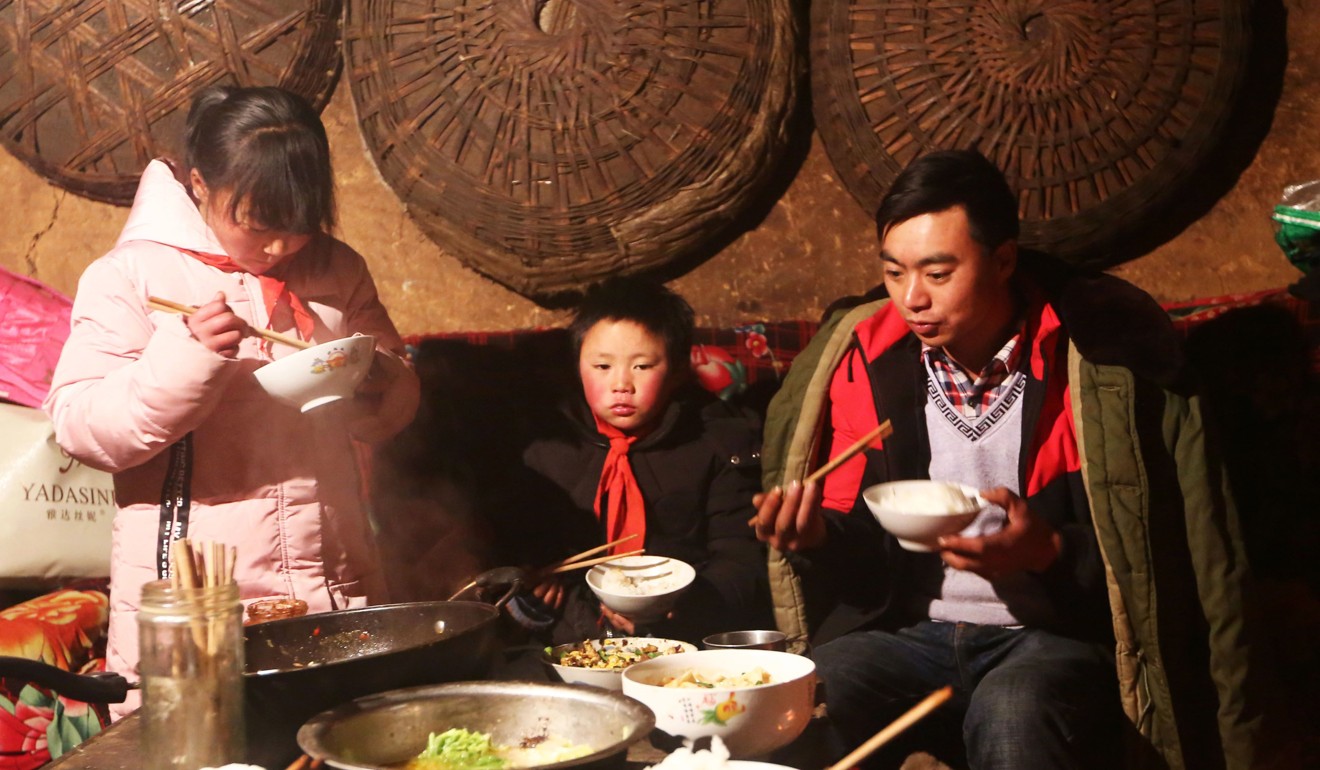 His father said he hoped his son could stay in Beijing and study. Wang was working in the provincial capital Kunming and had not seen Fuman for four months when he returned home after his son's photo went viral.
"When I saw the photo, there was pain in my heart. I couldn't stay home and look after my children – I had no choice," the 28-year-old was quoted as saying.
"If I didn't leave and find work somewhere else, my two kids would've had nothing to eat," he said, adding that he was not sure how his son would adjust when all the attention was over.
We have had many requests from readers wishing to donate to the family. To find out how to contribute, please email  [email protected] 
This article appeared in the South China Morning Post print edition as: 'Ice Boy' awed by indoor heating on party-backed excursion to the capital