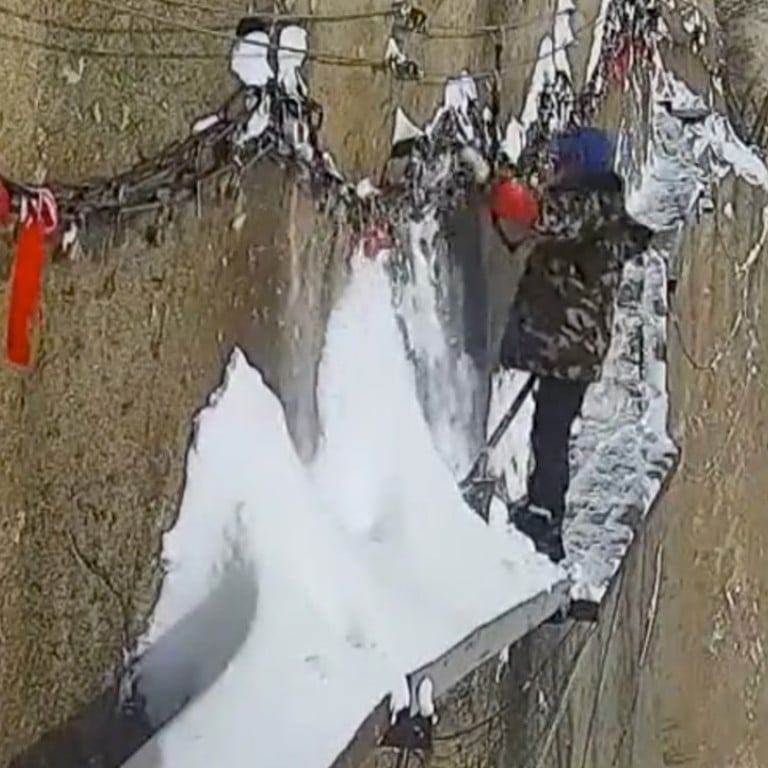 This Chinese snow sweeper defies death daily to keep Huashan mountain tourist trail open
Zhang Dongdong thinks nothing of dangling from a safety cable as he clears the rickety skywalk that runs 100 metres along sacred peak of Huashan
If you have ever moaned about having to get up for work on a cold winter morning, spare a thought for the man whose job it is to sweep snow off a precipitous pathway 2,000 metres (6,500 feet) up a mountain in northwestern China.
Enter Zhang Dongdong, who became an internet sensation recently after a video of him carrying out his duties on Huashan, a sacred peak in Shaanxi province, went viral.
In the footage, the 26-year-old can be seen shovelling and brushing snow from a 30-centimetre-wide rickety walkway attached to the cliff face. His only protection is a karabiner attached to a safety cable bolted into the rock.
The trail, which runs for about 100 metres, is used by thousands of tourists who visit the area every year.
Regarded as one of China's "Five Great Mountains" and part of the Qinling range, Huashan has been revered for millennia and is home to nuns, monks and numerous temples.
The task of clearing the path of snow took Zhang and his colleagues about an hour, Huashang Daily reported on Wednesday.