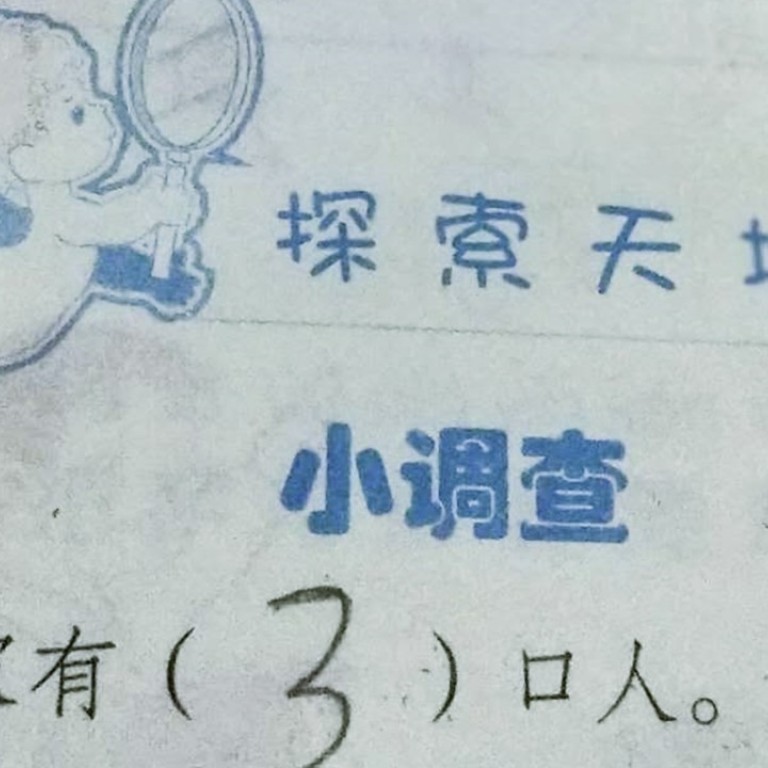 'Daddy's never home': Chinese boy's maths homework sheds light on his view of family
Child excludes his often absent father from his calculations of the size of his family
Almost 100,000 people "liked" a story published on a People's Daily social media account last week about a boy who made reference to his absent father in his maths homework.
In response to the question: "How many people are there in your family?" the boy, surnamed Luo, answered "three", Chongqing Morning Post reported on Monday.
In fact, the first-grade pupil from Dawu county in southwestern China's Sichuan province is part of a family of four. He has two parents and a younger sister, the report said.
When his mother saw the boy's answer, she questioned him about his maths. He said that "three" was correct, as "daddy is never home".
The response so upset the mother that she photographed the boy's answer and sent it to her husband, police officer Luo Jian, who was at work.
The man – who often has to work weekends and public holidays – then uploaded the image to social media with the comment, "So [his idea of family] doesn't include me. I'm heartbroken".
He added that he felt like crying after seeing the message from his wife. The report did not say if the father contacted his son.
The man's message was posted on Weibo – the Chinese equivalent of Twitter – by People's Daily. It was shared more than 14,000 times and garnered 400 comments.
Many internet users expressed sympathy for the frontline policeman whose work took him away from his family for long hours regularly.
In a separate report by Tencent News last week, the mother said she was proud of her husband even though he was often away from home.
"Although he can't give me romance or companionship, I am still very proud of him," she said.
In China, millions of children experience similar problems to those suffered by the boy.
"My two-year-old son also left my firefighter husband out of our family … because of his absence," a person wrote on Weibo.