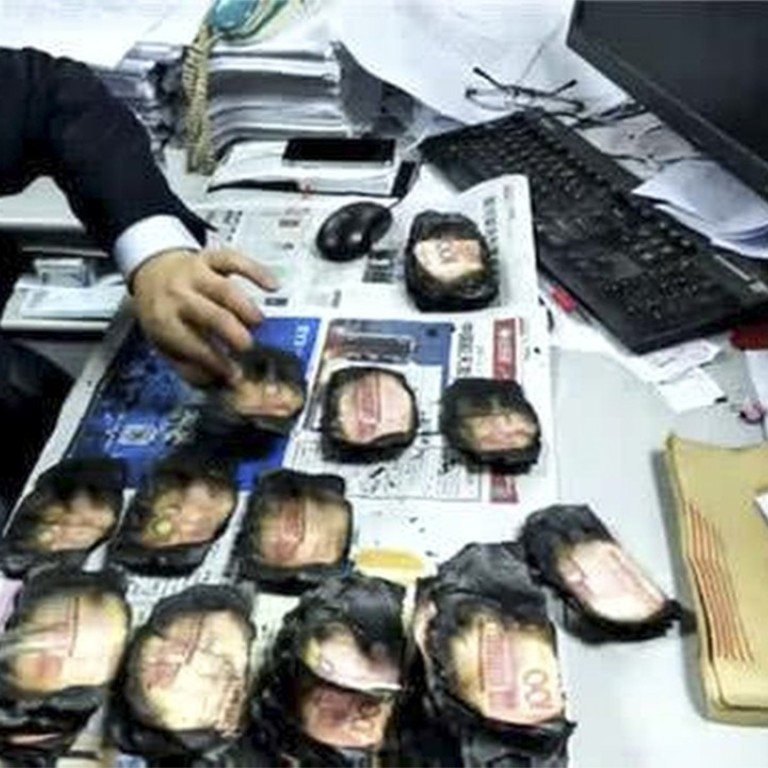 Bank works overtime to save most of elderly couple's US$4,750 life savings after house fire
Husband, 81, and his wife take home three-quarters of their nest egg after tellers spend eight hours counting charred remnants
An elderly couple from rural China who thought they had lost their life savings in a fire at their home managed to recoup three quarters of their nest egg after bank workers spent eight hours sorting through the charred remains.
The 81-year-old husband, identified only by his surname Huang, and his wife, feared they had lost 30,000 yuan (US$4,750) in a blaze that gutted their home in Longjie, southwest China's Sichuan province, on January 15, Chengdu Economic Daily reported on Sunday.
"Father saved the money his whole life, and intended to use it to repair the house," Huang's daughter was quoted as saying.
Desperate to salvage what they could from the disaster, the family scooped up the burnt banknotes and took them to their local bank. The staff there, however, refused to help, as did workers at three other banks in the town, the report said.
It was only when the couple's daughter struck on the idea of taking the carbonised cash to the head office of the Bank of Chengdu in the provincial capital from which it takes its name that the ageing pair saw a glimmer of hope.
Three employees were set the painstaking task of checking through the notes to determine their value, and after eight hours – including overtime – they agreed on the sum of 22,850 yuan.
"The cash was just a lump of paper stuck together," bank official Miao Xiaoyu said. "We had to separate the banknotes one by one to count them."
According to guidelines from the People's Bank of China, damaged banknotes can be exchanged for others of equivalent worth if they are at least three-quarters complete and their face value is legible.
For notes that are more badly damaged, the central bank rules them to be worth just half their original value.
While it states that all financial institutions that provide savings and withdrawal services should adhere to the guidelines, many – as Huang and his family discovered – do not.
Huang's daughter said that like many older couples, her parents preferred to use cash and had always kept their money in a cupboard "for the sake of convenience".
Despite the sweeping trend in mainland China towards a cashless society, many people still liked to squirrel away their cash at home, according to Liu Kaiming, head of the Institute of Contemporary Observation, an NGO based in the southern city of Shenzhen.
"Many farmers don't trust banks, and banking networks in rural areas are underdeveloped," he said.
One of the reasons for the lack of trust was that people feared local authorities might use the information against them, Liu said.
For instance, under the one-child policy, if a couple had a second child they would, if caught, be liable to pay a fine. If the government could see how much money they had in the bank, it could simply debit their account, he said.