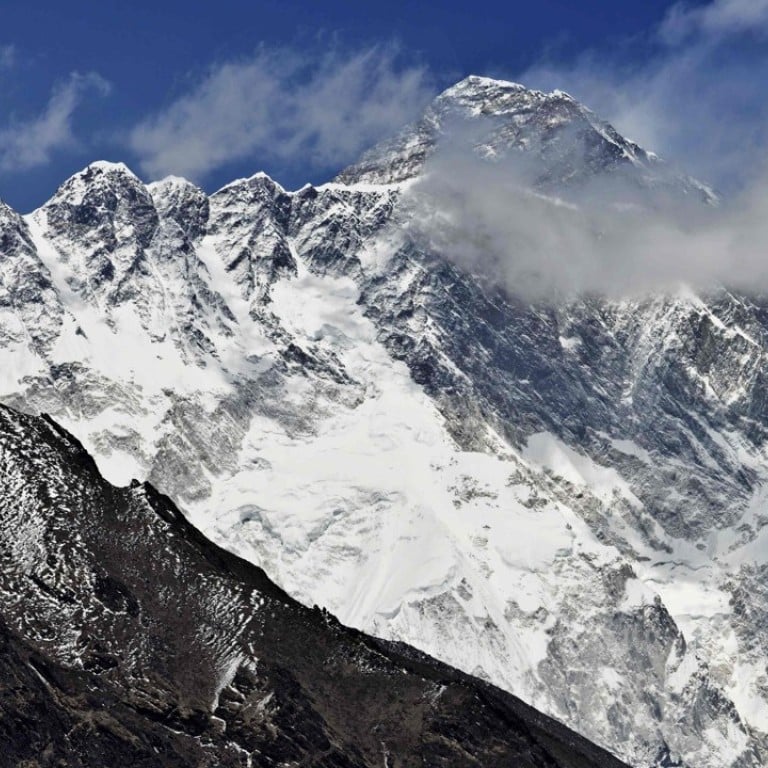 China denies changing height of Mount Everest, as row leaves Beijing, Kathmandu 12 feet apart
Rebuttal comes after Nepalese sherpa tells The New York Times that China adjusted its figures to win back climbers
China has denied changing its figure for the official height of Mount Everest following a reported drop off in the number of climbers tackling the world's highest peak from the Tibet side.
In an interview with Xinhua, an unnamed official from the National Administration of Surveying, Mapping and Geoinformation said China had not "at any time or under any circumstances given up its findings from 2005 that the height of Mount Everest is 8,844.43 metres, or 29,017.2 feet".
The statement was made in response to a report by The New York Times, which cited Nepal's former top mountaineering official as saying that Beijing adjusted its figures last year.
The Chinese official, however, rebuffed the claim, saying the measurement taken in 2005 was "precise, scientific and legal", and had since been used as a national standard.
"The figure … is based on the rock height of Mount Everest … and is important for researchers involved in mapping, geoscience, and environment climatology in China and around the world," he said.
Located in the Himalayas on the border between China and Nepal, Mount Everest – known as Sagarmatha in Nepal and Qomolangma in Tibet – is generally regarded as the world's highest peak, though its precise height has been the subject of much debate.
The crux of the dispute between China and Nepal is whether the height should include the mountain's snowcap or only its rock base.
In The New York Times interview, Tshering Sherpa, the former director of the Nepal Mountaineering Association, said that Beijing had put pressure on Kathmandu and an international climbing body to recognise its 2005 findings that the height of the rock base of Everest was 29,017 feet.
Nepal, however, has always held that the height should include the snowcap, thus putting the peak at 8,848 metres (or 29,029 feet).
"China changed its own findings last year after the number of people applying to climb Mount Everest from the northern side significantly decreased", Tshering was quoted as saying.
People preferred to climb from the Nepalese side because they got a certificate with the greater height on it, he said.
Nepal is planning to send a group of surveyors to measure Everest during the upcoming climbing season over the next few months in the hope of settling the dispute.
The Chinese official said, however that Beijing would not adjust its official figure for the height of the rock base unless its own research suggested an adjustment was necessary.