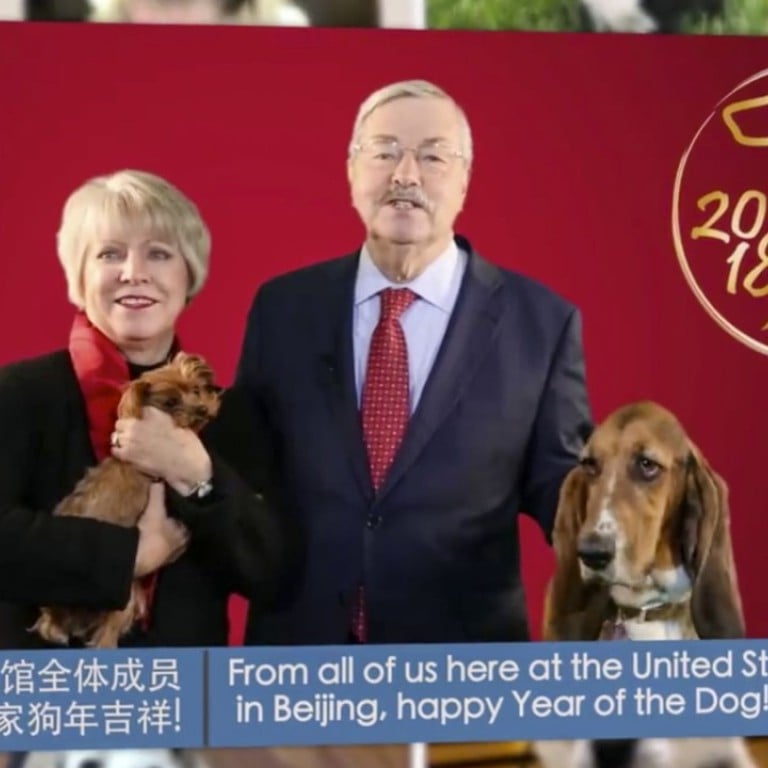 Forget the goodwill, where's my money? Angry Chinese investors hijack US embassy's seasonal greeting
Ambassador's Lunar New Year message attracts 'more than 10,000' comments about the Chinese stock market, mission says
A Lunar New Year goodwill message posted by the United States embassy in Beijing on its social media account on Thursday was hijacked by angry Chinese stock market investors venting their spleens over their recent losses.
In a video uploaded to the embassy's official Weibo account – akin to a verified Twitter account – US ambassador Terry Branstad and his wife, accompanied by two canine companions, wished everyone a "Happy Year of the Dog" in both English and Mandarin.
"Staff at the US embassy in China wish you all a happy Spring Festival in advance and an auspicious Year of the Dog," the message said. "Are you already on your way back to your hometown? How do you intend to spend the Spring Festival this year?"
Despite the festive and friendly tone, thousands of disgruntled investors responded with fury.
"Please could you American journalists go to interview the chairman of the CSRC, ask him why China's stock markets are so vulnerable and could not sustain any shock," an unnamed internet user wrote, attracting nearly 3,000 likes.
"Mr Ambassador, I ask you quietly – is Liu Shiyu an undercover agent deployed by you in the Chinese government?" read another post, which had more than 1,000 likes.
Liu is chairman of the China Securities Regulatory Commission, the country's stock market watchdog.
As of Monday morning, the comments facility on the post had been closed. Calls to Sina Weibo, the company that owns and operates the platform, went unanswered, but the US embassy told the South China Morning Post it was not responsible.
Jinnie Lee, a spokeswoman for the US embassy, said that over the weekend its Weibo page received more than 10,000 comments about the Chinese stock market that were "unrelated to the Chinese New Year's video we had posted".
"The embassy deleted several comments that violated our terms of use," she said. "However, we did not turn off the comments section for any post."
The embassy said on Saturday that the Weibo post "was intended to greet the Lunar New Year, but many comments were irrelevant to the topic". According to its own standards, "malicious speech against individuals or groups on social media platforms is unacceptable", it said.
The angry comments came after China's benchmark Shanghai Composite Index fell more than 10 per cent last week, in line with sell-offs across Asia and around the world.
China has more than 100 million retail stock investors, and it was not clear why so many of them thought the US embassy would be able to explain the actions of the stock market regulator.
But Shen Meng, an executive director with investment bank Chanson & Co, said the wave of fury was attributable to a "a kind of naive populism".
"The investors think foreigners could be responsible for the declines in A shares [stock traded on China's mainland markets]," he said. "[They] had been spoiled by the government, and thought the government should always bail out the losses they sustain."
Jimmy Zhang, a Shanghai-based equity analyst, said that since taking office in February 2016, Liu had tightened supervision of the stock market, which had led to resentment among many retail investors who had previously made fortunes by trading underperforming and unprofitable stocks.
"[Investors] can't find anywhere else to let out their disappointment over the losses," Zhang said.
Similar irate comments were posted on other foreign embassies' social media accounts, including those of Japan, Germany and Britain.
"We ask for political asylum for A-share investors," one person commented under a post on the Japanese embassy's site promoting the country's rice products.
Another wrote: "We hereby beg Prime Minister Shinzo Abe to exercise justice for us."
This article appeared in the South China Morning Post print edition as: Angry investors hijack greeting by US ambassador