'Racist' Chinese Spring Festival Gala TV show causes uproar over 'blackface and big bottoms'
The show, by Chinese state broadcaster CCTV, had a Chinese actress wearing blackface and fake buttocks to portray an African mother
A comedy sketch on China's biggest Lunar New Year television show has caused anger online for using a Chinese actress in blackface and giant fake buttocks to depict an African character.
The skit, which was apparently intended to celebrate China's relationship with African countries, came during the 2018 edition of the CCTV New Year's Gala – also known as the Spring Festival Gala – an annual variety show broadcast for the Lunar New Year that gets as many as 800 million viewers.
The scene – which also appeared to feature a black performer playing a monkey – was lambasted as "disgusting" and "completely racist" online after it aired on Thursday night. 
The scene opened with a performance by African dancers and an appearance by black female staff from the new Chinese-built Kenyan fast train – but it was the following mini-play that caused uproar online.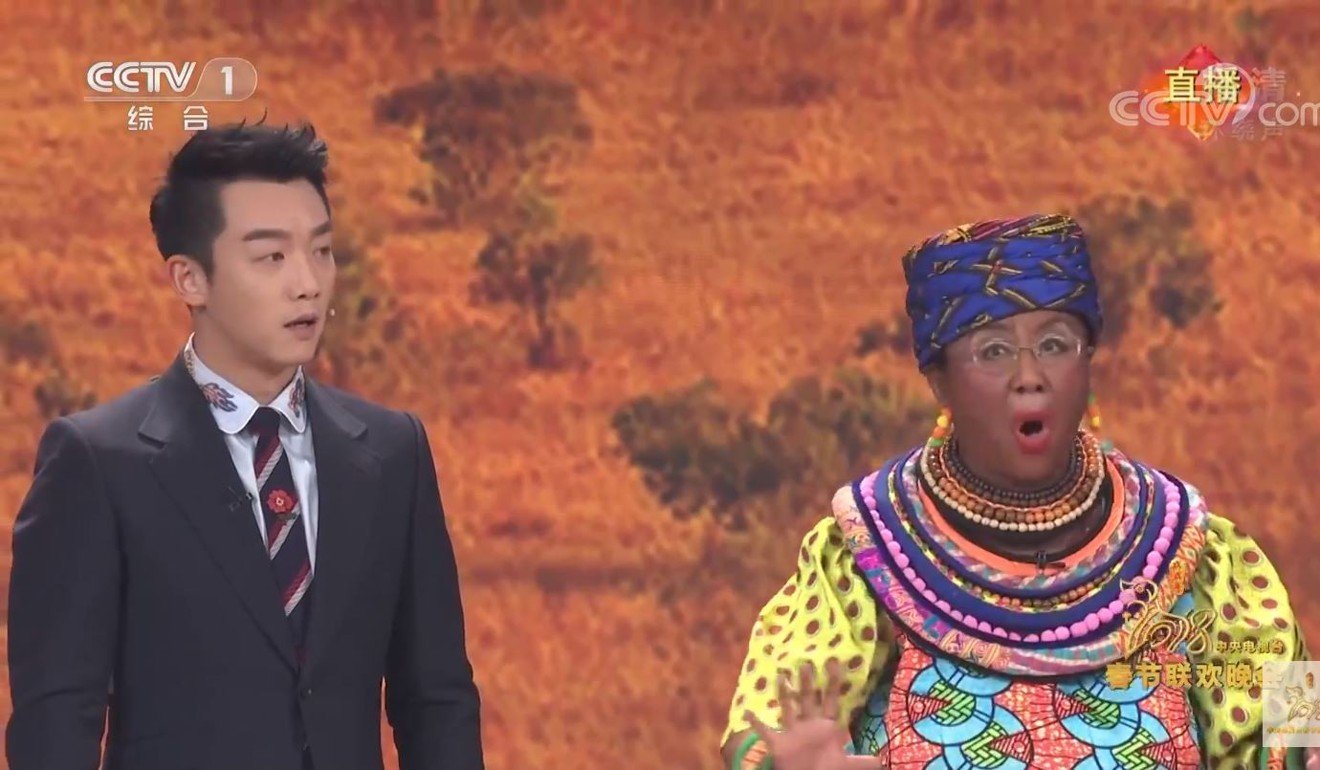 After the performers departed the stage, the host – standing in front of an African veld backdrop – was approached by his friend, played by a young black woman, who asked him to help her out with a problem by following her lead. 
He agreed and was introduced to her mother – who was played by Chinese actress Lou Naiming wearing blackface, with a comically large fake bottom under her skirt and a basket of fruit on her head. 
She was accompanied by a monkey, apparently played by a black performer.
The host then discovered that he was supposed to be playing the part of the young black woman's boyfriend, so that she could get out of a blind date – only for the host's Chinese bride to arrive on the scene.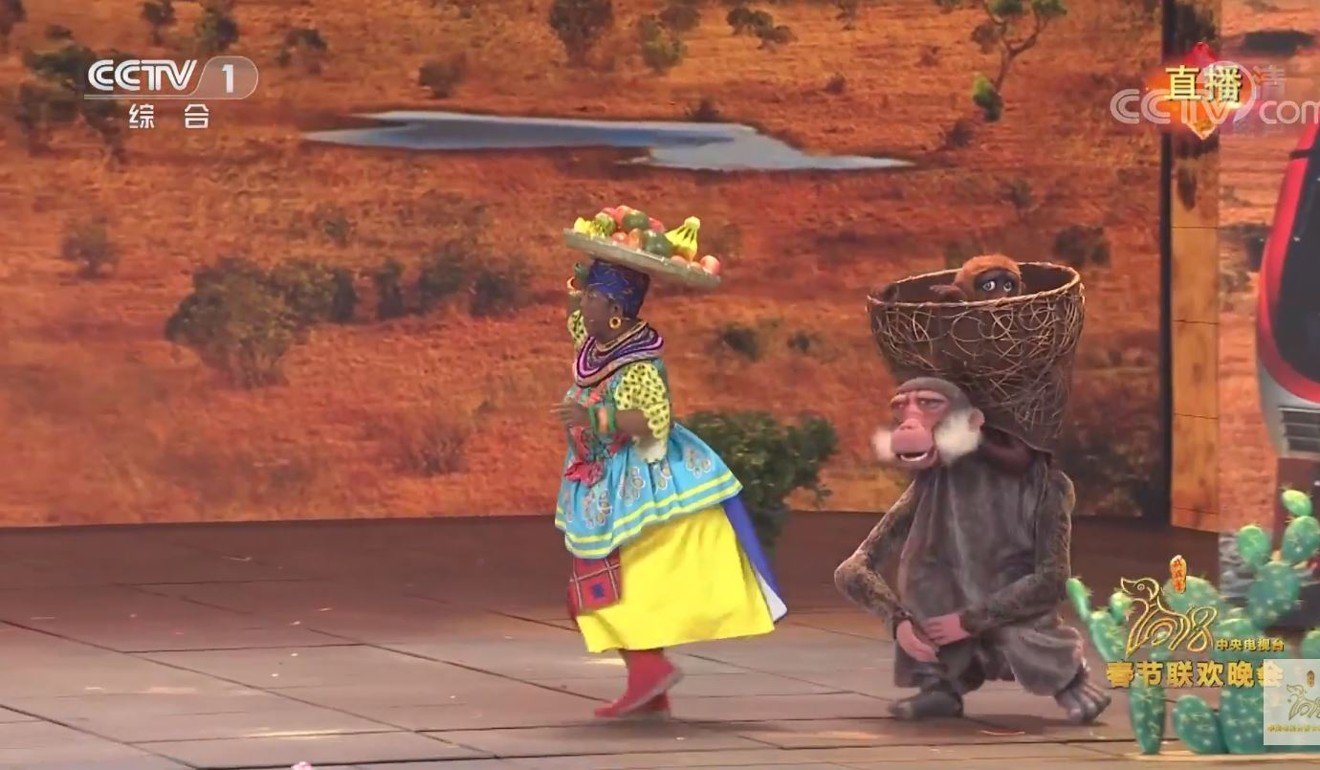 After much farcical wordplay, the mother – in perfect, unaccented Chinese – said she that she couldn't be angry because China has done so much for Africa, then shouted: "I love Chinese people! I love China!"
The depiction of the mother character and the stereotypical imagery came in for strong criticism on social media.
Twitter user KT Parthepan wrote: "Ugh the sketch on Africa during the @CCTV Spring Festival Gala (possibly the most watched show in the world) was cringeworthy at best, completely racist at worst.
"It's Africa, so bring out tribal dancers & animals? And was that a Chinese woman in blackface with a fake posterior?"
Ben Armstrong responded: "It looked a lot like blackface to me …"
Another Twitter user, Jeremy Webb, responded: "More Geopolitics on glorious display at this year's CCTV #CNY Gala. This love story resolved as the enlarged-a** African mama proclaims her love for China and the building of railways."
"Really disgusting," replied Twitter user Maroon.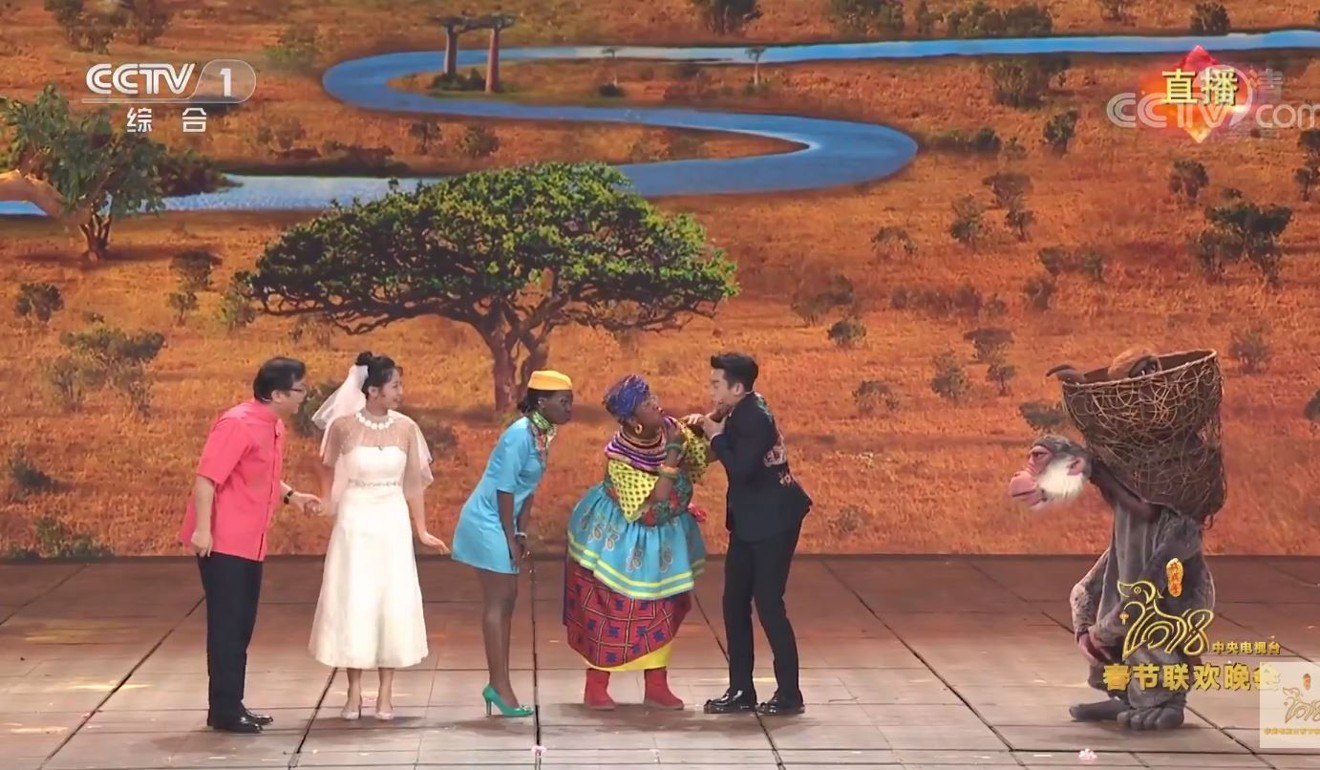 The sketch also received a strong response on Reddit, with user "iforgotmyidagain" writing "Not sure which one is more disgusting, the blackface itself, or the fact that the propaganda machine thought it was fine."
User TheDark1 wrote: "There's gonna be a hella funny backlash to this tasteless propaganda. I cannot believe that sketch got greenlit. Most cringeworthy thing I've seen in months, Trump included."
"Imagine if the US state of the union event had a white guy with yellow face, a rice farmer's hat, buck teeth, and speaking in stereotypical Chinese accent," user probablydurnk wrote. "Think the Chinese internet would leave that one alone?"
However, some defended the sketch.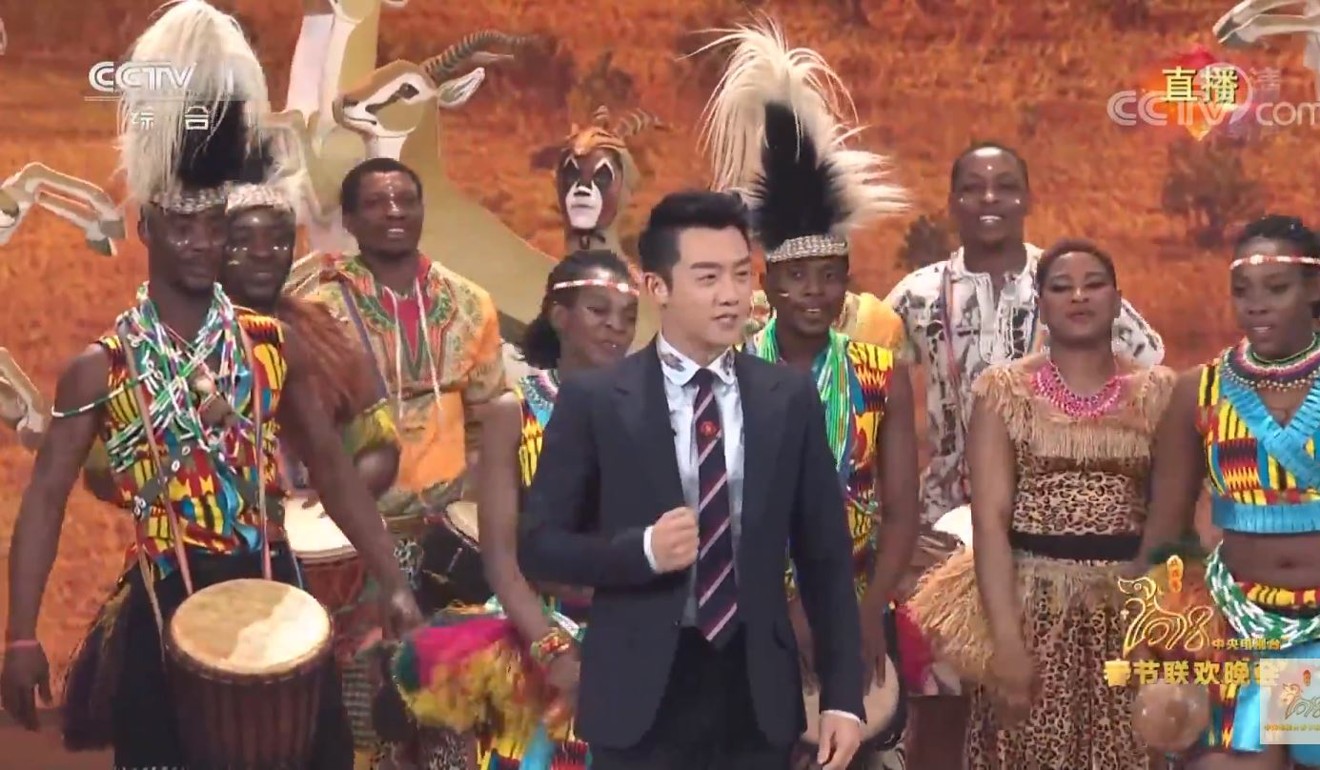 Reddit user 1989slover wrote that it was "a comedy praising the relationship between China and Africa, so there's not any intent of racism. And yes the way they express the idea is a bit wrong, but I think that's mainly because people don't really know a lot about racism in China because the race here is not so diverse.
"China has always been a friend with African countries so there's no reason for us to ruin the relationship by putting a discriminational show in the gala, but I do hope there would be a official explanation for this whole thing."
The sketch drew a mixed reaction on Weibo, China's equivalent of Twitter, with some viewers praising the segment as the highlight of the entire gala - and some having their remarks censored.
But others questioned how the segment could pass content screening as it promoted colonialism and displayed Chinese arrogance about Africa. 
"I have never seen more awkwardness and blatant discrimination than this," said a Weibo user identified by the screen name Rockstar 101. 
One user noted the African mother was played by a Chinese actress, but their post was censored. 
"Am I wrong to have spotted it was a Chinese playing an African role?" questioned the commenter, with a captured screen showing the deleted post.
Multiple articles on mainland social media commenting about the incident have been removed by censors. 
Blackface – that is, non-black performers wearing face paint to portray black characters – is a sensitive subject in much of the West. 
That is particularly true in the United States where minstrel shows featuring white performers using blackface to depict black people emerged in the 19th century and remained on television until as recently as the 1970s.
Awareness of blackface and its dubious connotations in the West are low in China and other Asian countries.
Additional reporting by Mimi Lau