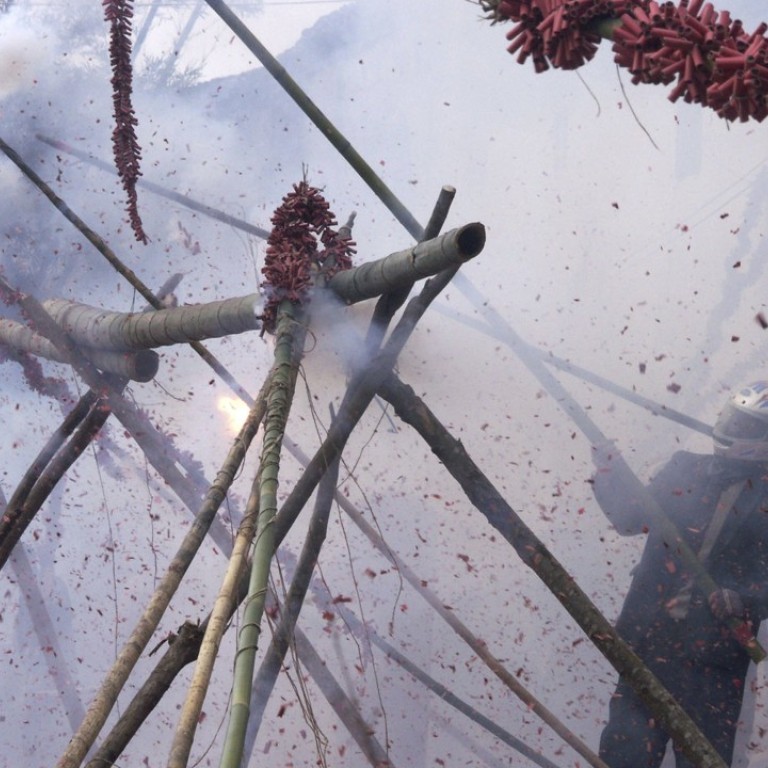 Chinese officials given a rocket over 'Wanted' posters for firework bandits
Team set up to enforce ban on firecrackers reprimanded for putting bounty on suspects' heads
A team of officials tasked with enforcing a firework ban in a central Chinese county have been admonished for putting up "Wanted" posters for two alleged offenders, according to a Shanghai-based news website.
Several notices printed with photographs of the suspects and offering a 10,000 yuan (US$1,600) reward for information leading to their arrest were put up in a residential estate in Shuangfeng county in Hunan province on Friday, the first day of the Lunar New Year, Thepaper.cn reported.
The posters also appealed to the alleged culprits to hand themselves over to the authorities.
"Justice has long arms. We hope the persons involved can identify their own mistakes and turn themselves in for a more lenient treatment," they said.
In Chinese culture it is traditional to light fireworks and firecrackers during the Lunar New Year celebrations to scare away evil spirits and bad fortune from the previous year.
However, as part of its efforts to tackle air pollution the central government has gradually widened its ban on all forms of rockets and bangers across the country. As of last year, the restriction was extended to 440 cities, including Beijing.
Despite the fact that authorities in Shuangfeng had adopted the firework ban in December, the way in which the enforcement team went about its business was inappropriate, the local propaganda department said on Sunday.
The notices had not been approved by the higher authorities and because of their use of "a lot of inappropriate wording" had "created a bad impact", Thepaper quoted it as saying in acknowledgement of a number of complaints from members of the public.
The department did, however, explain why the team had responded in such a manner.
"As the incident happened on the first day of the Lunar New Year, it was not convenient for authorities to conduct house checks," it said. "Therefore [the team] decided to issue a notice."
The report did not say if anyone had tried to claim the rewards offered in the posters or if the alleged offenders had turned themselves in.