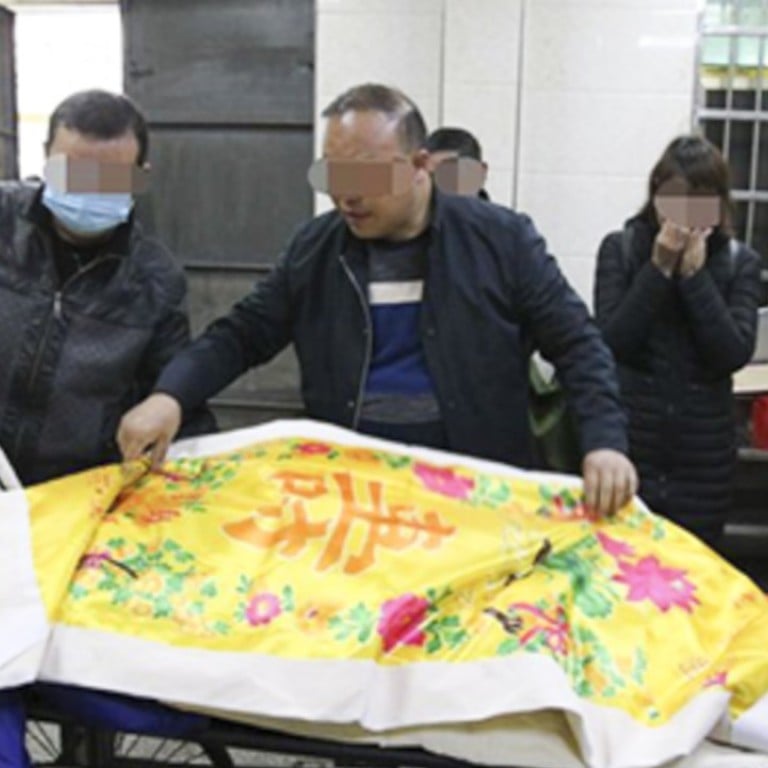 Chinese woman sends husband to the morgue after thinking he died in his sleep … and no one checks
Stomach cancer patient had been released from hospital to spend his final days at home after doctors said they could do no more for him
A Chinese man suffering from late-stage cancer spent his final hours in a funeral home morgue after his wife thought he had died and no one bothered to check.
The man, surnamed Huang, from the city of Shiyan in central China's Hubei province, had recently been released from hospital so that he could die at home, after doctors said they could do no more for him, Shiyan Evening News reported on Tuesday.
His family had spent much of their life savings paying for medical treatment after he was diagnosed with stomach cancer in November.
On Monday morning, Huang's wife went to wake her husband but found him motionless in bed. As he did not appear to be breathing, she assumed he had died in his sleep and called a funeral service to take his body away, the report said.
"My husband didn't make it through the night," the report quoted her as telling the undertaker.
The shocking discovery that Huang was actually still alive was made a few hours later, as workers at the funeral parlour were preparing his body. As the employees were dressing him and applying make-up, they noticed his mouth and fingers twitching slightly.
After checking to see if he had a pulse, and finding one, they called for help. By the time a medical team arrived, however, Huang had breathed his last and the death was formally pronounced, the report said.
The funeral company contacted Huang's wife to tell her what had happened and after hearing of the family's financial plight, waived all of its charges.
While many countries have strict laws on who can and cannot pronounce a person legally dead, the rules are less clear in China, especially in rural communities.
"This is the third such case I've seen since I got into this business," said the manager of the funeral company that took Huang's body.
"When relatives find a loved one apparently not breathing and their body stiff and cold, it's easy to assume they're dead," the man, surnamed Ren, said.
"But one should still perform the necessary medical examinations to check their heartbeat, blood pressure and pulse."