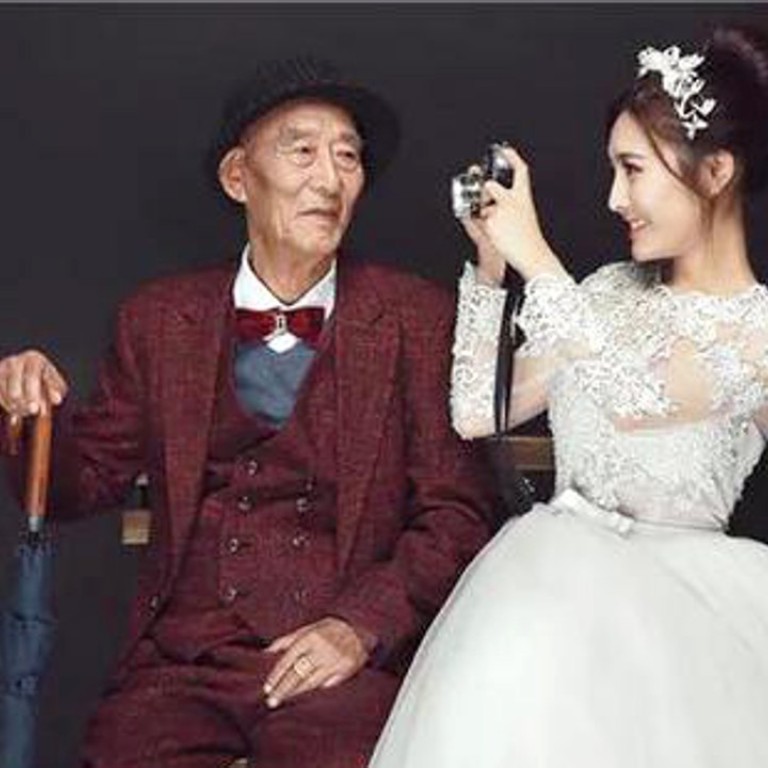 Chinese woman 'marries' her ailing grandad so he doesn't have to miss her big day
Photographs shared online show 25-year-old 'bride' posing with dapper 87-year-old
A Chinese woman who feared her elderly grandfather might not live to see her get married decided to take matters into her own hands by having mock wedding photographs taken, with her dressed all in white and him in a smart three-piece suit.
Fu Xuewei, 25, said in an interview with Chengdu Economic Daily on Sunday that she arranged the photo shoot after her beloved 87-year-old grandfather, Fu Qiquan, suffered his second stroke in two years in September. His doctors apparently warned her to prepare for the worst.
"He's the most important person in my life," she said. "I don't have any plans to get married now, but I want my future children and loved ones to remember his face."
Fu, from Chengdu, capital of southwestern China's Sichuan province, said her grandparents played a big role in her upbringing as her mother and father were always busy with work and divorced while she was still in primary school.
As well as the two strokes, Fu Snr had a long history of heart disease for which he had required a lot of medical treatment, the report said.
"He has been a frequent visitor to the hospital since last September," Fu said in a video published online, adding that she wanted "to express my love for grandpa in all kinds of ways".
She was referring to the fact that just weeks before the photo shoot, which was held in December, she had had a portrait of her grandfather tattooed on her right arm. Or at least the inkwork had been started. She actually had to give up on the idea after four hours as the process was too painful, but she said she planned to have it completed soon.
Internet users mostly responded favourably to the pictures of Fu and her grandfather, with her original social media post garnering more than 5,000 likes.
Fu said that although her grandfather lived a frugal life, he had always supported her in whatever she wanted to do.
"He spoiled me and gave me all the things I wanted. I can't imagine the day when he is not here."
When asked what he thought about the wedding photographs, Fu Snr said: "She wanted [them], so we just went. Her parents were divorced, so I wanted to make up for it."