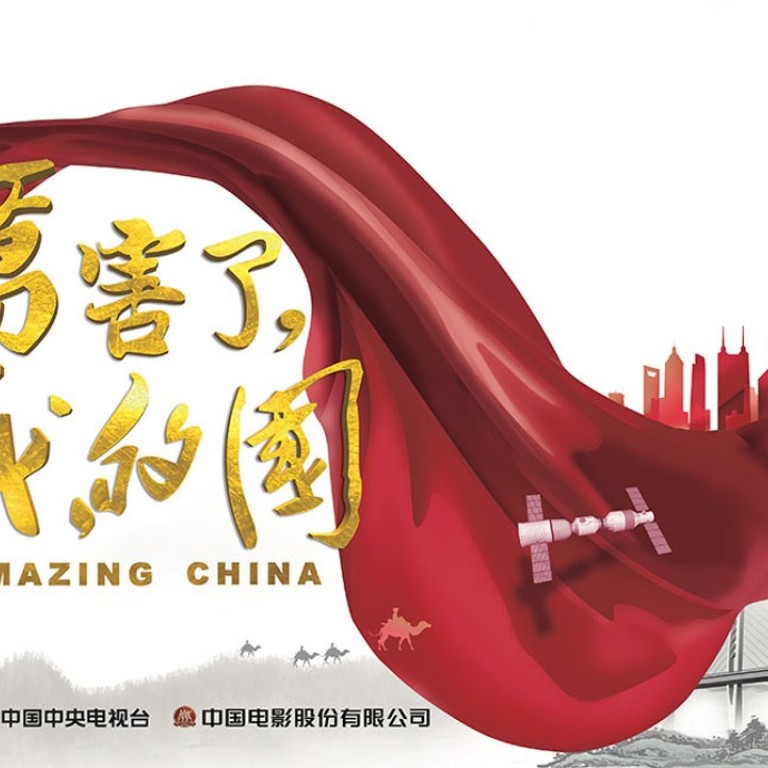 Xi Jinping takes leading role in hit propaganda film extolling 'amazing' China
Documentary rides wave of nationalistic films inspired by Western-style techniques, but compulsory screenings may have played a part in its success
The most powerful person in China has just added a new title to his portfolio: movie star.
Chinese President Xi Jinping was the de facto lead of Amazing China, a film released by state broadcaster CCTV to highlight China's achievements over the past five years, and now the all-time top grossing documentary in the country.
As one of the most highly rated films now in mainland theatres – attracting a 9.6 out of 10 on Chinese film platform Maoyan – it has raked in 227 million yuan (US$35.9 million) at the box office since it hit cinemas on March 2.
The 90-minute documentary is part of a sweeping propaganda blitz that elevates the ruling Communist Party's successes and Xi's role in driving progress.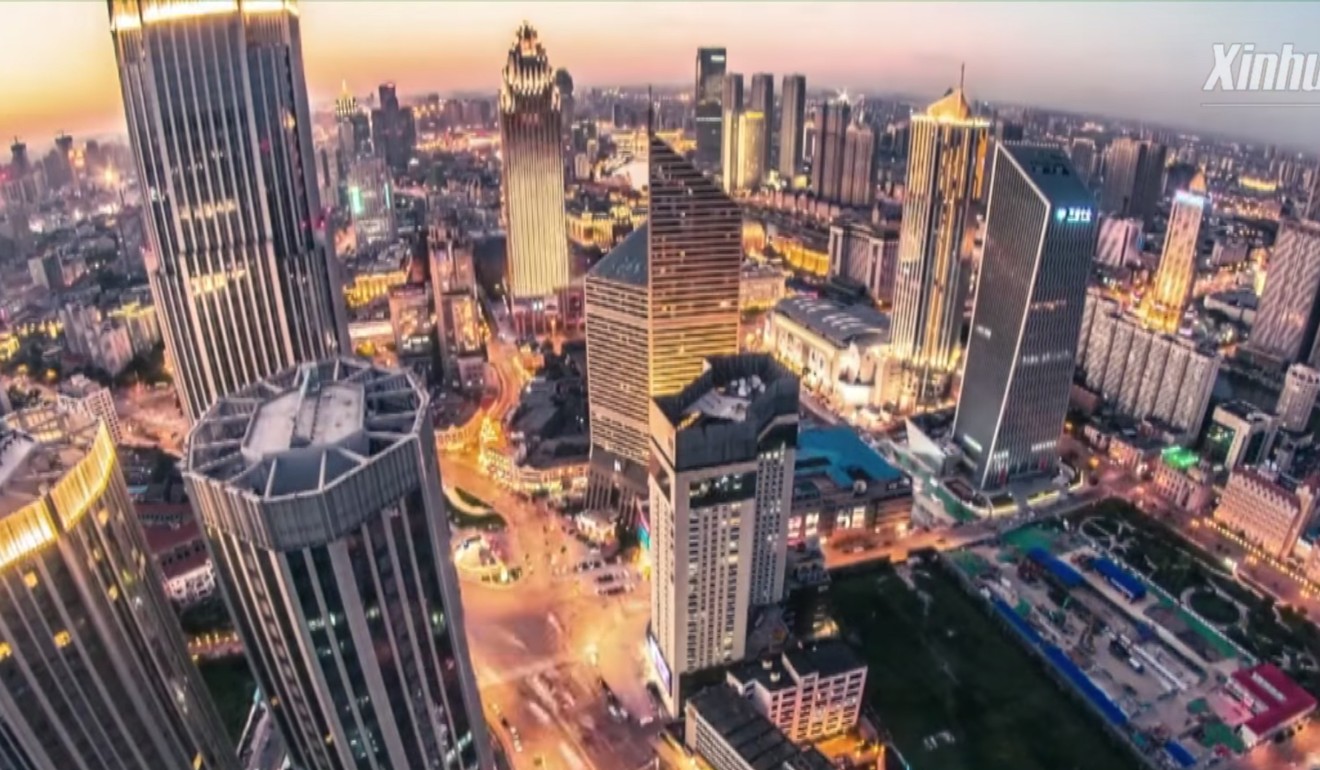 The film made its cinematic debut ahead of China's annual Two Sessions political meeting, where delegates voted last weekend to approve historic constitutional amendments, including one to scrap presidential term limits that could allow Xi to stay in power beyond 2023.
The focus in Amazing China on Xi's efforts comes in the wake of the Chinese leader's efforts to consolidate his personal power, with an aggressive anticorruption campaign and sweeping restructuring moves to further integrate the party and state.
Its entry on the silver screen follows the success of similarly jingoistic blockbusters, such as recent hits Wolf Warrior 2 and Operation Red Sea, as the government seeks to use popular mediums to more effectively cultivate nationalism.
While Chinese nationalistic films of the past tended to tout communist ideals with some revolutionary elements, present-day films appear to be taking a different approach to connect with the masses.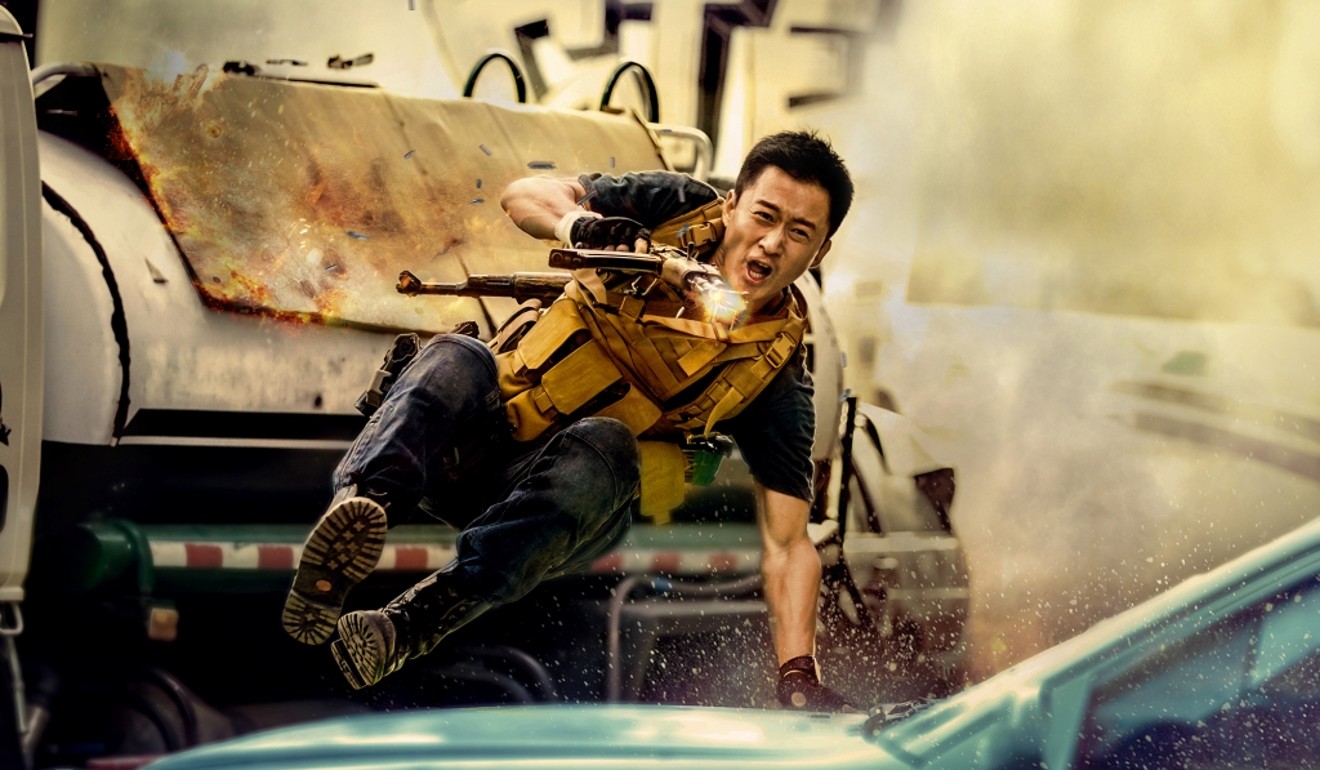 Chris Berry, a researcher into Chinese cinema at King's College London, said the documentary was part of the Chinese government's broader efforts to "use national pride to rally the Chinese population behind it".
"In that sense, it is a form of propaganda in the pursuit of soft power," Berry said.
"But it is also important to notice what kinds of values are being deployed – not class warfare, but engineering prowess; not xenophobia, but the image of being a global good citizen.
"In other words, although the Communist Party of China is the power behind this, its attempt to win legitimacy in the eyes of its audience is based on quite similar values and styles of filmmaking to those used in the West."
Wang Xiaojing, associate professor of contemporary Chinese literature at Shanghai Jiao Tong University, said: "Movies are more vivid, impactful, and leave a deeper impression than text.
"The Communist Party has always attached great importance to literary work, and since cinematic art has a widespread appeal, we have used it as a way to bring together people's hearts."
Documentaries in particular were effective in showcasing China's successes to ordinary people, she said.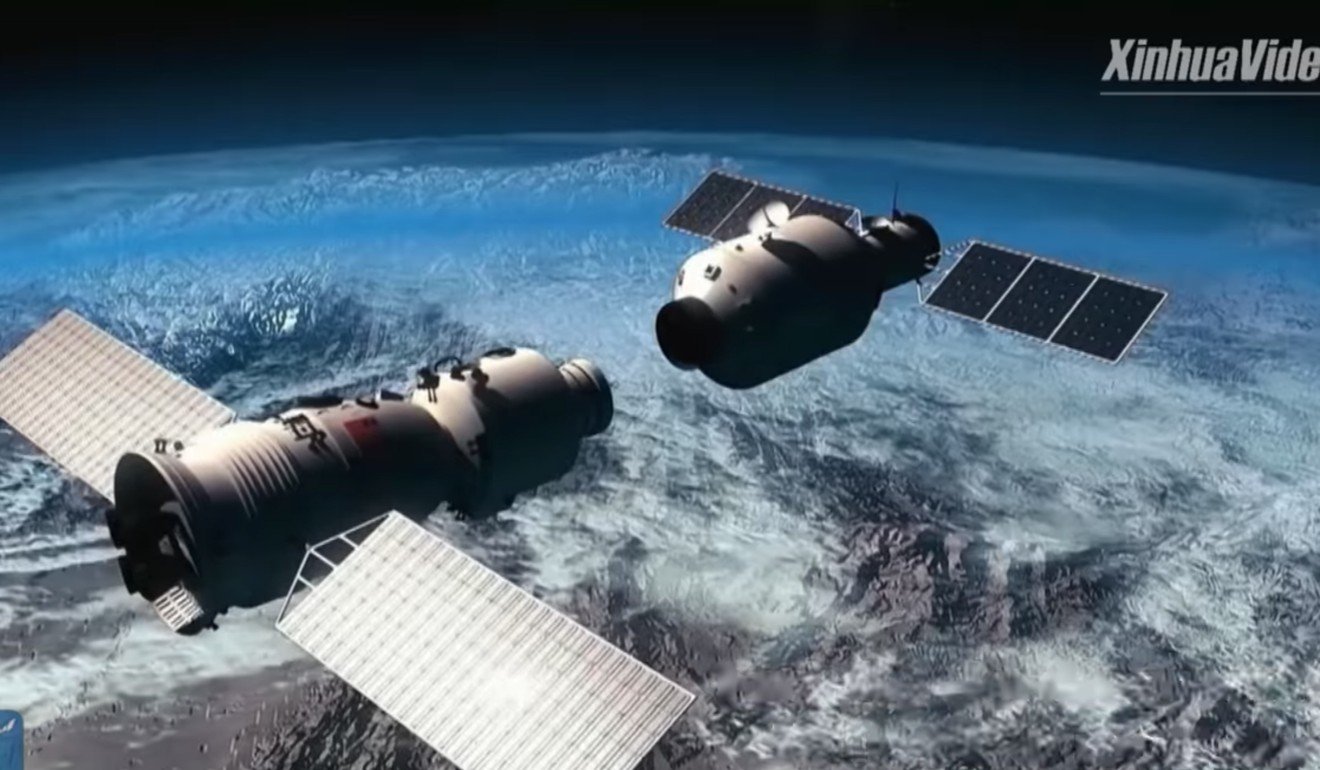 With this theme in mind, Amazing China opens with Xi's address in October to the party congress – the twice-in-a-decade party leadership meeting – before diving into an enthusiastic survey of China's major development achievements over the past five years, taking care to credit Xi.
As the cameras slowly pan over a number of Chinese cities and megaprojects, and a suitably dramatic soundtrack plays, the narrator guides the audience through a list of China's latest advancements in fields such as railways, manufacturing, infrastructure, science, the military and social policy.
It also describes China's efforts to engage internationally, including through its sprawling "Belt and Road Initiative" of infrastructure projects.
One climactic scene shows Xi speaking with rural villagers who have benefited from China's ambitious campaign to eradicate poverty by 2020. In it, he reminds the people of their benefactors: "Who else could have done this? Only the Communist Party."
The documentary ended with a fervidly patriotic song performed by pop singer Sun Nan with lyrics that include: "We are confident! We are going forward! Watching the Chinese sons and daughters walk towards a new universe!"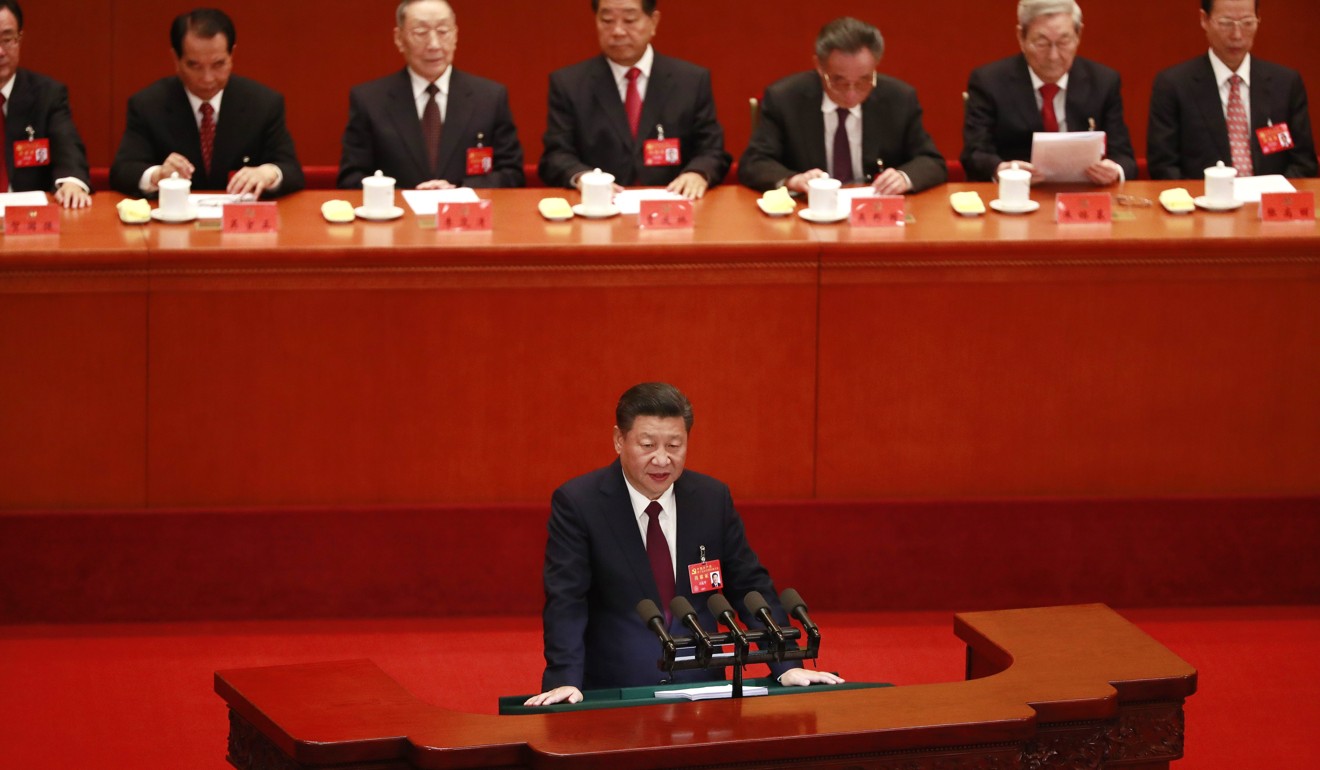 Amazing China also received glowing endorsements from top Communist Party leaders and from celebrities such as actor Jackie Chan, a Communist Party member – who slightly optimistically suggested it be dubbed into English to "tell the China story" to foreign audiences – and Wu Jing, director and star of Wolf Warrior 2.
The goal for Amazing China is for it to reach 1 billion yuan in ticket sales, according to a source at the Communist Party's Publicity Department.
"The content of the film is nothing new – the scenes in the film are from two TV documentaries shown last year – but it was repackaged and shown in theatres," the source said.
"It wouldn't be too difficult for it to make 1 billion, given the official order."
In southern China's Guangdong province, the Federation of Trade Unions put out a notice requiring the active promotion of the film, including the organisation of theatre viewings.
It provided links to Amazing China promotional material, including a press release highlighting that the movie's popularity had even inspired some people to inscribe the film's title into the foam on a latte.
An employee from a state-owned enterprise confirmed they were required to watch the film.
"In addition to the news about [scrapping] presidential term limits, this is all a bit too much," the staffer, who declined to be named, said.
Many of the film's audience members seemed unaware of, or unconcerned by, the forced nationalism embedded in Amazing China, noting the pride it instilled in them for their country.
Liu Guangchuan, from Beijing, said he was given a movie ticket by his company, but still sung the documentary's praises.
"I felt very good about it," he said after exiting the theatre. "It comprehensively described how difficult it was for the Communist Party leadership, with Comrade Xi Jinping at the core, to accomplish what they have. We need to cherish it even more, and continue to work hard!"
Others watched the film of their own volition, drawn in by high online ratings.
"We watched the two CCTV documentaries before, so some of the clips were already familiar to us, which is why our feelings were not that strong," said Zhang Biyao, who was visiting Beijing from Shenzhen with her partner. "But it was still a good film. We feel proud of China."
Shi Chuan, from the Shanghai Film Association, said the film's box office success was the result of grassroots-level organisation by communist groups which held regular "party movie classes" to combine politics with young members' interests.
"In the backdrop of China's rise, nationalism and patriotism among the general public is on the rise," Shi said. "It's why the supply and demand for these films is booming."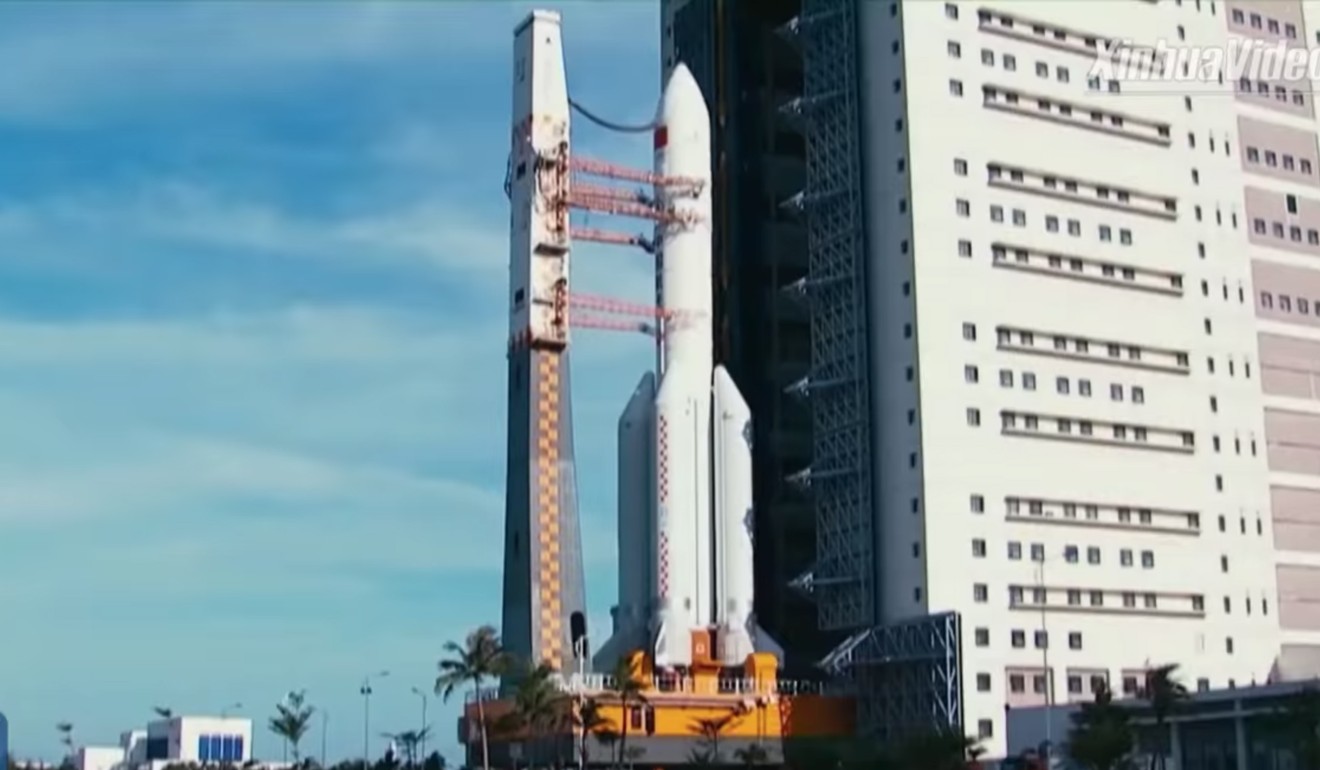 A Beijing veteran, surnamed Gao, said he went to watch the film with his wife because he felt a connection to all the positive changes happening in China.
"Our lives really are much better, and we are becoming more proud to be Chinese," he said. "Since it's a documentary, it's not about whether it's entertaining or not, since the focus is to explain to us why our livelihoods have really improved in the past few years."
But despite the film's promotional efforts, not all were as enthused.
"It's box office is only high because people were required to watch, not because people actually want to," a Chinese student studying in Nanjing said. "I have no interest in watching … Who knows if they just pushed this movie out just to fulfil some political assignment?"
The film is rated only 1/10 on Western movie ratings site IMDb.
Additional reporting from Kinling Lo, Laura Zhou and Choi Chi-yuk
This article appeared in the South China Morning Post print edition as: Xi the star of hit film extolling 'amazing' China