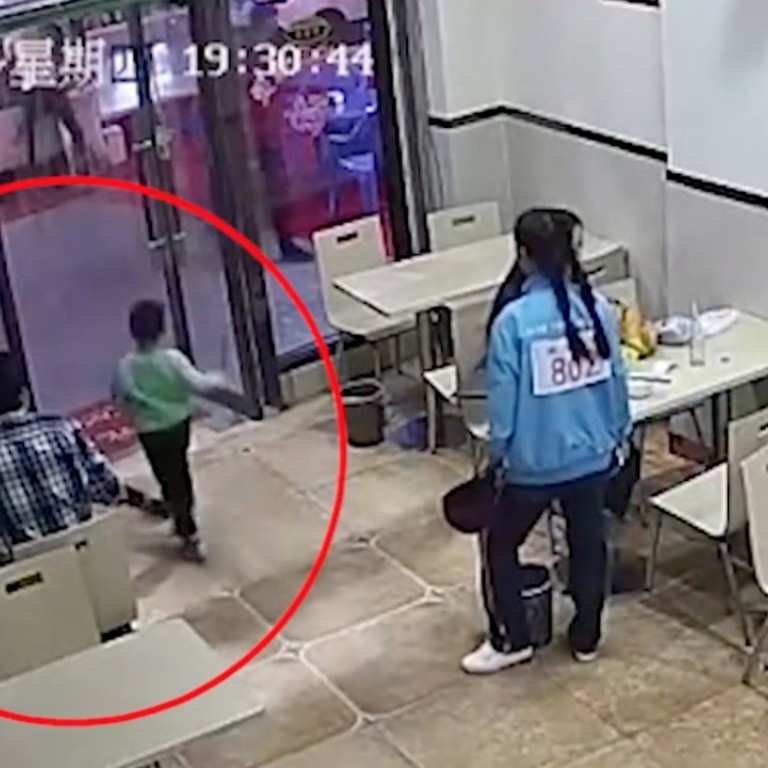 Outcry after Chinese woman caught on camera tripping, injuring small boy
A pregnant woman has faced a massive backlash on the internet after she was caught on a surveillance camera deliberately tripping a four-year-old, giving him concussion.
The woman was annoyed while eating at a small restaurant in Baoji in Shaanxi province, northern China, after the boy ran past her and she was hit by a door curtain, China Youth Daily reported.
The boy ran past her again a few seconds later to go out of the restaurant and she stuck out her leg to trip him.
The boy fell to the ground and the woman and her husband continued eating while the child's mother came to his aid, the footage, published by news website Thepaper.cn, shows.
The boy, who suffers from a heart defect, was taken to hospital and diagnosed with mild concussion after the incident last Thursday.  
He was now in a stable condition, the report quoted his mother as saying. 
The boy's mother told China Youth Daily: "At first I thought my boy tripped himself, but later he told me that the woman tripped him, which was confirmed by other customers in the shop. 
"I checked the CCTV and was so angry that I called the police," shesaid. 
The woman was widely criticised on the internet after the footage was published.
"As someone who is soon going to be a mother, this act is really shameful," one woman said on Weibo, China's equivalent of Twitter. Her comment got over 21,000 likes. 
Another person said of the woman: "Do some good things for the baby in her tummy, please." 
The woman turned herself in to the police for assaulting the boy the day after the incident and apologised. She has also offered to pay any medical fees. 
The boy's mother told the newspaper: "Police said they would detain her for 10 days and penalise her 1,000 yuan (US$160), but she is seven months pregnant.
"We do not wish to affect her. I have children myself. I can understand."