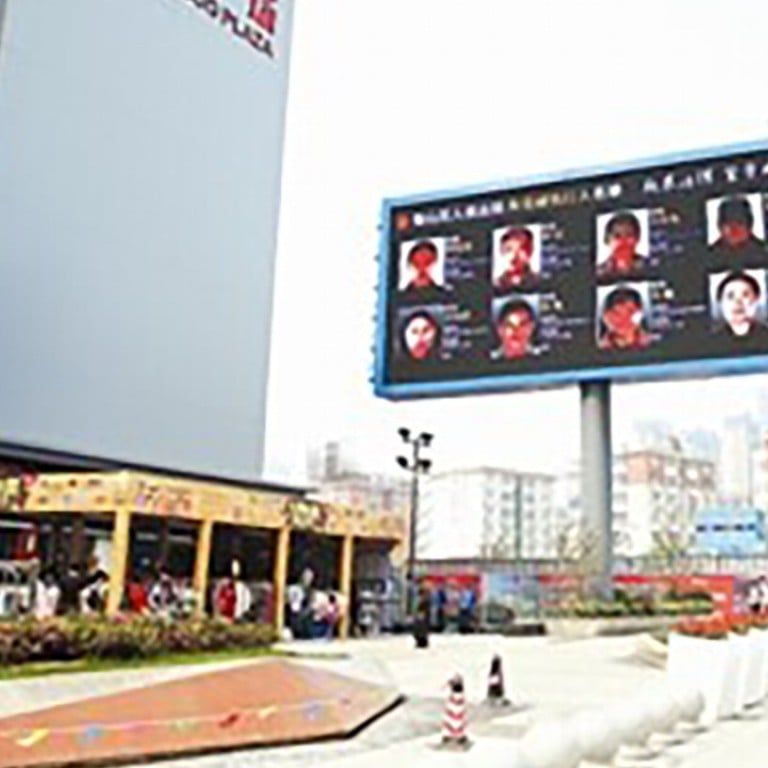 Chinese debtors shamed with broadcast of names and faces on giant screens on May 1 holiday
Billboards, bus stops and screens at railway stations display personal information as courts in Anhui find new ways to continue national campaign
Local courts in eastern China's Anhui province took advantage of heavy traffic during the May 1 holiday to shame debtors by displaying their faces and personal information on billboards and televisions in public areas.
The Shushan District Court in Hefei broadcast the photograph, name, identity number, amount owed and other information for each culprit on giant screens for 11 hours a day at public squares during peak travel times, Hefei Evening News reported on Wednesday.
Public shaming is an increasingly common punishment for those who refuse to pay debts, and courts have used a range of methods, from blacklisting to public exposure, to act as a warning to citizens.
They owed amounts ranging from as little as several thousand yuan, or a few hundred US dollars, to over 15 million yuan (US$2.36 million).
Hefei's Yaohai District Court broadcast the information of 110 people on advertisement screens at more than 300 bus stops around the city of Hefei.
The Hefei Railway Transport Court, responsible for handling transport-related legal disputes, went a step further on the May 1 holiday, with broadcasts at 15 railway stations provincewide of debtors' names and information – the first such use of screens at stations across an entire province.
The actions are an extension of a national campaign launched last year to step up punishment of laolai, or "deadbeat borrowers". Authorities vowed to collect the personal information of debtors and publish it in public places such as newspapers, train stations and other high-visibility platforms.
The Supreme People's Court reported in January that by the end of 2017 it had publicly listed the names of nearly 10 million people. They had been blacklisted from various activities, with 9.36 million of them prohibited from buying plane tickets and 3.67 million from buying high-speed rail tickets.