Taiwan
Get more with myNEWS
A personalised news feed of stories that matter to you
Learn more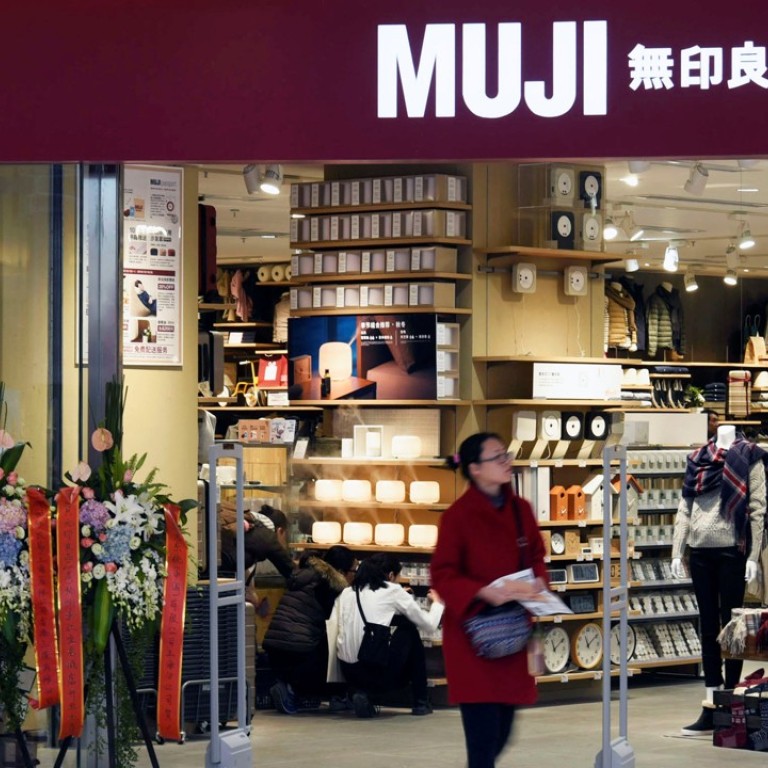 Muji fined by China for packaging referring to Taiwan as a country
Packaging used by the Japanese retailer to import 119 clothes hangers from Japan gave Taiwan as the country of origin
Chinese authorities have fined Japanese retailer Muji 200,000 yuan (US$31,300) for using packaging that listed Taiwan as a country for some of its products sold in China, reflecting Beijing's hardline stance on territorial issues.
The company's China head office, located in Shanghai, imported 119 clothes hangers from Japan last August in packaging that read "country of origin: Taiwan" in Chinese, the official media China Industry and Commerce News reported on Wednesday.
The Shanghai Administration for Industry and Commerce imposed the fine in late March on the grounds that it violated Chinese advertising law, which warns against hurting China's dignity and interests.
The report cited a statement from the administration which can be found through the central government's national enterprise credit system – a national database of the trustworthiness of companies registered in China.
The hangers were sold by Muji's Taobao shop and physical stores in unspecified cities. It was unclear how many of the commodities had been sold.
"The party did not properly fulfil their inspection obligations, which led to the above-mentioned goods entering the market to be sold," the regulator said.
A spokeswoman of its operator Ryohin Keikaku in Tokyo confirmed the fine and said the company had changed the packaging in compliance with the Chinese law.
"We will take all necessary actions to respect local legal requirements," she said in an email reply to the South China Morning Post.
In a similar case earlier this year, it emerged that China's National Administration of Surveying, Mapping and Geoinformation had told Ryohin Keikaku in October that a map of China in its catalogues did not show East China Sea islands claimed by Beijing.
These included the Diaoyu Islands, which Japan calls the Senkaku Islands, and which are claimed by mainland China, Japan and Taiwan.
The company received an order to discard the catalogues and take measures to prevent further such incidents. It later scrapped the catalogues.
Since the beginning of the year, the Chinese government has accused a number of foreign companies of treating self-governed Taiwan and semi-autonomous Hong Kong as if they were independent countries, on their websites and in other materials.
Beijing considers Taiwan a breakaway province awaiting reunification with the mainland, by force if necessary. Hong Kong, a former British colony, is a special administrative region that is part of China.
This article appeared in the South China Morning Post print edition as: Muji fined for referring to Taiwan as a country